It's difficult not to acquire enemies in social media, particularly in politics, no matter what you do. Some people engaging in political debate seem to want to find, label and forever condemn people they think are enemies.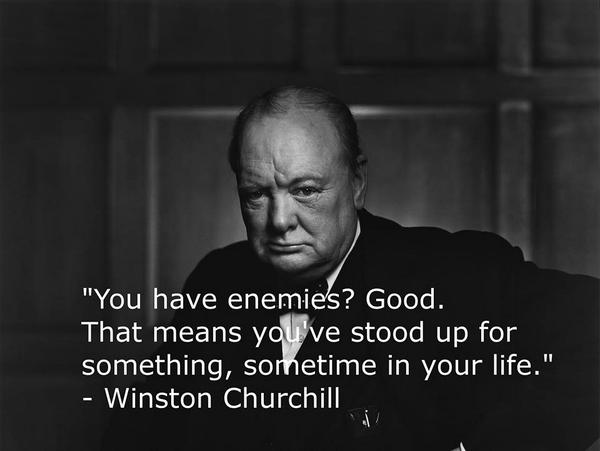 That was before the internet. You don't even have to stand up for something to be labeled an enemy now. I've been enemised for allegedly being bland, beige, for being a non-committal fence sitter.
All you have to do is to be present and not agree with someone, particularly someone with extreme views, to be labelled an enemy in today's online political world.
If you stand up for something the stakes go up and the risks of acquiring enemies goes up.
And if you stand up against crappy behaviour the chances of bad reactions from bullies is high. They think they can get away with unfettered bad behaviour, and escalating their behaviour is a common progression.
Is Social Media Making Us More Like Psychopaths?

The rise in social media is having a disturbing effect on our behaviours. Are we becoming more self-obsessed and displaying psychopathic tendencies? We've taken a look at four psychopathic traits of a social media user. You be the judge.

4 Psychopathic Traits of a Social Media User

Untruthfulness and Insincerity:

A survey of 2,000 women found that nearly 30% had lied about doing something when home alone.
25% of Facebook users said they falsified some of their account information.
20% were not truthful about their holiday activities or their jobs.

Disconnection: Could We Be More Antisocial?

24% of people missed important moments in real life because they were too busy trying to share them on social channels.
In a survey, 51% of respondents said they check social network sites at dinner.
Almost two in five people spend more time socialising online than they do face-to-face.

Pathological Egocentricity: We've Become Self-Obsessed

46% of participants in a Trakur survey had Googled their own name within 24 hours of taking it. Only 6% never have.
37% of LinkedIn users change their profile picture regularly.
Individuals usually spend 30 to 40% of their conversations "informing others of their own subjective experiences." On social media, this is closer to 80%.

Poor Behaviour Controls: We're Exhibiting Worrying Behavior

Cyber bullying has spread widely with 42% of young people reporting they have been victims.
A study found that 28% of children aged 11 to 16 have experienced bullying on the Internet or via a mobile phone.
25% of people admitted to difficulties in relationships because of "confrontational online behaviour."

What's Your Verdict?

51% of people say social media has not changed their life for the better. You decide.