All posts in category General
From We interview You ‏@YCrazyMind 
Why Women Live Longer Than Men… Hilarious
Posted by Pete George on March 5, 2014
http://yournz.org/2014/03/05/why-women-live-longer-than-men/
By Jaslecta
The parent trap-Sunday looked at the complications around surrogacy
Surrogacy is often a last resort for couples that can't conceive.  It is legal to use a surrogate in NZ, however it is not legal to pay for the service.  The expectations on a surrogate are enormous so why not reimburse them for all the time spent nurturing your baby?
As of now parents have no rights from the moment the embryo is implanted, the father is considered a sperm donor only.
"In private arrangements the child is always genetically related to the surrogate mother."
The baby is genetically the surrogate's even if both the egg and sperm are form the prospective parents or other donors.  This is the law if the surrogate arrangement was a private one.
If it is done through an IVF clinic parental rights are determined on a case by case basis.  Please follow the link below.
http://www.nzlii.org/nz/other/nzlc/pp/PP54/PP54-4_.html#Heading1208
It seems we need a new law clearly stating that the prospective parents are given the legal parental status for the child from the moment of its birth.  If everyone is clear on this from the outset this could solve much unnecessary heart ache and misunderstandings.
Posted by Jaslecta on March 3, 2014
http://yournz.org/2014/03/03/surrogacy-the-parent-trap/
I've been accused of suggesting a conspiracy in the Mojo Mathers Masterton story.  I haven't.
The first question asked by the Herald remains unanswered – who asked it in the first place?

We know who kept asking questions through the day, but we can't be sure who put the question to the Herald in the first place.

The Herald is based in Auckland. It reported on a minor trip to Masterton by a Christchurch MP with a low profile. And it's primary question seems to have deliberately implied something mischievous without answering the question.

There is something very odd about this story.
Not so odd is the subsequent response on Twitter – to turn it into a conspiracy farce.
This is  standard diversion.
Either Patrice Dougan had her own motive for asking the question in her article, or she was asking something that was instigated  by someone else,   and she linked the question to the Taxpayers' union.
Very odd journalism. Because if this it has raised a number of other questions.
This is a fascinating story. There's been a lot of different angles played, most impromptu, but there's some unusual and curious aspects.
 The first question asked by the Herald remains unanswered – who asked it in the first place?
That was the main thrust of my post this morning and I think it remains the big unanswered aspect  - and there has been an unusual level of accusations and noise and diversions.
It's as if some people don't want the question addressed.
Posted by Pete George on March 3, 2014
http://yournz.org/2014/03/03/conspiracy-accusations/
I think many people were quite shocked by what they heard.

Much of the contact is anonymous. People use fake names and hide behind their keyboards. A friend of mine calls them 'keyboard cowards' and I think that's quite an apt term.

I've had my fair share of abuse as well.

The attacks via twitter that followed were awful. One that sticks in my mind is the woman who tweeted me and said I deserved to die.

I've received messages that are too vile to write about here, but most are triggered by those who feel strongly about one political party or the other. I can't post the most abusive feedback.

For others, it can wear you down, it can make you think about what you do and why you do it, and it can make you worry about who's living in our communities – so much anger, so much hatred.

The sad reality is that there's no way to stop it. Not at the moment.

But at the moment, technology is developing at a far greater pace than the checks and balances that should be in place to protect people. Maybe in the future that might change. But I don't think we should hold our breath.

Those comments could apply to many situations (read this link for specifics).
We shouldn't hold our breath. Those who care should do something about it, confront bullying and abusive behaviour, and take the fight to the online thugs.
Most people are decent people. If enough of them speak up they will show that the abusers are a small (albeit loud) minority that can be overcome.
There's no way to stop it but here are ways to reduce it – like more people confronting the abuse and the abusers and not letting them get way with shouting down decent discussion and debate.
There are risks, the bullies often turn and attack when confronted, but if you stay dignified and strong they usually end up backing off. Like any part of society it's up to good people to stand up and not allow an abusive few ruin our forums.
Posted by Pete George on February 26, 2014
http://yournz.org/2014/02/26/confronting-online-abuse/
By Jaslecta
Britain's Court of Appeal is due to hear a landmark case that could make it illegal to drink excessively while pregnant.
This is before an appeals court in the UK right now.  No doubt foetal alcohol syndrome needs addressing.  However is it best to label and prosecute expecting mothers' who are drinking alcohol excessively as criminals?  There are many aspects to consider.
Is the state responsible to educate women about alcohol consumption while pregnant.  Many will say it's already been done and the ones that would need it the most are not wanting to know or take any notice of it.
If one would argue that excessive alcohol use is illegal there would have to be a debate about how much is "excessive".  Once a solution is found then what to do with a woman that has consumed copious amounts of alcohol.  To stamp her a criminal would it stop her consuming?
Do "they" have other methods in mind for these unfortunate women to prevent them from drinking, maybe jail them until they have given birth?  What about forced abortions once it has been proven that a pregnant woman has been drinking excessively?  Nanny state?
Posted by Jaslecta on February 24, 2014
http://yournz.org/2014/02/24/may-make-pregnant-drinking-illegal/
From xkcd: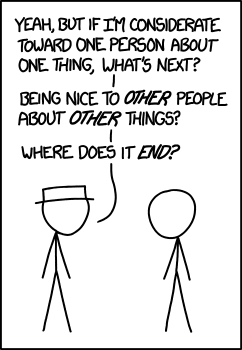 It ends up having a better society.
Posted by Pete George on February 24, 2014
http://yournz.org/2014/02/24/being-nice-slippery-slope/
Radio NZ reports that the Greens have asked TV1 and TV3 to include them in the main leaders debates in this year's leadership debate.
The Green Party wants television networks to include one of its party leaders in the main leaders' debates in the lead-up to the election – alongside John Key and David Cunliffe.

The Greens have made a formal request to TV One and TV3 for a co-leader to join the Prime Minister and the leader of the Opposition, rather than take part in the minor parties debate – which has been the typical election format.

The Greens say their 12 percent polling position puts them in a different league to the other smaller parties which are polling around 5 percent or less.
The timing isn't the best for the poll claim, today's One News/Colmar Brunton poll has greens down from 14 to 8%. That may be a one-off aberration or temporary, although they might not bounce right back up.
But that's a side issue.
Should Turei or Norman join in with the main leader's debates? There's some justification. While Greens are polling about 1/3 of Labour levels they have been as active in opposition, probably more active. And Greens have ambitions of being a major player.
But there are things against this too, including:
Media like the presidential two opponent format.
If they let the Greens step up to the big time in debates Winston Peters is certain to claim a right as well.
But perhaps the biggest issue that requires some careful thought – it would effectively mean that Key was up against double barrelled opponents of Cunliffe plus either Turei or Norman.
Would two against one be a fair contest?
Posted by Pete George on February 23, 2014
http://yournz.org/2014/02/23/greens-want-in-on-key-cunliffe-debates/
-Please enter your new password
"cabbage"
-Sorry, the password must be more than 8 characters.
"boiled cabbage"
-Sorry, the password must contain 1 numerical character.
"1 boiled cabbage"
-Sorry, the password cannot have blank spaces.
"50fuckingboiledcabbages"
-Sorry, the password must contain at least one upper case character.
"50FUCKINGboiledcabbages"
-Sorry, the password cannot use more than one upper case character consecutively.
"50FuckingBoiledCabbagesShovedUpYourArse,IfYouDon'tGiveMeAccessImmediately"
-Sorry, the password cannot contain punctuation.
"NowIAmGettingReallyPissedOff50FuckingBoiledCabbagesShovedUpYourArseIfYou
DontGiveMeAccessImmediately"
-Sorry, that password is already in use.
(thanks to stigie)
Posted by Pete George on February 23, 2014
http://yournz.org/2014/02/23/creating-a-password/
Chris Trotter is a political commentator with a distinctive style. His columns appear in various newspapers and he also writes on his own blog Bowalley Road (I happened to drive past namesake Bowalley Road in North Otago a couple of weeks ago).
From his latest post A Labour Cell In TVNZ's Vast Castle:
Stairway To Hell: Like the decrepit dynasty at the heart of Mervyn Peake's grotesque fantasy novel, Gormenghast, the "Heads" at TVNZ's Auckland sprawling headquarters lost track of what was going on within their immense domain.

GORMENGHAST is one novel of a hell. Imagine J.R.R. Tolkien on acid, C.S. Lewis on speed, and you'll hardly have made a mental dent in Mervyn Peake's grotesque trilogy. I won't spoil the books by giving away the plot in detail. Suffice to say that Gormenghast is an immense castle. So immense that the decrepit dynasty of Groan, to whom it ostensibly belongs, cannot possibly keep track of everything that goes on within its walls.

 Watching Patrick Gower unfold (with ever increasing glee) the activities of Shane Taurima and his colleagues at TVNZ headquarters in Auckland, I couldn't help being reminded of Peake's gothic fantasy.
Like Gormenghast Castle, the sprawling TVNZ site had somehow spawned a secret cell of resistance. How was that possible? Because, like the Groans, TVNZ's bosses appear to have become preoccupied with "the obscure and esoteric tenets" of their governance functions.
He doesn't always write political fantasy but has a way with words, history and literature. His post has sparked some Twitter tributes – #WriteLikeTrotter
'Young tech-savvy voters will swing from National as quickly as they switch cassette tapes in their tape decks.'
"Like Jesus Christ in the Synoptic Gospels, David Cunliffe must perform seven miracles for the working class.
…and just as for the west at Dunkirk, it will be the little boats of the Daily Blog comment section that will turn the t
Cunliffe may have been crowned Princeps by the Party, but only the worship of the demos will cement him as A Son of Savage
Will Cunliffe be Sun Yat-sen to Shane Jones' Chiang Kai-shek? That is the question everyone is asking…
Will Shane Jones be like Stonewall Jackson at Chancellorsville, outmaneuvering the overconfident Yan-Key?
Will Winston Peters prove to be New Zealand's Rust Cohle and deliver us all to the Yellow King and Carcosa?
We sought a Telecom inferno; a bonfire of vanities, a Wagnerian roar in the way of the Visigoth Liuvigild. We got a Spark.
I actually enjoy and appreciate Chris Trotter's obscure historical analogies. Mock him all you want but he's well read.
And so, not unlike the mighty Phoenix rising forth from the ashes of doom, I rise and command the elders to war
Minos Key, in unspeakable beastility, spawns a coalition Minotaur that demands minnow sacrifice. First course? Winston.
Colin Craig will soon learn from Icarus: When flying high on home-built chicken wings, remember to watch out for melanoma.
Supercilious jackanapes usurped fools 
"The mic dropped like a thunderclap, a dire warning to idolators of media and opinion polls, who shun the Prophet Peters"
A rolling maul of righteous outrage will ring as rolling thunder across the polity when the chardonnay runs dry. Attica!
While the whisper of xenophobia hangs over him like the sword of Damocles, Peters fights on.
A rough beast from Coatsville Greco-Roman wrestles with whales full of passionate intensity: My metaphor cannot hold.
Trotter ends his post:
Mr Taurima's and his Maori and Pacific Television Unit colleagues' biggest mistake – apart from believing that they could ever get away with behaving in such a nakedly party political fashion – was to hang their hats on securing the election of a Labour-led Government.

In the nine years that Helen Clark's Labour Party governed New Zealand no serious effort was made to root-out the pernicious operational culture at TVNZ or, indeed, to address the manifold defects of this country's recklessly deregulated media industry.

Even had TV3's Patrick Gower not exposed Shane "Steerpike" Taurima's cell of resistance in the bowels of the TVNZ Gormenghast, a change of government would only have confirmed for him The Who's immortal line:

 

"Meet the new boss – same as the old boss."
Posted by Pete George on February 21, 2014
http://yournz.org/2014/02/21/write-like-trotter/
The latest Roy Morgan poll is not flash for Labour.
National 48% (up 1%)
Maori Party 0.5% (down 1%)
ACT NZ (1%, up 1%)
United Future 0.5% (up 0.5%)
Labour Party 30% (down 3%)
Greens 12% (up 1%)
New Zealand First 5.5% (up 1%)
Mana Party 1% (unchanged)
Conservative Party of NZ 1% (down 0.5%)
Internet Party (0.5%, unchanged)
Others is now 0% (unchanged).
No wonder Cunliffe is looking worried and Labour is in disarray.
@Garner_Live finished his show by saying some @nzlabour MP's are worried by @DavidCunliffeMP's performance – GARNER: Labour MPs are worried about David Cunliffe's performance – Audio
National, Greens and NZ First will be satisfied with this. Act and United Future will also be pleased to feature, along with Internet Party (just).
Colin Craig's play for the polls was probably aimed at the TVNZ poll due out on Sunday but his supporters will be disappointed with this.
The polling period was February 3-16 which is up to Sunday so what has happened this week won't be reflected in it.
Electors were asked: "If a New Zealand Election were held today which party would receive your party vote?" This latest New Zealand Roy Morgan Poll on voting intention was conducted by telephone – both landline and mobile telephone, with a NZ wide cross-section of 859 electors from February 3-16, 2014. Of all electors surveyed 4% (unchanged) didn't name a party.
Posted by Pete George on February 20, 2014
http://yournz.org/2014/02/20/roy-morgan-grim-for-labour/
Posts

Search this blog:

Recent Comments

Meta

Archives

RSS Links