There's been a lot of googling on Grahame Thorne lately. He is regarded as a prominent New Zealander although younger people and those more recently arrived in New Zealand may not be familiar with him.
He was born in 1946 so he is currently 68.
Thorne was prominent as an All Black, playing 10 tests and a total of 39 games for them from 1968 to 1970. Wynne Gray included him in his list of 100 greatest All Blacks.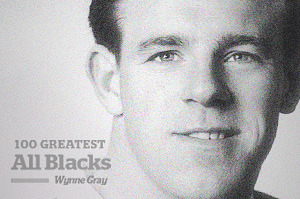 He was still promoting his All Black past with this Facebok profile pic:
Thorne was less prominent as a National Party Member of Parliament for a single term representing Onehunga from 1990-1993.
He was also a sports commentator, and he received some attention for his hairstyle.
After retiring and becoming a sports commentator, he permed his hair. His curls attracted a great deal of attention. In this television news clip from 1993, a post-perm Thorne talks about the mostly negative reactions he received. See video at Teara.
Thorne hosted two cooking shows on television, Thorney's Cooking Canterbury in 2009 and Thorney's Cooking Central in 2010 (see also his own page on this). He currently lives in Central Otago.
He stood for the Lakes Council in 2010, having been a councillor previously in Nelson and Auckland. He described himself then as a Television Producer.
Ex-All Black, MP standing for Lakes council

Former All Black Grahame Thorne has been nominated to stand for the Queenstown Lakes District Council.

Mr Thorne (64) moved to the Lakes district in 2008 and lives at Gibbston.

Mr Thorne, a former Auckland and Nelson councillor, said originally he had no intention of standing, as he was cynical about local body politics, but he had been urged to stand by others in the community who believed he had something to offer.
He was unsuccessful, being the tenth highest polling candidate. Six were required.
Earlier this year he received some attention when he promoted a photograph on his Facebook page of him giving a bottle of wine from his vineyard to Labour leader David Cunliffe.