Audrey Young reports on the latest Herald/Digipol – Labour's support recovers to 30s
Labour are up to 31%, not as bad as being in the 20s but still struggling. Other polls recent polls have had Labour in the high 20s and low thirties.
National 50.8% (down 0.2)
Labour 31.0% (up 2.3)
Greens 9.3% (down 1.6)
NZ First 6.9% (up 0.8)
Maori Party 1.0% (up 0.2)
Conservative Party 0.6% (down 0.5)
ACT Party 0.2% (down 0.6)
Legalise Cannabis 0.2 (up 0.2)
Mana 0.2 (up 0.2)
The latest polling took place during a particularly bad period for the Government, between August 14-24.
It doesn't look bad for the Government. National have a majority on their own (just) and Labour are about 20% behind, but that's what Young talks up.
Labour's support has climbed back to the 30s for the first time in a Herald-DigiPoll survey since Andrew Little became leader nine months ago.

The result, 31 per cent, will be a major psychological boost for Labour because 30 per cent represents a credibility threshold for parties that might expect to lead a government.

It is the first time the Labour Party has polled over 30 per cent since June last year.

Back then, it polled 30.5 per cent before a steady decline under David Cunliffe's leadership to a humiliating 25.13 per cent in September's general election.

But on past performance, it still has a way to go before it will be satisfied with polling under Mr Little.
Quite a way to go. A long way to go if Labour is going to avoid having to deal with both NZ First and Greens in coalition.
Recent polls:
Roy Morgan (August) National 50.5%, Labour 27%
One News/Colmar Brunton (July) National 47%, Labour 32%
3 News/Reid research (July) National 47%, Labour 31.1%
Bizarrely the Herald continue their promoting of Jacinda Ardern with this at the head of the article: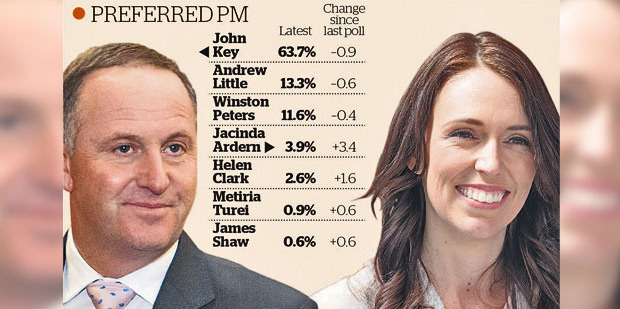 The rising popularity of Labour front bench MP Jacinda Ardern is evident in the latest Herald DigiPoll survey.
I wonder if Ardern selected those two photos. She appears to be ranked 9 in Labour's pecking order, and I don't recall her being prominent in politics lately.