Josh Forman isn't a name that's well known in the blogosphere but that could be changing.
Last night on Whale Oil: LABOUR'S OWN DIRTY POLITICS SCAM BUSTED, JOSH FORMAN AND ANNETTE KING NEED TO EXPLAIN
Josh Forman works closely with Annette King, his own emails show that.

Labour's own willingness to play dirty politics team has now been busted. Their sanctimony in parliament is shown for what is is worth.

Andrew Little should very carefully ask some serious questions about the role of his deputy in Labour's own dirty politics. In particular he should ask about the Health system information that Annette King is sharing with josh Forman and also the information that Annette King has regarding the EQC and CERA that was passed by Josh Forman to both her and to myself for the purposes of asking OIA requests in order to embarrass the minister responsible.
Slater has had some communication with Foreman, as posted last month in An Idea and a Challenge where an email was quoted:
Hey Cam,

Thanks for running my post about Bradbury 'The Daily Poison' on your site today. Generated somewhere around a thousand extra hits and counting.

I have to be honest, during the Dirty Politics saga at the last election I took the media line that you were a feral dog of a man to be true.

Funnily enough, since I have taken my time to read through some of your stuff, I can see that you are actually a pretty reasonable sort of character, most of the time, much like I am, most of the time.

For me, while sensationalist stuff may be exciting, I would much rather have a contest of ideas based on policy and general national direction rather than personality fights, and to do this, the centre left needs to engage with the centre right more, instead of constantly fighting off the deluded bastards the nip at our heals from their hideout slightly to the left of Leningrad.

Long term, I want to build my site to be the a centrist, though slightly left force to be reckoned, that can engage in meaningful debate with the right, instead of focusing on the small self interested groups that make a lot of noise, but represent a tiny minority of the public.

In my view, The Standard and The Daily Blog should be and be seen to be representatives of the tiny minority that they actually espouse the views of.

I would be happy to work with you to build such a blog, if doing so meant that you actually had a decent online adversary to engage with on a policy level, hailing from the left. I know it may seem like a counter intuitive suggestion, right working with left, but there isn't enough of it in NZ and it may do us all some good.

Think about it, and get in touch if you are interested.

Regards,

Josh Foreman
And a comment suggests change of status for the Slightly Left of Centre blog.
LOL, it seems "slightly left of centre" is now "please wait to be invited before you can see anything" (see screenshot). Is that the rattling of a gate being closed after the horse has bolted?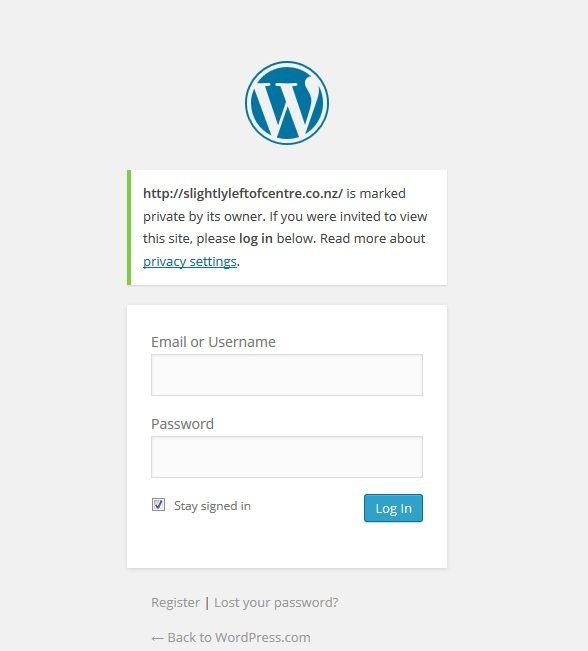 And a new post at Whale Oil: Josh Forman and his attempt to leak information from his government job
Little did he know that I had smelled a rat some days ago and set him up.
He details how this was done, then concludes:
Time now for Andrew Little to step up and instead of joking or going all feral like yesterday in parliament he should get some straight answers out of Annette King.

Labour have been busted doing what they have always done but professed not to do. Their sanctimony has been exposed.