Act is holding their meeting tonight of contenders for leadership and candidacy for the Epsom electorate. John Boscawen, Jamie Whyte and David Seymour are attending.
Ex Epsom MP and ex mayor Chris Fletcher arrives to chair public meeting for Act leadership rivals, Boscawen & Whyte, in Remuera.
And they're off.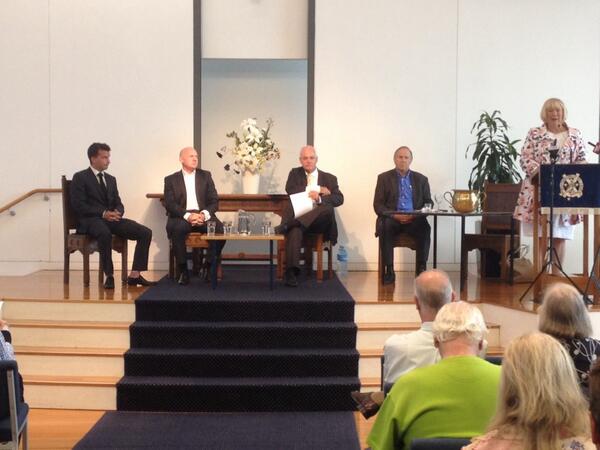 Both sources:

 John Boscawen says David Garrett paid a huge price for his time at parliament but the 3 strikes law wouldnt have been possible without him.

Under him act will make raising the retirement age a "big issue"

Act's leadership contender Jamie Whyte: "Act is not a party for rich pricks. We are a party of the people."

How many are there to listen?

About 150 I'd say.
Yep not many empty seats
Act Epsom hopeful David Seymour (left) says he'd have won already if it were a hair growing contest
Jamie Whyte is now seeking both the Epsom candidacy and Act leadership.

Jamie Whyte says Act's "wise old heads" have highlighted the risk of splitting the party leadership and Epsom candidate. He's going for both
After a bit of promise there wasn't much Twitter feed from the meeting. A related point of interest:
Honoured to be selected as the @NZGreens candidate for Epsom tonight. Reckon we can get at least 17% of the party vote!
Stuff reports ACT hopefuls state their case:
Around 100 people attended the meeting and current ACT leader John Banks shared a pew with former ACT and Labour MP Roger Douglas. 
ACT president and former MP, John Boscawen…
…focused on education as the "ticket out of poverty" and his belief in the ACT party sponsored partnership school programme.

"We believe that education should be opened up to the private sector and that taxpayer funding should be contestable. By creating competition in this way, standards will rise," Boscawen said. 

"If we have an ACT–National coalition government following the next election, you can expect a substantial roll-out of this model," he said. 

He also said ACT would call for the gradual increase in the age of entitlement to 67.
Jamie Whyte, philosophy lecturer and newspaper columnist…
…campaigned on natural ACT policy: shrinking the size of government and lowering taxes. 

He also believes he is the man to pull the party from political obscurity. 

As a newspaper columnist advocating free market policy, Whyte said he had the credentials to promote the party to the natural 5 -10 per cent of the population that share ACT's beliefs.

"I think it is because ACT is not selling its message. To me it should be pretty obvious. If I am made the leader of the party I will fix that," he said.

Quoting former Labour MP Michael Cullen's reference to ACT as the party for "rich pricks," Whyte said this was wrong. 

"This is a party that is saying that they want everyone to get the consumer sovereignty that rich pricks enjoy," he said.
David Seymour, 30, who is running only for the Epsom candidacy…
…has campaigned for ACT, headed its student body and spent years working for conservative think tanks in Canada. 

He was also the most popular with the crowd. 

"If that was a hair growing contest I would be home and hosed," said Seymour, a tribute to his competitors' shiny bald heads, to laughter from the crowd. 

And his youth does not mean he is not inexperienced, said Seymour, who spoke of his work with John Banks in formulating the partnership school policy. 

"I am closer to the median age of Epsom, which is 35, than both of these guys, and I am moving closer to it as I speak," he said, again bringing laughter from the crowd. 

Seymour emphasised ACT's role in lowering taxes and creating a safer New Zealand. 

All three candidates agreed that Epsom was of huge importance to the make-up of the next government. 

"The Epsom people have played a huge role in the outcome of the last three elections," said Boscawen. 

Without an ACT MP in Epsom, a Labour-Green coalition was likely, said Whyte. 

"If ACT can't win in Epsom, policy is likely to move rapidly in the wrong direction," said Whyte. 

"What things a good local MP do is stand up for the people of their electorate. I believe I could be that MP," said Seymour, who went to school at Auckland Grammar in Epsom.
The ACT board meets to decide on the leadership on Sunday.
Radio NZ – Boscawen makes mark at meeting.
Former ACT MP John Boscawen appears to be the front-runner for the party leadership after the one and only meeting featuring the leadership candidates.

After the meeting, most party members who attended told Radio New Zealand they would like Mr Boscawen to win.