When I posted Slater cleared of hacking claims yesterday I left out trivial side issues that the Herald chose to highlight, like a couple of spelling mistakes in the police report, in Dirty Politics: Police clear blogger over Labour hacking claims.
That seemed to be irrelevant to the story apart from being a dig at the police, and as was pointed out on Twitter, it's almost inevitable that those complaining about spelling and grammar make mistakes in doing so.
.@nzherald I mean, if you're going to take a cheap crack at the Police's spelling – don't cock it up.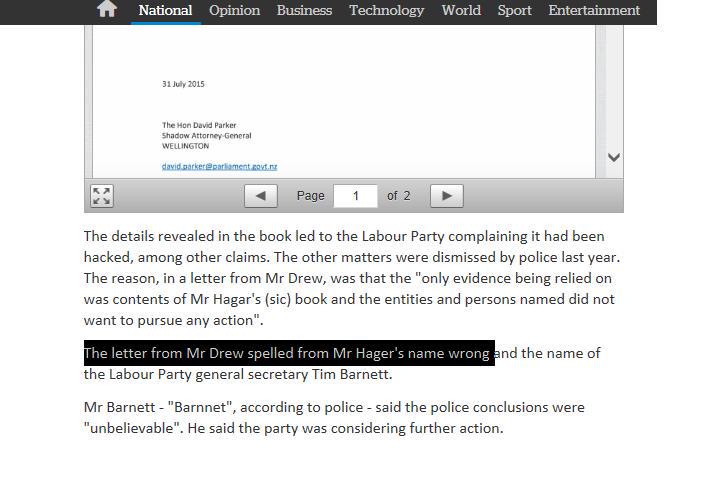 The article now says:

But there was a more serious mistake according to Cameron Slater. in THE INHERENT DISHONESTY OF DAVID FISHER.
Yesterday David Fisher wrote an article in a newspaper about me.

At the bottom of the article he said this:

Slater – who did not wish to comment – has denied any wrongdoing.

There is a problem with that statement…I never said I did not wish to comment.
I saw that comment. I also noticed later that it had changed to:
Slater, who has denied any wrongdoing, said he would be seeking an apology from Andrew Little over the accusations.
Slater explains what happened:
At 4:19pm David Fisher emailed me for comment.

I responded to him:

Please provide me a copy of the Police advice to the Labour party, then I will consider a response.

Little did I know that David Fisher had already published the story a mere 9 minutes after he emailed me for comment.
He provides evidence of that:

.The article still shows that time of publication, despite at least two edits since then.
Inherent dishonesty? Or hurried and sloppy plus lax editing protocols?