Cameron Slater was at the centre of 'Dirty Politics' the book and dirty politics as practiced by himself and some National Party associated players, including Jason Eade who was directing dirt from within the Prime Minister's office.
He is still promoting himself as big and dirty…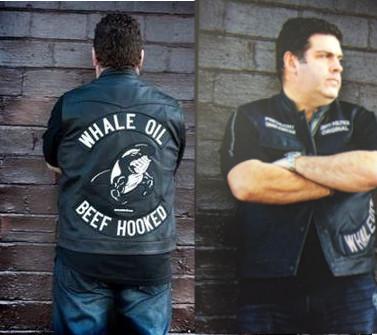 …but more from the sidelines, he's now seen as toxic and to be avoided by most National MP's and party players.
Slater has promised payback to Nicky Hager and Rawshark and those he has hinted were complicit in the hacking of his data but that is yet to happen.
Bryce Edwards has just posted a reminder of what Dirty Politics was all about.
It's now just over one-year since Nicky Hager's Dirty Politics was published. But we're still discussing the book's impact and relevancy, and probably will for some time yet. In fact later this month the High Court will release its decision on the Hager v AG case. I supplied an affidavit for the case, back in March – which you can download here: Affidavit of Bryce Edwards.

For what it's worth, the supporting files are also here: BDE-1 and BDE-2.

I've also previously compiled other reportage and analysis about the book and related debates, and you can download a PDF of Dirty Politics material that was published between 14 August and 3 September 2014 (1466 pages!) and I will also put together a file of later material.
The Affidavit of Bryce Edwards is a good summary of Hager's book and the resulting fallout. He concludes in that:
Set out above, I recorded official responses to Dirty Politics, as well as responses from the media, the public, and academics. I have also noted public expressions of the importance of this work from high-profile commentators.

I have considered the significant public interest of the contents of Dirty Politics, the clarity of its presentation, its accuracy, and the obvious care and skill with which it was produced.

I have noted significant changes in the field of new media that have already directly resulted from its publication.

I have recorded both my view and the views of others that Dirty Politics is likely to have an enduring effect in that area.

In my view, the conclusion that Dirty Politics is a work of public interest is inescapable. It has had a major effect on New Zealand politics and can be expected to continue to do so for quite some time.

Change may directly result from reports yet to be completed by the Ombudsman and the Privacy Commissioner. There may yet be a commission of inquiry into all of the matters raised in Dirty Politics.

But whether or not that occurs, Dirty Politics has changed the way New Zealanders think about the political information they are receiving through both new and traditional media.

This is why my conclusion is that Dirty Politics is not a just a work of public interest, it is a work of significant public importance.
I think that's fair comment. It was a significant book and has exposed dirty political dealings that deserve exposure.
But Edwards doesn't address two aspects that are also important.
The first hacking of a political blogger's communications data and the use of that data to try and influence an election is real cause for concern.
Hager denies the election was a motive but I find it hard to believe that. If he didn't at least in part target the election with his timing then he was manipulated in ignorance by those who fed him the data.
Hager's defence is that public good overrides legal protections of privacy. I wonder if he would feel the same if his private communications were hacked and published.
The second outstanding issue is whether Hager's book was a comprehensive exposure or if it was politically selective. It  targeted Slater and associates, and through him John Key and National, in the month before a general election.
Slater has promised (for over a year) to expand the exposure to include all the non-National MPs who have colluded with and used him to dish out political dirt.
Hager's book is generally regarded as a true record of what Slater and associates were involved in.
But is it a true and complete record?
If as Slater claims Hager exposed just one side of the political shit fighting and protected the other then 'public good' risks being overshadowed by 'political hit-job' – which ironically could be seen as dirt delivered with a slanted smirk.
Media look reluctant to dig deeper because Hager deliberately protected them from exposure, giving them a chance (some see it as a threat) to mend their ways.
One of Slater's associates, Cathy Odgers, recently tried a hit job on Fran O'Sullivan (in posts in Whale Oil published under Slater's name).
That seems to have been more personal revenge driven than giving the public a more complete 'dirty politics' picture.
It's up to Slater to front up with the other side of the Dirty Politics story – but he seems reluctant to do this. He has hinted and he has promised but so far has failed to deliver.
So Hager will continue to get applauded for 'public good' and the alleged co-conspirators will be laughing in continued secrecy. Their lips are sealed, and the Whale looks unable or unwilling to live up to promises.