Today is Labour Day, although to many people it is just a day off giving them a long weekend, and to quite a few others it's a busy working day as businesses milk the weekend shoppers as much as they can.
NZ History has some history on Labour Day:
Fighting for the eight-hour working day

Labour Day commemorates the struggle for an eight-hour working day. New Zealand workers were among the first in the world to claim this right when, in 1840, the carpenterSamuel Parnell won an eight-hour day in Wellington. Labour Day was first celebrated in New Zealand on 28 October 1890, when several thousand trade union members and supporters attended parades in the main centres. Government employees were given the day off to attend the parades and many businesses closed for at least part of the day.

Early Labour Day parades drew huge crowds in places such as Palmerston North and Napier as well as in Auckland, Wellington, Christchurch and Dunedin. Unionists and supporters marched behind colourful banners and ornate floats, and the parades were followed by popular picnics and sports events.
We are more likely to see streams of people heading to the shops today.
Currently there is no sign of the Labour Party acknowledging Labour Day on their website – the last news posts there are dated 24 October.
The PSA marks the occasion on Twitter:
We hope you all have a great Labour Day on Monday, a day off thanks to workers and our unions!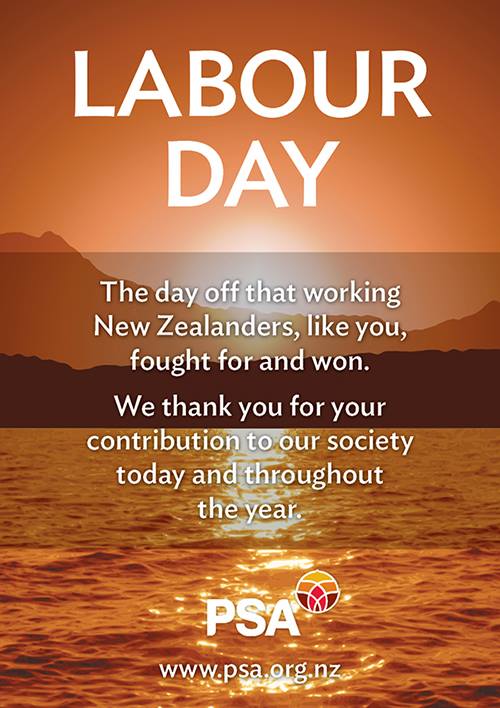 Labour on Twitter tells me:
I must be seen as a danger to their surge in popularity.
Which is lame because I can check their Twitter anyway, which shows no Tweets since retweeting Andrew Little congratulating the All Blacks and reporting from his trip to China.
The latest Labour Party post on their Facebook page is also All Blacks. They may not get a day off today, they should be training in preparation for the Rugby World Cup final against Australia..