Labour mostly kept a distance from the TPPA protests in Auckland yesterday. They have also tried to keep a distance between anti-TPPA and anti-trade. But not everyone in Labour is on the same page.
Andrew Little and Labour dabbled with the TPPA signing and protests but from a distance. They tried to portray their anti-TPPA stance as a principled stand on sovereignty in the same league as New Zealand's anti-nuclear stance:
On this day in 1985 the then Labour Government stood up for the rights of New Zealanders. It refused entry to the USS Buchanan after the US Government would neither confirm nor deny the warship had nuclear capability. Fast forward 31 years and today the Labour Opposition is again standing up for New Zealand sovereignty which the TPPA undermines.
I'm not sure they are onto a winner with this approach, it's just one of many mixed and muddled messages on the TPPA and is unlikely to get much traction with the TPPA protest movement, nor those who see trade agreements as a necessity.
Little also put out a media release: TPP signing highlights divisions in NZ
The stage-managed signing of the Trans Pacific Partnership Agreement at a casino in Auckland today highlights the divisions National's handling of the deal has caused in New Zealand, Opposition Leader Andrew Little says.

"The Government's whole management of the agreement has been botched, from the total secrecy to ramming it down people's throats.

"This has caused a deep divide, and inviting international leaders to sign it just two days before Waitangi – our national day – has added salt to that wound.

"Labour is a pro-free trade party but the TPP goes further than other agreements in undermining our democracy. We shouldn't need a permission slip from foreign corporations to pass our own laws. That's why Labour cannot support the agreement in its current form.

"Other countries such as Australia and Malaysia are able to ban foreigners from buying their homes. New Zealand cannot under this deal. That's just not right.

"Open and transparent debate is crucial to a healthy democracy but the TPP process and John Key's handling of the deal after it was signed has damaged that.

"Today's protests are a public sign of the deep discomfort many New Zealanders feel about what is happening in this country. The Government must now seek ways to heal that wound," Andrew Little says.
This is odd from Little, in particular "John Key's handling of the deal after it was signed". The TPPA was only signed yesterday, about the same time this statement seems to have been posted, so dissing Key's post-signing handling is unjustified.
Litle also did a live chat about the TPPA on Stuff.
If Labour opposes the TPPA why wasn't the Labour Party more involved with the anti-TPPA protest today?
We're opposed to the TPPA in its current form because compromises to New Zealand's sovereignty are not justified by the meagre economic gains. A number of Labour people are involved in today's protests, including MPs who've spoken at rallies around the country.
But Labour involvement with the protest was low profile, especially with Labour's front bench MPs.
Grant Robertson was at the Wellington protest but wasn't prominent in Stuff's: Protesters in Wellington join calls against TPPA signing
Opposition politicians and union members were among those in attendance, with several sharing their concerns about the deal.

Labour finance spokesman Grant Robertson said the TPPA was not a normal trade agreement and required New Zealand to sacrifice too much.

"This is an agreement [where] New Zealand is having to give away the right to make laws and policies in our interests, and that is wrong and we cannot accept that."

Robertson said the issue was "far from over", and Kiwis opposed to the deal needed to continue their protests.

"This is not over: as New Zealanders, we have to stand together [and] stand up for our rights to make laws in our own interests."
Standard Labour talking points on the TPPA. Nothing from Robertson about it on his Facebook page.
Jacinda Ardern seems to have kept her distance from the Auckland protest, and obviously Phil Goff and David Shearer would not be seen supporting the protest.
Meka Whaitiri was there, interesting for Labour's Associate Primary Industries Spokesperson to be against a trade agreement that will benefit primary industries.
Labour's trade spokesperson David Clark doesn't seem to have associated with any protests.
Phil Twyford was at the Auckland protest as this photo with Whaitiri on his Facebook page shows.
Note the US branded jacket with a Labour logo
– with a 'Corporate Traitor' sign in the background (hat tip Iceberg)
As Spokesperson for Auckland Issues and Associate Spokesperson for Transport (Auckland and Ports) Twyford could be out of step with Auckland business and export interests there.
Sue Moroney showed her and Labour's presence via Facebook:
Duncan Garner spotted David Cunliffe: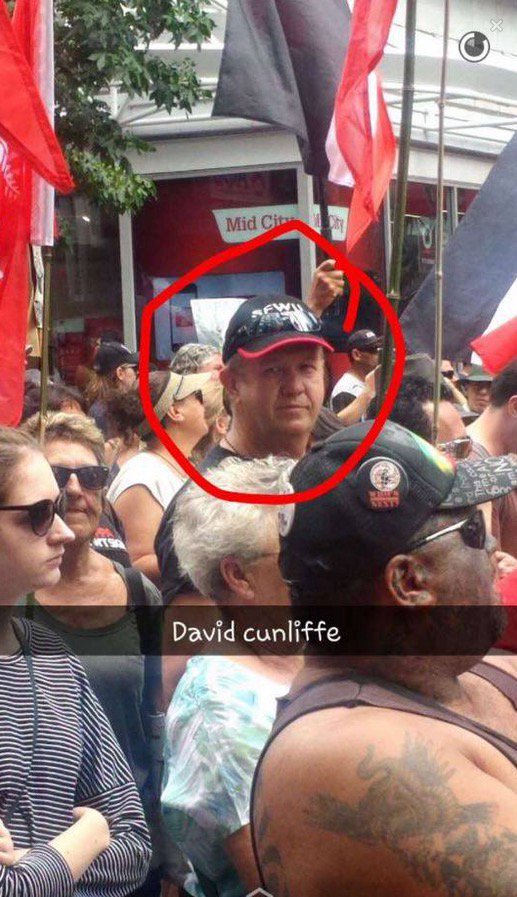 Cunliffe also posted on his Facebook page with some loyal party lines:
Today, I joined thousands of Kiwis in protest against provisions in the TPPA that would undermine our sovereignty. Great to see people from all walks of life engaged and expressing their views peacefully and thoughtfully.

The New Zealand Labour Party has always stood for free trade and always will – just not at the expense of our sovereignty.
Miriam Bookman Hi David,

I am very disappointed in seeing Labour supporters marching alongside an anti semitic banner, and that you think it appropriate to re-post this image. This is not the Labour I wish to support.
It may be hard to choose your neighbours in a protest march but choice of publicity photos can be an issue.
Taranaki would presumably cover New Plymouth where Andrew Little has stood twice for Parliament (unsuccessfully, he's a List MP).
Taranaki-King Country Labour flew a flag for their party:
The sign in the background appears to be welcoming, but it's the opposite, as Taranaki-King Country Labour show in another shot.
That may not be a problem, the Trade Ministers of Australia, Brunei, Canada, Chile, Japan, Malaysia, Mexico, Peru, Singapore, USA or Vietnam may never need to deal with Taranaki-King Country Labour.