I didn't know Jo Cox. But I have some thoughts on her awful, tragic death.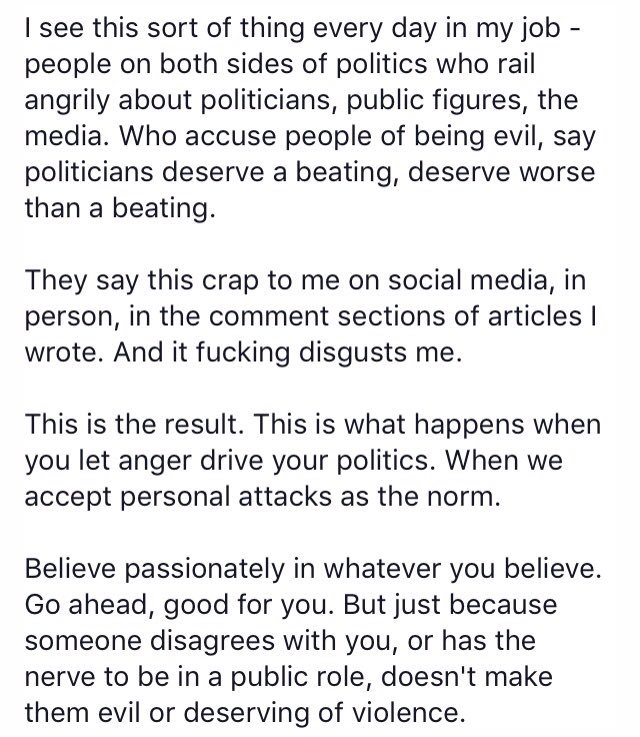 There is quite a bit – far too much – of disgusting, disgraceful personal attacks in social media. Mass attacks are common.
Confronting this sort of gutless behaviour is not without it's risks, as I've found out. People have gone as far as attempting legal action, trying to shut down this website and threatening me with jail – someone said they wanted me jailed for 3 months 'by Christmas' (last year).
But that doesn't mean confronting abusive and threatening behaviour shouldn't be attempted. It's critical that it is done, double. Bullies typically react badly to being ridiculed but that's one of the best and most deserving approaches.
Because if more people don't step up and speak up about online anger and provocation then it's just a matter of time before some nutter sees things said online as encouragement and justification for doing very bad things. As we have seen in the US and UK this week.
Political debate should be, must be vigorous. Passion is and should remain a part of it. There are serious issues at stake.
But there are lines that should be obvious to anyone involved in politics that should not be crossed.
Partly for basic human decency.
Partly so as not to provoke and reinforce less controlled people.
And partly because talking up intolerance and evil and violence are counter-productive to sensible and effective politics.
Democracy 101 is to attract support and attract votes. Arsehole behaviour does the opposite.
Crap on social media is too often disgusting. And ironically it is often perpetrated by people who somehow believe that a million people disillusioned with politics (or never illusioned) will suddenly like their crap behaviour and start to vote their way.
Violent language wins few arguments and less respect and votes.
Some politicians and many political activists set very poor examples of acceptable behaviour, but the rest of us should rise above this, confront the crap and show that there are better and more decent ways of debating.