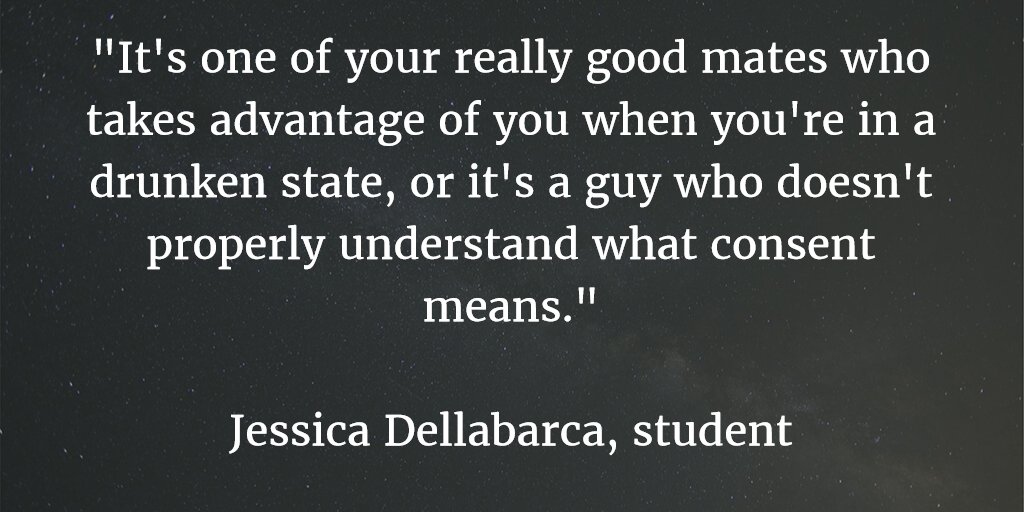 There's an interview with Dellabarca: Disturbing attitudes and comments not uncommon
A 20 year-old student, Jessica Dellabarca, says it's not uncommon for teenage boys to take advantage of drunk girls at parties or boast about it online. She says boys need to be educated about consent.
All teenagers need to be educated about complexities of 'consent' in relation to sexual activity, and they also need to be better informed about the risks of drinking alcohol, and associating with others who are drinking alcohol.
One of the biggest problems seems to be an inherent lack of respect for others.
Using the term 'rape culture' is confronting and can be counter productive to reasoned discussion but there appears to be major problems with rights and responsibilities and lack of respect for the opposite sex.
"If you don't take advantage of a drunk girl then you're not a true WC boy" – just heard this on RNZ.
Also from RNZ: Rape comments happen 'every single day' – student
Boys talking about wanting to rape drunk girls can probably be heard every day in schools around the country, young women and sex education groups say.

This follows revelations of Facebook postings by two Wellington College students who posted offensive comments about having sex with drunk unconscious girls, and that doing this was a rite of passage.

Wellington College principal Roger Moses said the school was investigating and he was "appalled and disgusted" by the posts.

Mira O'Connor, who is in year 13 at Wellington High School, said a lot of her friends have had bad experiences.

"I would say it's quite common, and I don't think any of us are really surprised.

"Really shocked and disappointed that they'd say this, but not surprised."
There should be a lot of shocked and disappointed people if this is common.
Yes, it's possible to come up with stories about false complaints and bonkers remorse.
But they are only small parts of what appears to be, still, major and entrenched attitude problems, which when mixed with alcohol can cause a lot of grief.
Teenagers will want to have sex. Teenagers will want to drink alcohol. There's no way of stopping them wanting either.
So there has to be more done to change attitudes to how both sex and alcohol are handled.