It looks very likely that no candidate will get a clear majority in the first presidential election in France, meaning that a second election will be held next month. But it is uncertain which two candidates will make the run-off, with a poll predicted 25% of voters undecided.
Guardian: French election: vote heading for nailbiting climax – live
Final polls show four leading presidential candidates so close that any two could go through to runoff in two weeks' time
It's not exactly nail biting if the result won't be known until after a second vote in two weeks.
There are 11 candidates but four seem to have a chance of getting through:
Emmanuel Macron

Party: En Marche! (On the Move!). Centrist: liberal economically, left socially
In brief: Fresh, internationally-minded, upbeat

Marine Le Pen

Party: Front National. Far-right.
In brief: Imperious, combative, theatrical, ruthlessly determined; France first.

François Fillon

Party: Les Républicains. Centre-right, conservative.
In brief: Family, faith and the free market; now also alleged abuser of public funds

Jean-Luc Mélenchon

Party: La France Insoumise (France Unbowed). Radical left
In brief: Power to the people, sharp tongue, fiery oratory, great showman
Only one candidate to the left of centre.
France's 2017 presidential election has been one of the tightest and least predictable in generations. After the final set of opinion polls on Friday, of four candidates leading the first round any two could conceivably make it to the runoff.
What's more, up to 25% of voters were estimated to be undecided on the eve of the vote. No one, in short, should be under any illusions: anything could yet happen.
How does France's system of vote estimates work?
The initial vote estimate in French elections – in use and steadily perfected since 1965 – is based on an actual vote count.

Pollsters select about 200 polling stations around the country, in rural areas, small towns and urban agglomerations, carefully chosen to be as representative as possible of the country as a whole.

When the polling stations close – all are among those that close early, at 7pm – and as the votes are being counted, a polling official records, for a sizeable sample of the ballots, the number of votes for each candidate.

Those numbers are then run through a sophisticated computer program that adjusts them for past results and assorted variables, and produces a national vote estimate. This is not the official result, but nor is it an opinion poll.

It is usually very accurate, to within a percentage point of so – but this being an exceptionally close race, a percentage point may be decisive. So either we will have a reliable result at 7pm, or we won't.
That must be 7 pm UK time, it is currently 7:48 pm in France (5:48 am NZ) so we may have an idea of how it might be going soon.
That means beware of fake vote estimates on social media.
First vote estimate (these vary from different sources):
Macron 23.7%
Le Pen 21.7%
Fillon 19.5%
Mélenchon 19.5%
Hamon (Socialist) 6.5%
Some sources have Macron and Le Pen level.
The only thing virtually certain from that is that there will need to be a run off election.
It's now being widely called as heading for a run-off election between Macron and Le Pen.
The French prime minister, Bernard Cazeneuve:
I solemnly call for a vote for Emmanuel Macron in the second round in order to beat the Front National and obstruct the disastrous project of Marine Le Pen that would take France backwards and divide the French people.
I don't know whether this will help or hinder Macron's chances.
The centre-right candidate François Fillon has conceded defeat and is also urging support of Macron.
Despite all my efforts, my determination, I have not succeeded in convincing my fellow countrymen and women. The obstacles in my path were too numerous and too cruel. This defeat is mine, I accept the responsibility, it is mine and mine alone to bear.

We have to choose what is best for our country. Abstention is not in my genes, above all when an extremist party is close to power. The Front National is well known for its violence its intolérance, and its programme would lead our country to bankruptcy and Europe into chaos.

Extremism can can only bring unhappiness and division to France. There is no other choice than to vote against the far right. I will vote for Emmanuel Macron. I consider it my duty to tell you this frankly. It is up to you to reflect on what is best for your country, and for your children.
Angelique Chrisafis in Paris explains what lies ahead politically in France, with the parliamentary elections crucial to how either Le pen or Macron would be able to govern.
Whoever wins the Macron-Le Pen race, the parliamentary elections that follow in June will be crucial. The majority in the lower house will determine how a new president could govern, and France is likely to require a new form of coalition politics.

If elected, Macron – who is fielding MP candidates from his fledgling movement, En Marche! (On the Move) – would have to seek a new kind of parliamentary majority across the centre left-right divide.

If Le Pen did win the presidency, she would very probably not win a parliament majority, thwarting her ability to govern. But her party hopes to increase its MPs in the 577-seat house. Currently Le Pen has only two MPs.
So similar to the US tiered system there is a lot involved in making progress for a president.
Interesting that they vote for president first, then decide what parliamentary support or opposition to give the incoming president.
An interesting graphic of predicted support shifts for the run-off.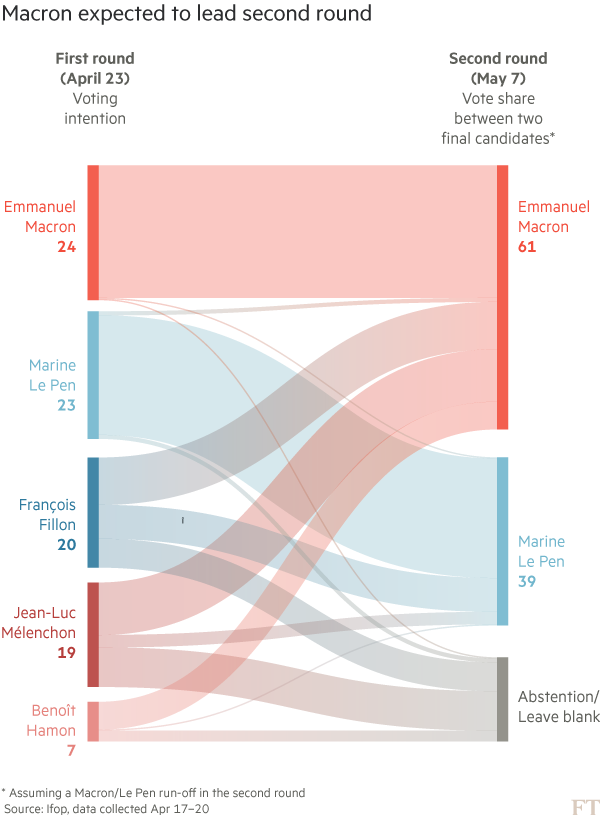 Who gets first and who gets second is not very significant as both the leading candidates go to a run off, but the numbers seem to be changing.
UPDATE: Results with 106 of 107 departments counted:
Macron 23.75%
Le Pen 21.53%
Fillon 19.91%
Melenchon 19.64%
Hamon 6.35%
Dupont-Aignan 4.75%
Lassalle 1.22%
Poutou 1.1%
Asselineau 0.92%
Arthaud 0.65%
Cheminade 0.18%
https://www.theguardian.com/world/ng-interactive/2017/apr/23/french-presidential-election-results-2017-latest