This weekend could be make or break for Andrew Little's ambitions. Same for Labour as they have their election year Congress (a party conference with PR rather than conferring),
Labour have failed to impress voters since Helen Clark lost the 2008 election. In every election this century Labour has lost support and have trended downwards since 1938.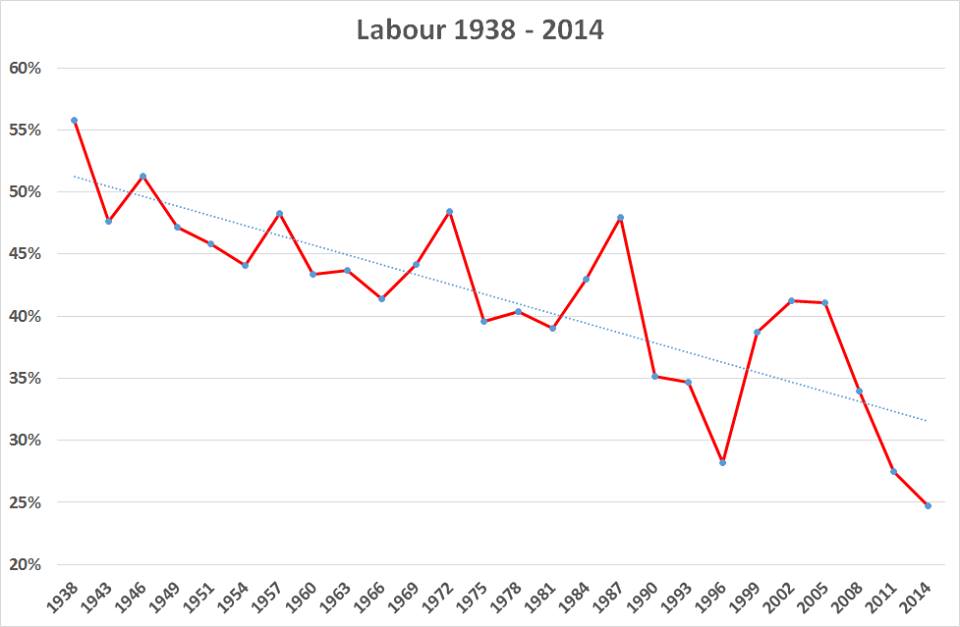 Lately Labour has been polling in the high twenties, hardly improved on their a record low election result in 2014 and well short of where it needs to be if they want to be in a strong position to lead a coalition government.
Andrew Little took over the leadership after the 2014 loss but two and a half years later he is struggling to appeal to voters.
Little and Labour are trying hard to address those issues, but while they talk about them they have been slow to come out with clear or decisive policies. Little is reported to be announcing something on housing in his big speech tomorrow.
An issue not on that list but probably critical to Labour's chances is 'Maori' Little didn't mention that word at all in his January 'state of the nation' speech.
He will need to do much better tomorrow, without getting tangled up trying to appease two distinctly different voter groups, the 'middle New Zealand' said to be essential to 'win' an election, and the Maori vote that Labour are putting so much hope on while giving them little in the way of policies – Little has ruled out two policies promoted by Maori candidates and MPs this week, partnership schools and Maori prisons.
Labour's Maori electorate MPs (and Labour's strategists) have created a problem for themselves by not standing on the party list.
While party vote is essential for Labour's overall success, six Maori MPs have to win their seats again or they are out of Parliament, so they are going to put more effort into their own interests.
The controversies over partnership schools and Maori prisons is indicative of this.
Somehow Little is going to need to overcome this perception…
…without annoying voters who don't want preferential treatment for Maori.
If he doesn't deal with that successfully then whatever he says about housing, inequality, poverty immigration and economy may not matter much.
This could be a make or break weekend for Little.
It's still over four months until the election, but there are signs Little could be losing support from within Labour and signs that confidence in Labour is really struggling, again (or still).
Little's speech will be important – what he says and how he delivers it, but more important than the PR driven RA RA will be in the next week or two when the contents and ramifications of the speech sink in amongst Labour's MPs, candidates and rank and file.
If they are not happy and confident amongst themselves – and that is difficult to fake – then voters are going to remain unimpressed.