A bit of debate about what light rail would look like in Auckland:
Hooton: Queen St and Dominion Rd are roads with traffic.

Greater Auckland: They would have a dedicated right of way separated from car lanes with kerbs and signal priority at lights. Seattle's LRT a better example

For example, like this:
But it's hard to imagine Dominion Road looking anything like that.
This is closer to reality (from the greater Auckland website):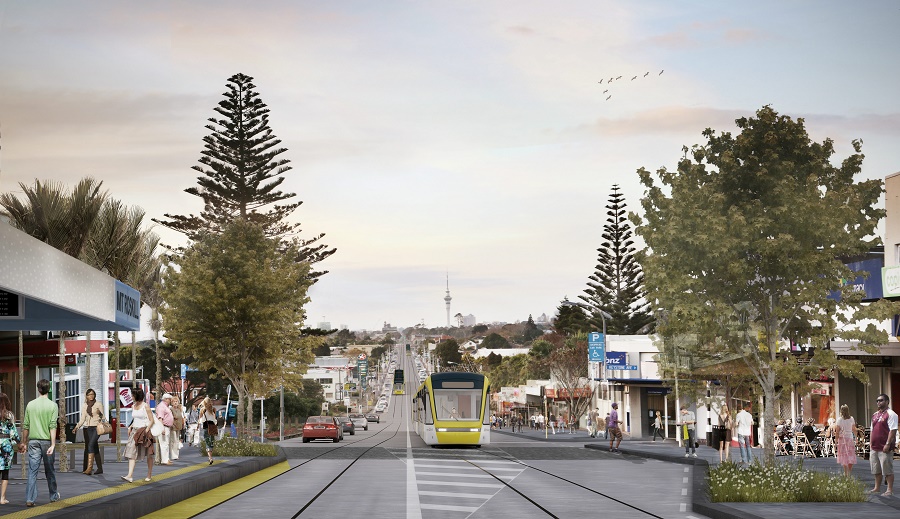 Image: Artist's impression of light rail in Mt Roskill.
Alignment

Most light rail routes are proposed to travel along the centre of the road (median alignment). Median alignment with side platform stops is the simplest and fastest solution for light rail operations, as it:

Reduces interaction with cyclists and pedestrians.
Allows for higher operating speeds.
Eliminates the impact of road traffic slowing down to turn left.
Minimises congestion by allowing light rail to travel separately.
Minimises impact on parking.
And even the artists impression is fairly flattering. Here's a shot (Google street view) of Dominion Road during a very quiet traffic time:
Two light rail lines down the middle of that will be a bit cramped. And here it is with more typical traffic.