Metiria Turei has just announced she was resigning as Green co-leader, and may not continue in Parliament after the election.
She says the reason is too much pressure on her family, but there is also speculation she may have been influenced by a poll result due a 6 pm – she is likely to already know the result.
Greens may or may not appoint another co-leader in the short term.
This is a sad but inevitable step in a dramatically changing political landscape.
UPDATE:
A brief explanation on why Metiria Turei announced on @CheckpointRNZ that she is resigning as co-leader of @NZGreens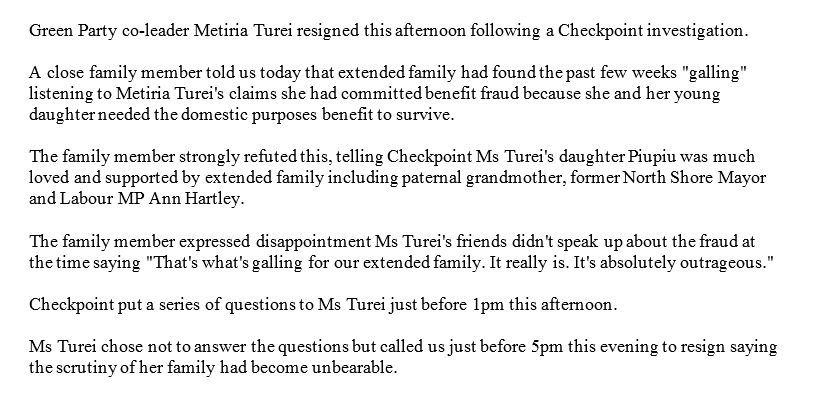 Interview: http://www.radionz.co.nz/national/programmes/checkpoint/audio/201854149/metiria-turei-resigns-as-green-party-co-leader
NZH:  Green Party co-leader Metiria Turei resigns
…the Herald understands that the latest UMR poll sees the Greens polling has halved in two weeks from 15 per cent to 8 per cent.
The same poll sees a surge in Labour support from 23 per cent to 36 per cent.
And in today's Newshub/Reid Research poll Greens are down 4.7 to 8.3%. See Newshub/Reid Research poll
RNZ have done a very good job on this story, but the media are getting a bollocking at The Standard, blamed for Turei's turmoil along with dirty politics.