You can tell when Winston Peters has arrived – when the bus motor is turned off the whining continues.
NZ First billboards inevitably got some attention: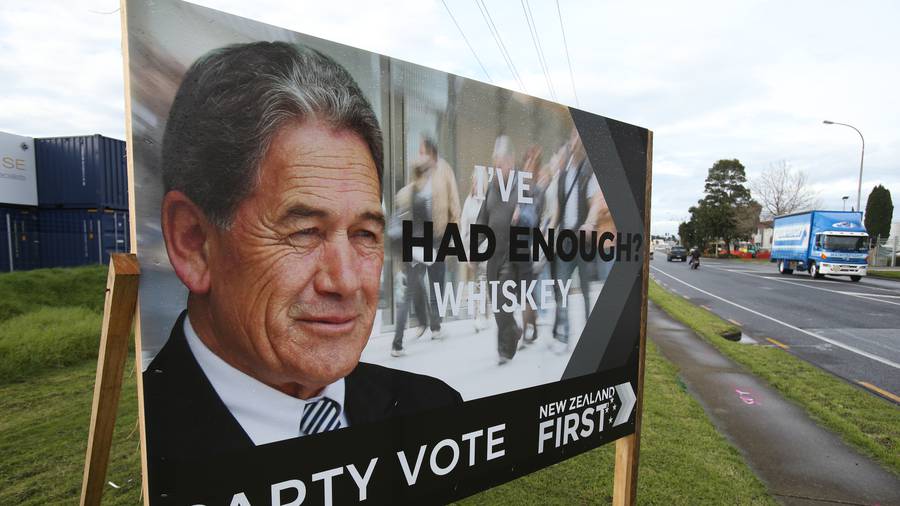 But there's still plenty of whine. He has moaning on RNZ this morning about how bad polls are – NZ First must be not doing well enough for him.
NZH: Winston Peters accuses Labour of stealing his party's policy to re-establish the NZ Forestry Service
Labour's pledge to set up a forestry service in Rotorua has been praised by a major timber processor.

However, NZ First leader Winston Peters has accused Labour of "dishonesty" and stealing his party's long-standing policy to re-establish the NZ Forestry Service.

"The desperate two old parties are obviously rifling through our speeches and documents for ideas," Peters said.
It's common for different parties to have similar policies. And it has become more common for parties to poach policies to try to target voters. Whining about it just sounds sour.
Newshub: Winston Peters pulls out of minor parties debate
New Zealand First leader Winston Peters has pulled out of tonight's minor parties debate, saying if Labour and National see no value in attending, neither does he.

"I cleared my programme and accepted that invitation enthusiastically," he said.

"Hence, I was astonished, on a general inquiry late Tuesday, to be told by them that neither Labour nor National had ever accepted the invitation."

Newshub political reporter Jenna Lynch told The AM Show she was surprised Mr Peters assumed Bill English and Jacinda Ardern would be taking part, as it's a minor leaders' debate.

"You have to sort of question things if he didn't realise that."
Good grief.
Peters won't lower himself to debate alongside the other minnows – he probably thinks that Ardern and even English a beneath his stature.
Perhaps he can have his own elder statesman debate, but he would probably whine his way through that too.
Alongside Ardern in particular he is looking way past his used-by date, and Shane Jones doesn't help NZ First look like a party of the future.