I'm not sure if anyone believed Winston Peters' preaching doom and gloom and his claims that the New Zealand was headed in a dire condition. Just after the election from Peters:  Official Cash Rate Shows Complacency:
"Beneath the veneer of stability large risks are lurking in the global economy," says New Zealand First Leader Rt Hon Winston Peters.

"The prolonged era of ultra-cheap money has created expectations that this unprecedented period will continue forever.

"Fed by cheap money, share and property markets are at record levels and have a long way to fall.  In particular, the US share market has had an amazing run with barely a hiccup. In China, debt levels are staggering.

"Irrational exuberance rules.

"It is impossible to predict when, but something will go wrong and New Zealand should be prepared," says Mr Peters.
Things can always go wrong with economies, and New Zealand should always be prepared. But at the moment things are looking fairly good.
Stuff: Unemployment falls to eight-year low as job creation surges
On Wednesday Statistics New Zealand figures showed unemployment fell to 4.6 per cent, the lowest in almost nine years. The survey showed that the economy added more than 100,000 in a year.

Covering the three months to the end of September, marking the final weeks of National's nine years in office.

Participation in the labour force rose to 71.1 per cent, while the employment rate rose to 67.8 per cent, both record highs.

The number of people unemployed stood at 126,000, which is actually slightly higher than the number unemployed back at the end of 2015, but now the workforce is substantially larger with another 221,000 people employed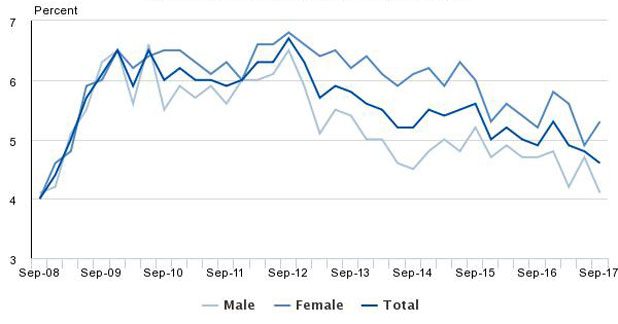 That's a good recovery after the combined impact of a local recession followed by the Global Financial Crisis, and on top of that the very costly Christchurch earthquakes.
And from across the ditch: Kiwis 'thrashing' Australia in competitiveness
MAJOR economic reforms over more than a decade have dramatically increased New Zealand's global competitiveness at the same time as Australia plunged down the rankings.

While New Zealand's new prime minister Jacinda Ardern claims capitalism has been a "blatant failure" for the country's poor and homeless, "nothing could be further from the truth", according to the Institute of Public Affairs.

In a parliamentary research note distributed to Federal MPs, the free-market think-tank compares how the two countries fare in the World Economic Forum's annual Global Competitiveness Report, released at the end of September.

"New Zealand is thrashing Australia in the competitiveness rankings because they substantially liberalised their economy with welfare, industrial relations, and tax reform," IPA research fellow Daniel Wild said.

In 2004, Australia was the ninth most competitive country, based on 114 indicators including macroeconomic health, quality of infrastructure and labour market efficiency. Today Australia ranks 21st.

Over the same period, New Zealand has improved its ranking from 18th to 13th.

"Kiwis clearly have the upper hand in the economic competitiveness stakes," Mr Wild said.

"Australians have become complacent about their economic prospects following years of economic growth. However, growth is not automatic, and serious economic reform is required to ensure prosperity and opportunity for future generations."
So the new Government has a very sound economic base to build on. It gives them some financial flexibility to implement some reforms. Providing they don't take too many risks or commit to too much increased spending the New Zealand economy should continue to relatively well.