This is wise advice…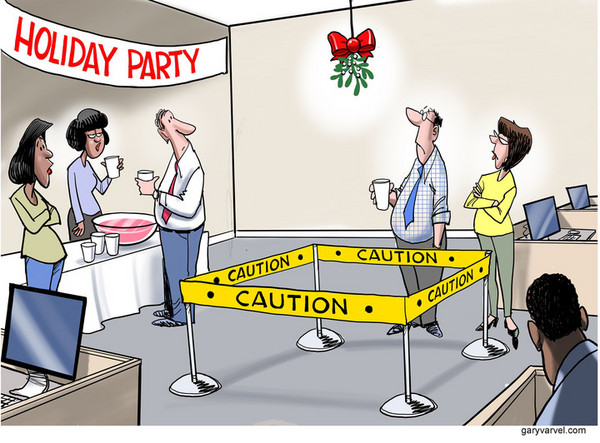 …but there is a risk of a chilling effect on harmless socialising.
While holding sexual nuisances, abusers and predators to account is long overdue, there are dangers.
Passing contact, pats on the shoulder, back, bum, could be misconstrued, or they could be an invasion of personal space, or could be sexual harassment.
Hugging has become a widespread practice – has it gone to far? Some people don't like being hugged by workmates, acquaintances or people they hardly know or have just met.
Personally I'd prefer to limit hugs to people I know well and love.
How common is it for children to be coerced into hugging relatives when they are obviously uncomfortable with it?
It's not just personal contact in which there can be problems, there is potential risk from online contact, from comments or from inappropriate posts.
Most contact passes as ok, inoffensive, or not worth making a fuss about.
Some contact  is unwelcome, uncomfortable.
A fraction of contact – too much and too often – is over the top, over the line, offensive, predatory and worse. This needs to be checked and dealt with.
But there are risks that accusations can be themselves used as harassment and abuse.
Innocent until proven guilty is a fundamental part of our justice system, but it is imperfect, especially when people with power and influence are guilty. Some of them have been long term recidivists.
The issue of personal and sexual abuse and harassment needs to be confronted and dealt with better by our society, but it is a difficult and complex issue.
It's not just a US problem.
In New Zealand the very serious issue of abuse of children in state remains improperly dealt with.
In Australia the findings of a Royal Commission into Institutional Responses to Child Sexual Abuse has just been released. It is damning, especially of the Catholic Church, which hid, aided and abetted abuse for a long time.
A number of people in power in churches, institutions, schools and sports clubs have acted disgracefully.
RNZ: Australia child abuse inquiry: 'It is a national tragedy'
A five-year inquiry into child sexual abuse in Australia has released its final report, making more than 400 recommendations.

The royal commission heard evidence from thousands of victims. Allegations were made against more than 4000 institutions.

"The survivors are remarkable people with a common concern to do what they can to ensure that other children are not abused," commission chair Justice Peter McClellan said on Thursday.
Many dirty secrets have been revealed and exposed.
RNZ: Pope responds to Oz sex abuse report
Pope Francis says the findings of Australia's child sex abuse royal commission "deserve to be studied in depth", after the Catholic Church was heavily criticised in the final report.

The sanctity of the religious confessional would be tossed aside and celibacy would become voluntary under the final recommendations of the Royal Commission into Institutional Responses to Child Sexual Abuse, which were released on Friday.

"The final report of the Royal Commission into Institutional Responses to Child Sex Abuse in Australia is the result of the accurate efforts made by the Commission in recent years and deserves to be studied in depth," the Pope said in a statement online.

"The Holy See remains close to the Catholic Church in Australia – lay faithful, religious and clergy – as it listens and accompanies victims and survivors in an effort to bring healing and justice."
Mild and vague words about a serious problem in the church. And there is resistance to change:
Archbishop Fisher was also quick to downplay any change to tradition.

"I think any proposal to effectively stop the practice of confession in Australia would be a real hurt to all Catholics and Orthodox Christians and I don't think would help any young person," he said.
Clinging to tradition and to power seems more important than exorcising a horrible record of abuse.
Priests and the church has seen itself as above the law. They put themselves second only to God, and acted as judge and jury.
And too often as the dirty offenders.
The royal commission report said the Catholic Church had demonstrated "catastrophic failures of leadership", particularly before the 1990s.

The average age of abuse victims at Catholic institutions was 11 years old.
There's no reason to doubt that there have been similar problems in New Zealand – in churches, in state care. There have been convictions of people from sports clubs, from cubs and scouts, even an ambulance officer has been convicted of abuse of patients in ambulances.
There are risks of inappropriate behaviour at Christmas parties, at New Year parties, in workplaces and homes and institutions.
There is always a risk of false or disproportionate accusations.
For a long time there have been far greater risks through inaction, through turning blind eyes, sweeping dirty secrets under carpets.
There will be some overreactions, but by far the biggest risk has been inaction, a failure by families, communities, authorities, societies to address these problems.
Smooching under the mistletoe is not really the problem. It's what happens behind out of sight, behind closed doors where greater dangers lie.
We should still be able to have fun at parties, we should still enjoy one of the biggest social events of the year, Christmas. And New Year.
But a worthy resolution would be to find a way as fairly and effectively as possible to address the many dirty secrets of the past, and to enable healing, as much as is possible, of victims of abuse.