This seemed inevitable, it was just a matter of when, and how many speculators get burned. Some people can make money for nothing, most don't.
Bitcoin Tumbles More than 25% as Sharks 'Beginning to Circle'

Bitcoin's plunge extended to almost 30 percent Friday as the frenzy surrounding digital currencies faced one of its biggest tests yet.
The world's largest cryptocurrency approached $10,000 as this week's selloff entered a fourth day with increasing momentum. It touched a record high $19,511 on Monday. Other cryptocurrencies also tumbled, ethereum dropped as much as 36 percent and litecoin slumped as much as 43 percent, according to composite prices on Bloomberg.

This week's losses represent a major test for the cryptocurrency industry and the blockchain technology that underpins it, which have rapidly entered the mainstream in recent weeks. Bears cast doubt on the value of the virtual assets, with UBS Group AG this week calling bitcoin the "biggest speculative bubble in history." Bulls argue the technology is a game changer for the world of investment and finance. Both will be closely watching the outcome of the current selloff.

"The sharks are beginning to circle here, and the futures markets may give them a venue to strike," said Ross Norman, chief executive officer of London-based bullion dealer Sharps Pixley Ltd., which offers gold in exchange for bitcoin. "Bitcoin's been heavily driven by retail investors, but there'll be some aggressive funds looking for the right opportunity to hammer this thing lower."
Bitcoin has crashed before, so it could recover.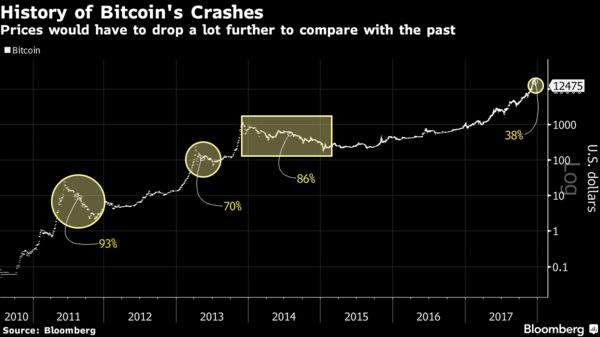 Or not.