A speech by comedian Michelle Wolf at the White House Correspondents' Dinner has caused a stir.
It's same old for the White House to complain about being the target of criticism and a lampooning, but what was different about Wolf's speech was her targeting of the media being too cosy with the White House – media that criticised her for poor taste humour and being too personal.
CNN: Michelle Wolf was the big winner of the WHCD, not Trump
Despite what Donald Trump and some others on the right may think, the big winner from Saturday's White House Correspondents' Dinner was comedian Michelle Wolf. Her performance was not just funny — it's still grabbing headlines and will make this comedian, who is on the verge of stardom, even better known.

True, not every joke she told got big laughs in the room. I was there and some of her material did make people uncomfortable. But political comedy, at its best, shouldn't always be comfortable. It should make you laugh while also challenging your views. And Wolf did just that in strong moments like this quip: "I'm 32, which is a weird age — 10 years too young to host this event, and 20 years too old for Roy Moore."

She did it again with this joke: "[Trump] loves white nationalists, which is a weird term for a Nazi. Calling a Nazi a white nationalist is like calling a pedophile a 'kid friend.' Or Harvey Weinstein a 'ladies man.'"

Did you cringe a bit when you read those jokes? Good. That's what political comedy needs to do, especially in the time of Trump.

…what's most telling is what Trump left out of his tweet about the WHCD. Since Saturday night, there's been a backlash against Wolf for her jokes about Trump's press secretary, Sarah Sanders, who was sitting on the same dais where Wolf was performing. Here's an example of one of Wolf's barbs about Sanders: "I actually really like Sarah.

I think she's very resourceful." Wolf then joked: "She burns facts and then she uses that ash to create a perfect smoky eye. Maybe she's born with it, maybe it's lies. It's probably lies." (Keep in mind, Sanders was sent by Trump to represent his administration, which has been plagued by serving up lie after lie to the American people.)

That's not a joke I would tell, nor do I think any male comedian could get away with it. But Wolf did.

Team Trump was outraged that Wolf dared to mock the person sent to represent the most powerful man in our nation. On Sunday morning, Mercedes Schlapp, a White House senior communications adviser who had stormed out of the WHCD with her husband in protest, commented on "Fox & Friends" that Wolf's jokes were "so incredibly disrespectful."

The way I see it, a person in the Trump administration saying something was "disrespectful" while defending a man who bragged on the "Access Hollywood" tape about grabbing women by the pu**y, has demonized Muslims and Mexicans and mocked a disabled reporter is truly hilarious.
Claiming that Wolf's jokes were disrespectful is more than a little hypocritical when trump has made a political career out of being disrespectful.
Targeting Trump and his lying cronies shouldn't be a big deal in the current climate.
So why the fuss from the White House media?
@Mikel_Jollett tweeted: Let's be honest, this is what they're REALLY mad about. Michelle Wolf called out THE PRESS.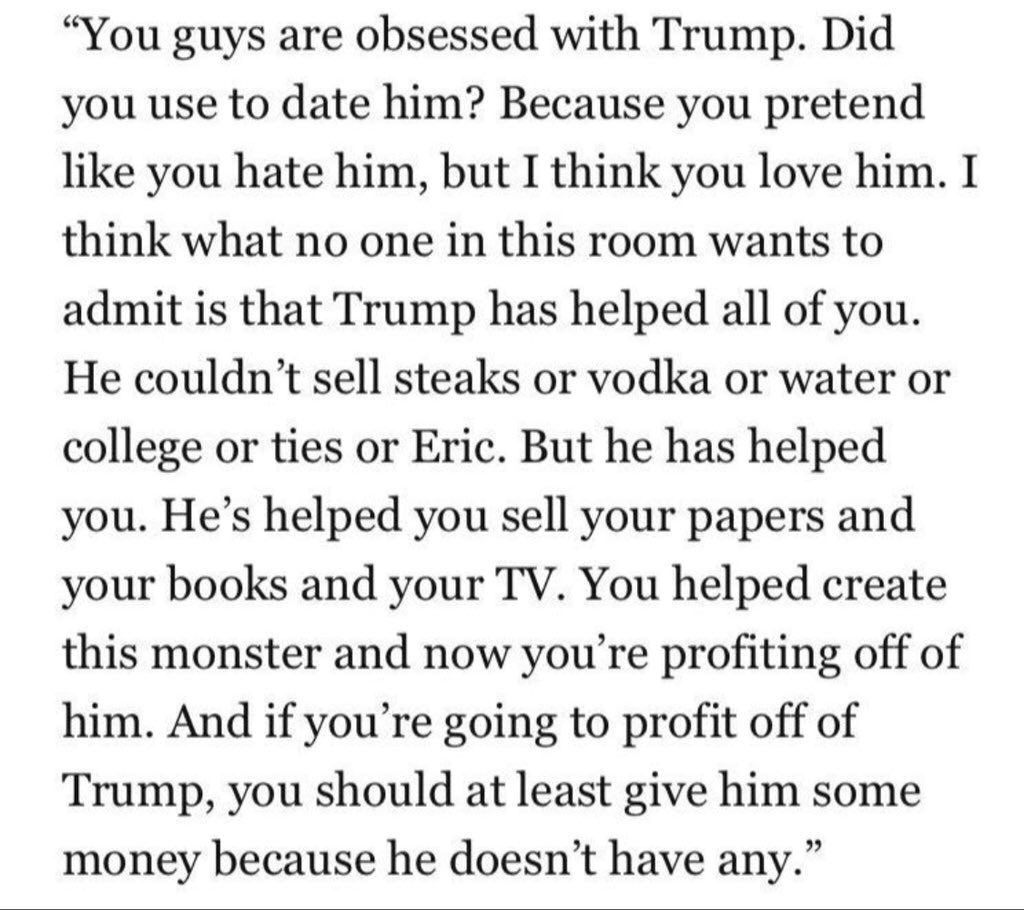 No wonder the media squirmed.
Molly Roberts: Michelle Wolf got it just right
Wolf managed Saturday night to scandalize the majority of Washington's tuxedo-clad intelligentsia with a barrage of bon mots that, in the eyes of much of the press and political establishment, weren't really so bon at all. The speech, these pundits have argued, wasn't amusing; it was lewd, and worse than that, it was mean.

That Wolf's performance was not "normal" for the correspondents' dinner is a testament to its timeliness and necessity — nothing is "normal" right now, and pretending otherwise out of a false sense of the fourth estate's friendship with the executive would have been the real disgrace. Wolf called the Trump administration out for tearing down democracy. Then, the people who are supposed to care most about holding autocrats to account called her out in turn for, essentially, not being chummy enough.

That persistent chumminess is why Wolf's performance, in the end, wasn't really for the press. It was about us. "You guys love breaking news, and you did it," Wolf said to CNN. "You broke it." To everyone else, she said: "You helped create this monster, and now you're profiting off of him." Instead of listening — to that or to Wolf's final line, "Flint still doesn't have clean water" — we got grumpy on Twitter. Which means Wolf did a better job of defending the First Amendment than those who say that's our business.
We have a real issue in New Zealand with how close our political media is with our politicians, not as disgraceful as in the US but still a threat to a properly functioning democracy.