The final result in the Irish referendum on abortion: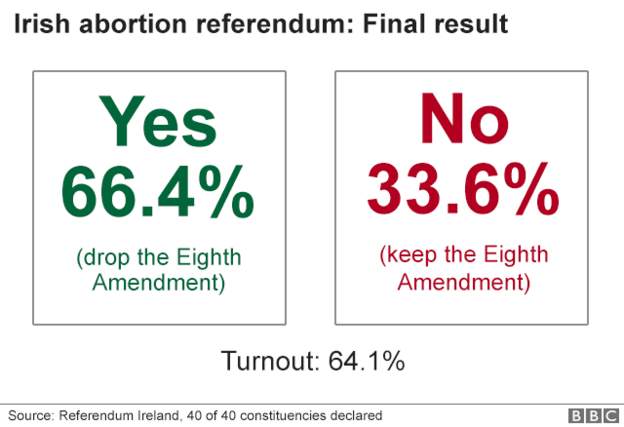 The Eight Amendment to the Republic of ireland's constitution was introduced after a referendum in 1983. It "acknowledges the right to life of the unborn and, with due regard to the equal right to life of the mother, guarantees in its laws to respect, and, as far as practicable, by its laws to defend and vindicate that right".
Just one constituency, Donegal, voted against change with No 51.9% to Yes 48.1%.
The next closest was Cavan-Monaghan with No 44.5% to yes 55.5%.
The Yes vote in the ten Dublin constituencies ranged from 73.1% to 78.5%.
BBC –  Ireland abortion referendum: PM hails 'quiet revolution'
The Irish prime minister has hailed his country's "quiet revolution" as early results point to a "resounding" vote for overturning the abortion ban.

Leo Varadkar was speaking after exit polls suggested a landslide vote in favour of reforming the law.

"The people have spoken. They have said we need a modern constitution for a modern country," he said.

Mr Varadkar, who campaigned in favour of liberalisation, said: "What we've seen is the culmination of a quiet revolution that's been taking place in Ireland over the past 20 years."

The taoiseach (prime minister) added that Irish voters "trust and respect women to make the right choices and decisions about their own healthcare".
BBC – Timeline: Ireland and abortion
1861 – Abortion is first banned in Ireland in 1861 by the Offences Against the Person Act, and stays in place after Irish independence.
1983 – The Eighth Amendment to the Republic's constitution, or Article 40.3.3, is introduced after a referendum.
1992 – The X case – a 4-year-old suicidal rape victim is initially prevented by the courts from travelling to England to terminate her pregnancy. The ruling prompts demonstrations by both anti-abortion and pro-choice campaigners across Ireland, in New York and London. However, the ruling is later overturned by Ireland's Supreme Court. It says the credible threat of suicide is grounds for an abortion in Ireland.
In November that year, as a result of the X case and the judgement in the Supreme Court appeal, the government put forward three possible amendments to the constitution.
The Thirteenth Amendment said the abortion ban would not limit freedom of travel from Ireland to other countries for a legal abortion. It passed Yes 62.39%, No 37.61%.
The Fourteenth Amendment said Irish citizens had the freedom to learn about abortion services in other countries. It passed Yes 59.88% to No 40.12%.
The Twelfth Amendment proposed that the possibility of suicide was not a sufficient threat to justify an abortion. It failed No 65.35% to Yes 34.65%.
Turnout 68%.
2002 – Another referendum, asking if the threat of suicide as a ground for legal abortion should be removed. Yes 49.58%, No 50.52% (turnout 42.89%).
2010 – After three women take a case against Ireland, the European Court of Human Rights rules the state has failed to provide clarity on the legal availability of abortion in circumstances where the mother's life is at risk.
2013 – Abortion legislation is again amended to allow terminations under certain conditions – the Protection of Life During Pregnancy Act is signed into law. It legalises abortion when doctors deem that a woman's life is at risk due to medical complications, or at risk of taking her life. It also introduces a maximum penalty of 14 years imprisonment for having or assisting in an unlawful abortion.
2015 – The United Nations Committee on Economic, Social and Cultural Rights recommends a referendum on abortion, saying it is concerned at Ireland's "highly restrictive legislation" and calls for a referendum to repeal Article 40.3.3 of the Constitution.
2016 – The United Nations Human Rights Committee says that Ireland's ban on abortion subjected a woman carrying a foetus with a fatal abnormality to discrimination and cruel, inhuman or degrading treatment.
2017 – A Citizens' Assembly votes to recommend the introduction of unrestricted access to abortion. It votes 64% to 36% in favour of having no restrictions in early pregnancy.
2018 – In March, Irish Housing Minister Eoghan Murphy signs an order to set the date for an abortion referendum.
And in big reversals of the 1992 referendum and Twelfth Amendment vote in 2002 the people of Ireland have voted resoundingly to modernise their abortion law.
---
New Zealand's abortion law is still archaic but it is virtually ignored in practice. Time this is properly addressed – perhaps we should have an abortion referendum here too.