Jacinda Ardern has benefited from carefully orchestrated PR and a largely compliant media, but she fronted up, sort of, on two contentious issues this week.
Claire Trevett: Post-Budget glow fades quickly as heartland problems pile up
Ardern is very much the shopfront of the coalition government and until the week before the Budget, it was very much a photo-shopped government.

There was almost a paranoia about the Prime Minister being seen to be facing criticism. Cameras were only invited when it came to events where the PM was likely to get a warm reception. Students, the Waitangi tour, tertiary students, the Pride Parade, arts and culture events.

Meetings with critics of Government policy have happened but behind closed doors. There has been nothing similar to watching former National Prime Ministers get torn to shreds in question and answer sessions with the unions or lambasted at Waitangi. In fact, former PM John Key loved little more than a hostile audience.

Appearing only in front of friendly audiences is not sustainable for a Prime Minister so this week proved a welcome reprieve from saccharine photo ops.

Prime ministers are judged on how they handle a disaster as much as how they handle the books.
Ardern has largely got away with promoting a celebrity type image and avoiding awkward issues, but she departed from the PR script this week, a bit.
Dealing with it meant this week Ardern finally fronted up to dragons – those who are not Labour's natural constituents.

It started with her meeting with abut 15 farmers in the Waikato to talk about M. Bovis and ended with her meetings with gas and oil sector bosses and workers in Taranaki to talk about the Government's decision to stop issuing new exploration permits in the future.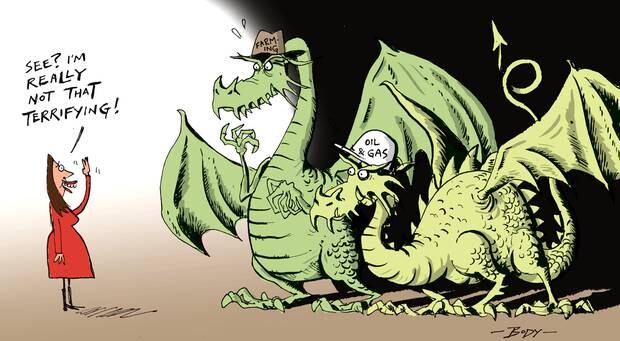 It was the first time she had publicly met with either group.

During the campaign, she had promised to meet with farmers after the election. She did meet with farming sector leaders on the quiet twice at regular quarterly meetings that successive Prime Ministers have had with farming representatives.

Ardern could also be fairly criticised for not going to Taranaki sooner and for the lack of proper consultation over the oil and gas decision with the sector or workers involved.
Not only that, she made her oil and gas announcement in front of an unusually unrelated university student audience.
Yesterday she visited with some cash and a vague plan with a vague title by way of reassurance: "Just Transitions." But at least she visited.
One of Ardern's trademarks is using strong sounding phrases to say not much in particular – being 'absolutely vague'.
She has little time to transform her image right now. She may have to wait until after her maternity leave to show whether she can be real leadership material rather than being a vague and ditsy celebrity style politician.
That's just a few headlines. Ardern absolutely peppers her speech with the term.
Oxford: absolutely
With no qualification, restriction, or limitation; totally.
1.1 Used to emphasize a strong or exaggerated statement.
1.2 [

with negative]

None whatsoever.
1.3 Used to express and emphasize one's assent or agreement.

Not viewed in relation to other things.