Ructions in Green ranks continues after the decision Green MP Eugenie Sage was required to make a water bottling decision as part of her ministerial responsibilities: Overseas investment for Otakiri Springs bottling giant approved in principle
Land Information Minister Eugenie Sage, and Associate Finance Minister David Clark, have granted an application under the Overseas Investment Act 2005 for Cresswell NZ Ltd to purchase land to expand the existing Otakiri Springs water bottling plant near Whakatane.

Their approval is conditional on Cresswell NZ obtaining consent via the Resource Management Act and that 60 new jobs are created and if these jobs do not eventuate enforcement action will apply.

"This includes the possibility of requiring the company to sell the land. Budget 2018 provided an extra $7 million in new funding for the OIO to undertake compliance and enforcement work," Eugene Sage said.
I posted about this on Thursday: Greens struggling in Government
There struggles appear to be continuing. Here are some interesting reactions on Twitter:
@LewOS:
I think Eugenie Sage and Julie-Anne Genter have been exemplary on this water bottling decision. "We don't like it, but we have to obey the law" is strictly correct but it will win them no fans among the Green activists who never really wanted the responsibility of government
I have received the following response from someone with knowledge of the situation, who also now wishes they had added more swears in this assessment of their party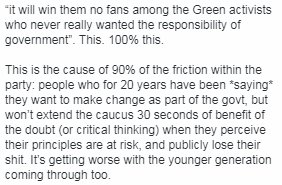 @danylmc
I don't know if it's just activists. The party explicitly campaigned on changing the laws around this so I think non-activist normie voters are completely entitled to feel outraged without being lectured about the constitutional and legislative complications.
They can express outrage as much as they like, but it won't change the decision, it increases impressions of a flaky party in a flaky Government, and increases the risks of Greens crashing and burning before or during the next election.
@GuyonEspiner
Interesting isn't it – Greens Ministers are saying: It goes against my values and politics but we must follow process. NZ First Ministers are saying: I don't care about process these are my views!
@LewSOS
This, and not the underlying ideological differences between parties, is Jacinda's bugbear running this govt. Ideological differences are reconcilable and negotiable, but when you have a bunch of people who just basically don't believe in the democratic process, you got problems.
He may be referring the behaviour of NZ First Ministers but Green Party members also don't seem to believe in democratic processes when they don't like the results.
@philosphy
If anything activists are only ones nerdy & partisan enough to be persuaded by reasons they gave. Normie voters won't read details, will come away with impression Greens have changed position.

Hadn't looked before, but scroll through the almost 2k comments under Eugenie's FB post. The people still refusing to accept explanations are mostly supportive non-members.
I don't know if the most fuss is coming from non-members or not.
Is Sue Bradford a Green party member these days? She weighs in: Greens in mortal danger – Bradford
The Green's water bottling decision exposes potentially fatal flaws and complacency at the heart of Green parliamentary operations.

The Green parliamentary wing seem to be clueless about the mortal danger they face following news this week that its own minister, Eugenie Sage, has signed off on the sale and expansion of a water bottling plant at Otakiri Springs.

When Ms Sage's role in approving the sale as Land Information Minister became public there was immediate anger from party members. It was reported that the co-leader of the Young Greens Max Tweedie said on an internal Facebook page that he was 'extremely disappointed' about what had happened. Some members threatened to leave the party.

Apart from a bland government media release and a ministerial blog closely replicating the official line there appeared to be no effort to forestall the inevitable sense of betrayal which would arise from the blatant turnaround on core party policy.

It seems that it was only when mainstream media picked up on the high level of internal unrest that the Green caucus realised they might have a problem on their hands.

Their responses, for example in this TV1 report, seemed defensive and obscure, focused on explaining why they believed the Minister's hands were legally tied in making the decision.

But perhaps it's time the Green leadership in Parliament realises that it's not just the unhappiness of members that needs to be assuaged. Voters are the ones who ultimately make the difference between survival and electoral disaster.
Whether members or supporters doesn't really matter when it comes to elections.
It's one of the most common political truisms that small parties in government get eaten by their larger partners.
But this isn't being eaten by a larger partner, it is being eaten from within their own party over a fairly basic function of being a part of the Government. Ministers have to often make decisions they are bound to make regardless of their own party policies.
Surely the Green caucus focus from day one of government formation should have been on honing their political and strategic strategy and capacity so that the sort of situation which happened this week would never arise.
Perhaps they could have handled things better this week, but the parliamentary part of the party was very busy setting themselves up in Government and learning how to do their jobs.
And given the reactions of Green members and left leaning activists for years there may have been no way of preparing for government decisions that clashed with their ideals.
As things stand, it feels as though the caucus and those around them do not think ahead about the consequences of some of their decisions, water bottling only being the latest of a string of stuff-ups (think waka jumping and giving National some of their parliamentary questions).
The Green caucus has certainly had to grapple with a few issues.
It looks like the Greens gained the oil and gas exploration decision at the cost of having to support the waka jumping bill. Oil and gas should be a big deal for the Greens – while the waka jumping bill is contrary to long standing Green policy the actual effects of the bill are likely to be minimal if not zero in practice.
Behind this fateful lack of capacity lies a political question too – to what extent, if any, are the Greens really prepared to carve out their own path in this term of Parliament?

Once again, it appears the real agenda here is a sodden acceptance that being a safe pair of hands for Labour is all that counts, and that those pesky members and voters are something to worry about in maybe a couple of years' time.
Greens have long championed MMP, but some of their supporters don't seem to understand how it works.
Despite only having eight seats in Parliament out of 120, and only 12.7% of the vote in Government, some Green supporters seem to think that all their ideals should be achieved.
Greens need to find a way of avoiding being eaten by partner parties, but they also need to find a way of avoiding being eaten by their own members and supporters. It could be a challenging couple of years for them coming up if this much fuss is made over a relatively minor decision made by a Green minister.