US border control has been in the spotlight more than ever, as a promised clampdown on illegal immigration from Mexico ramps up, and as threatened, children are being separated from parents and contained in cage-like structures.
Being tough on immigration is popular, but being heartless with kids involved is not going down so well.

As usual Donald Trump's rhetoric is swinging wildly – From 'I Alone Can Fix It' to 'Change the Laws!'

Nearly two years ago, on July 21, 2016, Donald Trump stood at a lectern in Cleveland and made a solemn vow.

"Nobody knows the system better than me, which is why I alone can fix it," he said.

To his critics, this line was chilling, even authoritarian, defying the democratic nature of the American system. But to many of Trump's supporters, it was a heartening moment—a sign that he would not allow himself to be tied up in red tape and mealy-mouthed excuses. There would be none of the vacillating and hand-wringing of the Obama administration. President Trump would not hesitate.

Candidate Trump was clear that he was talking, in large part, about immigration, which had been the central issue of his campaign:

Tonight, I want every American whose demands for immigration security have been denied—and every politician who has denied them—to listen very closely to the words I am about to say. On January 21st of 2017, the day after I take the oath of office, Americans will finally wake up in a country where the laws of the United States are enforced. We are going to be considerate and compassionate to everyone.
So Trump promised to be both tough and compassionate.
But his administration also threatened that their children would be separated if illegal immigrants tried to cross the border.
In fact, as my colleagues and I have reported repeatedly, the policy dates to May, when Attorney General Jeff Sessions announced that the federal government would prosecute everyone caught crossing the border illegally. Because an existing legal settlement bars children from being imprisoned, that decision means children and parents are separated. The Trump administration knew this would happen from the start.

In May, White House Chief of Staff John Kelly described separations as "a tough deterrent" to those who might try to cross. Sessions said around the same time, "If you don't want your child separated, then don't bring them across the border illegally."
There were clear warnings – those wanting to cross the border may not have heard them, but the intention was clear.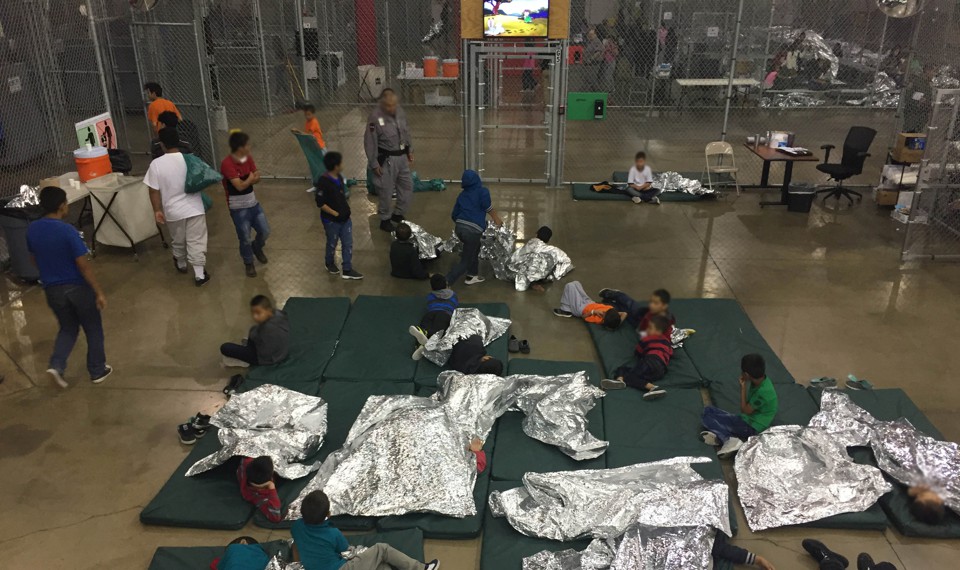 And now that this is being done and criticism mounts – including from Trump's wife and all four other living ex- First Ladies – Mr Fixit is now blaming others.
Trump and the Republicans rule in the White House.
Republicans have a majority in both the Senate and Congress.
So it's rather disingenuous to blame a clearly signalled family separation policy on the Democrats who have no power to change laws.
But that's how Trump operates – talks a big game, but blames his political opponents or the media if things don't look good.
The US has had very loose immigration control for a long time and a clampdown is justified. The splitting of children from parents as a threat tactic is more debatable.
But Trump hasn't got the integrity to own his administration's actions.
'Caging' kids is not even new. June 2014 (pre-Trump): Immigrant children flood detention center
Holding cell, US Customs and Border Protection Nogales Placement Center, 18 June 2014.
https://www.snopes.com/fact-check/childrens-concentration-camp/
Trump could blame a Democrat administration for doing it too, but instead he tries to blame them now for something his administration is responsible for it.