The 'free speech' debate continues.
'Free speech' is not entirely free, and it is far from equal, some people have far more opportunity and power than others to be heard. How free speech should be is a contentious issue.
'Hate speech' is harder to define, but someone at Reddit attempted:
"Hate speech" has simply become "Things we hate hearing you say."

What a weak, feckless, emotionally hysterical culture we're encouraging.
A quote from Golriz Gaharaman:
"Freedom of speech, like most rights, is not absolute. It's subject to the rights of others, to safety, freedom, equality. Our gov must balance the right of right wing hate mongers against the greater interests of public safety in NZ. Just as Aus has done in denying their visas."
I got involved in a discussion on all this on Twitter yesterday (I usually avoid it, it's difficult to debate well when dabbling while multi tasking). It started with this:
Marianne Elliot: I'm taking notes on who stepped up to support Renae vs who is supporting this lot.
John Hart: The Venn diagram will be two non-intersecting circles I suspect.
PG: I have spoken up for Renae and against Jones' legal action, and also support free speech at Auckland council venues. You don't? (I didn't support Renae's petition, nor do I support what Southern & Molyneux say).
Sarah Jane Parton: Did you donate to both Renae's legal fund and Brash et al's $50k? Are you the ∩?
PG: I'm not cool with him at all. But like many people I have serious concerns about the growing tendency to try to shut down speech people don't agree with. Have you read this?
http://norightturn.blogspot.com/2018/07/the-cost-of-free-and-democratic-society_9.html
Sarah Jane Parton: WRT to the "legality", I point you to section 61 of the Human Rights Act,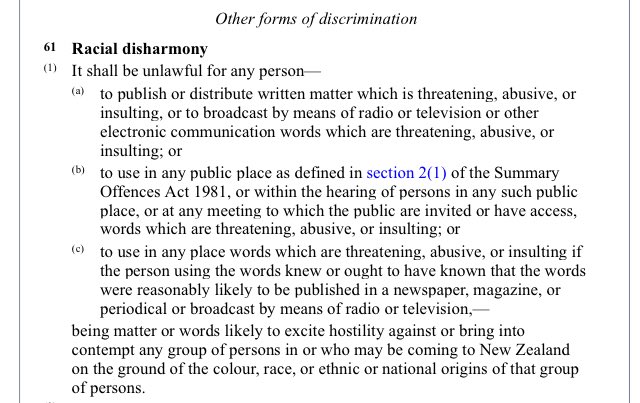 Sarah Jane Parton: And then there's the costs of security, policing, damages, etc etc.
PG: Should street protests be banned? There are costs of security, policing and risks of damage with them.
Or a protests a valid form of free speech important to a democracy?
Marianne Elliot: The critical line in that piece is this: "It's perhaps all too easy to proclaim the general need for tolerance and acceptance of "offence" by others when you're in a privileged and protected social position."
PG: As important: "But, if we are going to mark out some social groups as requiring greater protection from the effects of speech, how do we do so, and who gets to decide just who they are? And how do we stop… expanding to capture expression we might think ought to be allowed?"
Marianne Elliot: Those are not simple questions, but with a clear power and risk analysis, nor are they impossible to resolve. The point is that we need someone other than the people who have always been in charge to be leading that conversation.
PG: It's a growing issue that should be talked about be people other than those in power like @phil_goff . But one of our big challenges is how we do that without being it being trashed by abuse and by polarisation.
Marianne Elliot: Or maybe the biggest challenge is that the people at least risk from hate speech are used to being in charge of our laws and in control of debates about them.
PG: Some of the biggest targets of 'hate speech' and abuse and threats and defamation are those most prominent in power.
Marianne Elliot: Defamation is an important legal issue & is also very different hate speech. Calling one powerful white man racist has a very different power & social impact to someone saying "blacks are collectively less intelligent", or invoking a "quick, decisive, and brutal" white backlash.
PG: It's different again including many non-powerful white men in general condemnation. I think there needs to be a significant shift, but care has to be taken not to take rights of some when giving them to others.
Marianne Elliot:  Maybe instead it's time to sit back and listen to the people being harmed by this speech? To listen to their very real and reasonable fears, and resist telling them that they don't understand what is really at stake?
PG: We should always take time to sit back and listen, but that shouldn't silence us either. I don't know who tells others they don't understand. Attempts to understand should work in all directions. As Andrew said, it's very complex.
Sarah Jane Parton: I'd like to hear @Publicwrongs' take on this piece.
Eddie Clark: Some differences at the edges maybe, but pretty much agree with Andrew. Anyone who tells you this is simple probably doesn't understand it well enough.
Marianne Elliot:  It's not simple. I haven't heard many say that it is. What many (including me) are saying is that it is time for the people at least risk of harm from harmful speech to listen to people at most risk, and to resist telling them that they don't understand what's at stake.
Marianne Elliot:  There are difficult balances to be reached. But for that balance to be fair, what has to change is the make-up of the people who get to dominate the process of reaching that balance.
PG: "what has to change is the make-up of the people who get to dominate the process of reaching that balance" – by suppressing the speech of whom? You can't easily shut up those you don't want to hear, nor make those speak who you want to hear.
Marianne Elliot:  Oh lord. I'm not sure there's much point continuing this conversation if you think that changing the balance of who holds power in setting and interpreting law is about suppressing speech. Over and out.
PG: Oh lord, you've jumped to a bit of a conclusion there. I don't think that.
Sarah Jane Parton: If you are not the people who will be harmed by this stuff then maybe it IS time to be quiet. Goff's call has not been met with criticism from former refugees, transfolk, or Muslims, which is noteworthy. The ethnic and gender make up of Brash's "coalition" is also telling.
PG: Are you suggesting that only former refugees, transfolk, Muslims and you should say anything about this? If that's the case the issue would never have been raised or discussed to any noticeable degree.
Sarah Jane Parton: I'm saying that if you use your privilege to support and amplify the voices of other privileged people whose very aim is to trample on marginalised people, maybe it's time to be quiet.
---
That's more or less how it ran – Twitter threads can get a bit convoluted.
It evolved from debating whether free speech principles overrode claims of hate speech or not, to suggesting that people 'in privileged positions' should be quiet and let others speak about the problems with hate speech.
I'm sure no minds were changed in the conversations, but this illustrates some of the issues around complexities of free speech versus hate speech'
It is more an issue of how much intolerance of intolerant speech should limit the freedom to speak.