Journalists continue to complain about the government not living up to it's promise to be the most transparent government ever.
There was no pledge of transparency in the Labour-NZ First coalition agreement. From the Labour-Green Confidence and Supply Agreement:
20. Strengthen New Zealand's democracy by increasing public participation, openness, and
transparency around official information.
Claims of a lack of transparency began early under the incoming Government late last year.
Stuff (26 November 2017):  Labour promised transparency in Government, but they seem to be buckling on that early
The Government is facing a mountain of questions – more than 6000 to be exact. They've been lodged by an army of National MPs with nothing but time on their hands and it should be no surprise to Labour Ministers, who have so far refused to release much detail, if any, about their first actions in office.

In a 100-day programme, where major reform is being pushed through at break-neck speed, that is cause for concern.

…and it might be early, but on the current trend those accusations aren't far from being squarely levelled back to Labour. They and the Greens made much of their desire to "bring transparency back to Government" on the campaign trail.

Labour is also yet to release what's known as the 'Briefings to Incoming Ministers' – or BIMs. They are the documents prepared by the experts and officials, delivered to ministers in their first week to give them a crash course on the portfolio they've just been handed – in some cases rendering them responsible overnight for the spending of public funds totalling billions.
Stuff (2 December 2017): For a Government vowing to be more transparent, it really is stuck in the mud
For a Government vowing to be the most transparent and open the country has ever seen, it really did get stuck in the mud this week.

The problem with this document is not necessarily what's in it, but the message it sends by not releasing it after Peters insisted it would be made public.

Ardern has spent the week arguing it isn't a "live document" or a work programme the Government is bound to.

The new Government has an opportunity to pave a new path on transparency, it just needs to get out of the mud its bogged itself down in over the last few weeks and accept sometimes it's better to just admit that you're wrong.
RNZ (4 December 2017): Jacinda Ardern on 'secret' documents
Speaking to Morning Report today, Ms Ardern defended the new government's reluctance to reveal the details of its coalition agreement.

"When something becomes an official part of our work programme, then that's the point at which, absolutely, we have to be transparent about that. But when it comes to documents that sit behind a negotiation, that aren't necessarily going to be pursued, as soon as you release it, that gives an expectation that it is a hard and fast policy, when it might not be at all."

"We are actively at the moment looking at ways that we can make sure there is greater transparency around briefings that ministers receive, cabinet papers, whether we can routinely release documents after decisions are made, these are conversations I have never heard governments have before, and we are having."

She said the government was still dedicated to greater transparency.
Jump forward seven months and this is looking like a 'same old' secretive government.
Stuff: 'Secretive' Shane Jones won't release Fonterra texts
Regional economic development minister Shane Jones is refusing to make public messages backing his criticism of Fonterra chair John Wilson.

Self-styled "provincial champion" Jones launched a blistering attack on the long-serving dairy co-operative boss last month. Defending his remarks, Jones then claimed 365 people had sent messages supporting his stance.

But the NZ First Minister is now refusing to release those text messages. And that raises questions about the Government's official record-keeping processes.

"The messages I was referring to were received predominantly on my private phone and not in my capacity as a Minister. They therefore do not fall within the scope within the scope of the Official Information Act 1982," Jones said in a letter to Stuff.
@HenryCooke from Stuff: "In Politically Correct this week I recounted some recent OIA fun we've had with "the most open government in history"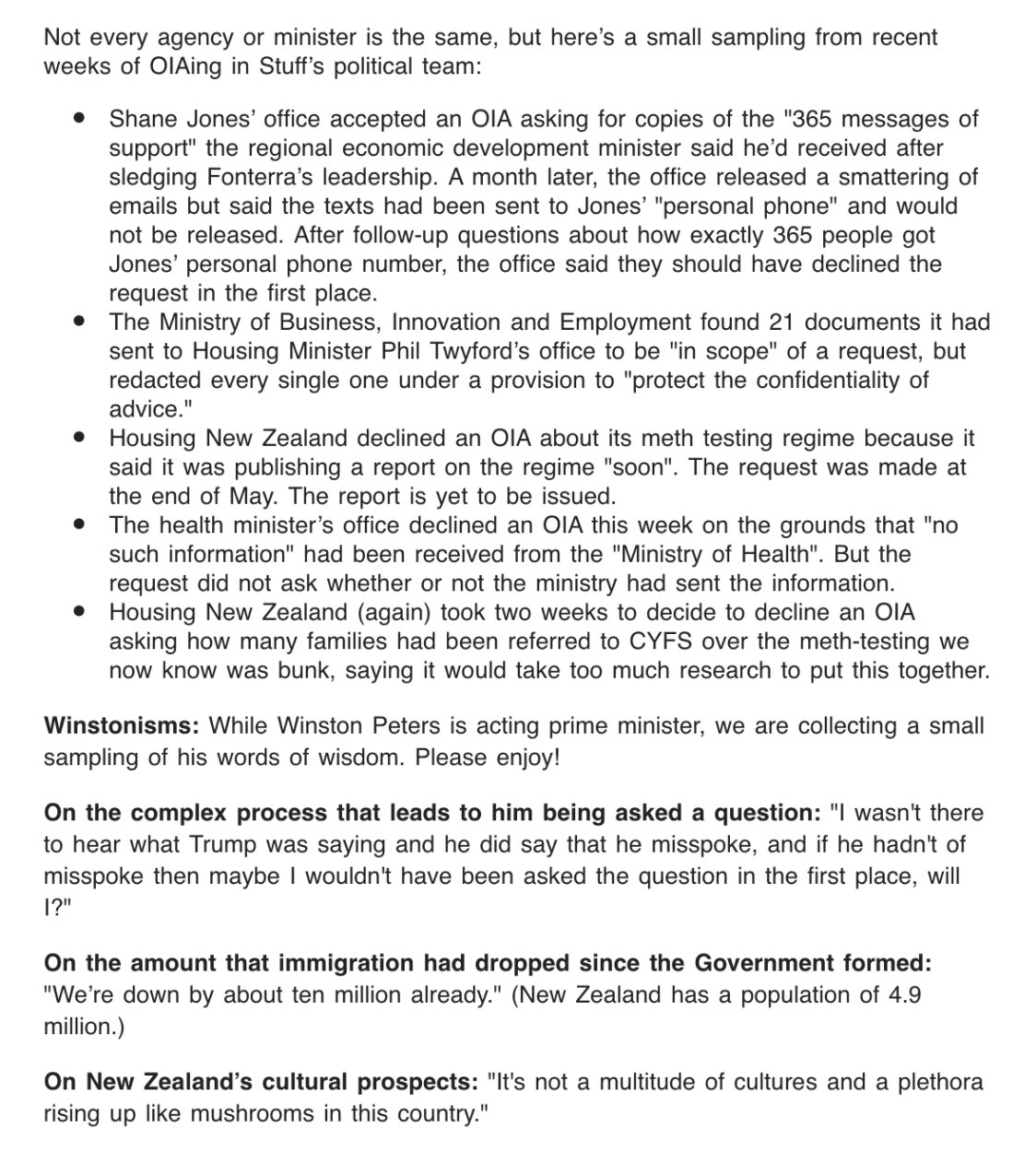 But it looked like "We will be the most transparent government ever…unless it doesn't suit us."