In the traditional time for releasing news you want buried in the weekend, Jacinda Ardern and Clare Curran gave slightly different versions of Curran's demotion today for repeating a failure to properly record a meeting.
Ardern says Clare Curran removed from Cabinet
Prime Minister Jacinda Ardern has removed Clare Curran from Cabinet and accepted her offer to resign her Government Digital Services portfolio and Open Government responsibilities, following a second failure to properly declare a meeting.

Dr Megan Woods will take over as Minister of Government Digital Services and Ms Curran's delegated responsibilities in relation to Open Government will revert to Chris Hipkins, as Minister for State Services. Minister Curran will retain her responsibilities as Minister for Broadcasting, Communications and Digital Media, and as Associate Minister for ACC, but will now sit outside Cabinet.

In February this year Minister Curran met with Mr Derek Handley at her Beehive office in her capacity as Minister of Government Digital Services to discuss Mr Handley's interest in the vacant Chief Technology Officer (CTO) role. This meeting took place after the first unsuccessful recruitment round for the CTO. As with approaches from other interested parties, the Minister directed Mr Handley to register his interest with MBIE officials. Applications reopened for the CTO role in May.

The meeting was not recorded in the Minister's diary and neither the Minister's staff nor officials were made aware of it.

The meeting was subsequently mistakenly left out of an answer to a recent Parliamentary Question for Written Answer. The meeting should have been included in the answer and the error has been corrected. Ms Curran has advised there have been no other meetings between herself and Mr Handley outside the application process.

"The failure to record the meeting in her diary; inform her staff and officials; and accurately answer Parliamentary questions has left the Minister open to the accusation that she deliberately sought to hide the meeting." said Jacinda Ardern.

"While this was not the Minister's intention, this is the second misjudgement and is not in keeping with my expectations, or the Minister's expectations of herself. As a result I have chosen to remove Minister Curran from Cabinet.

"Transparency is important, even more so for Hon Curran given her Open Government responsibilities.

"I have accepted the Minister's offer to resign her responsibilities relevant to this issue, which clearly she can no longer continue in.
So Ardern accepted an offer to resign, but removed her, or something like that.
The demotion from Cabinet but loss of only some of her portfolios must have been at least discussed, it's hard to see Curran offering to resign exactly as Ardern dictated.
Curran's statement: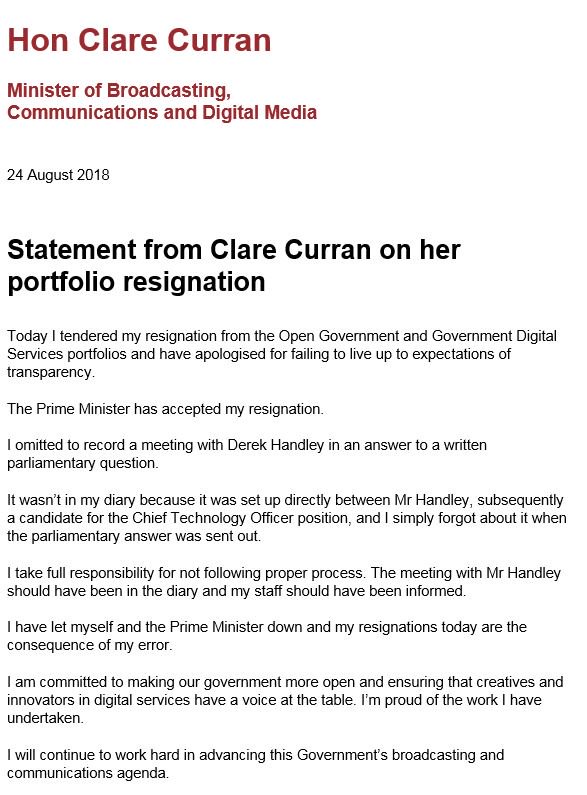 So she is still promoting her retained responsibilities. Some have said it is a bit of a Claytons dumping.
And it has been pointed out that it's a bit cynical for Ardern to claim "Transparency is important" when she waited until late on a busy news Friday, with the Bridges leak fiasco and Australian leadership fiasco dominating news.
I don't think the loss of Open Government will disappoint many people, Curran has failed to live up to her responsibilities in a number of ways. She is probably a popular demotee.
I'm not sure how will Chris Hipkins will fit with the open Government role alongside his job as Government Whip.