This should have just been me making a point at The Standard this morning, but showing signs of past intolerance of criticism they overreacted, threatened me with a ban, demoted the thread and then it seems banned me anyway because i couldn't in response to lprent's censorship (he may not have seen the post as it was originally so may have fired a broadside half cocked).
MickySavage posted Which National MP leaked Bridges' expense details? In the main it was similar to my post on the same topic this morning, but it included a very inappropriate graphic that mocked mental health and named MPs – here's the graphic, still on their tweet of the post: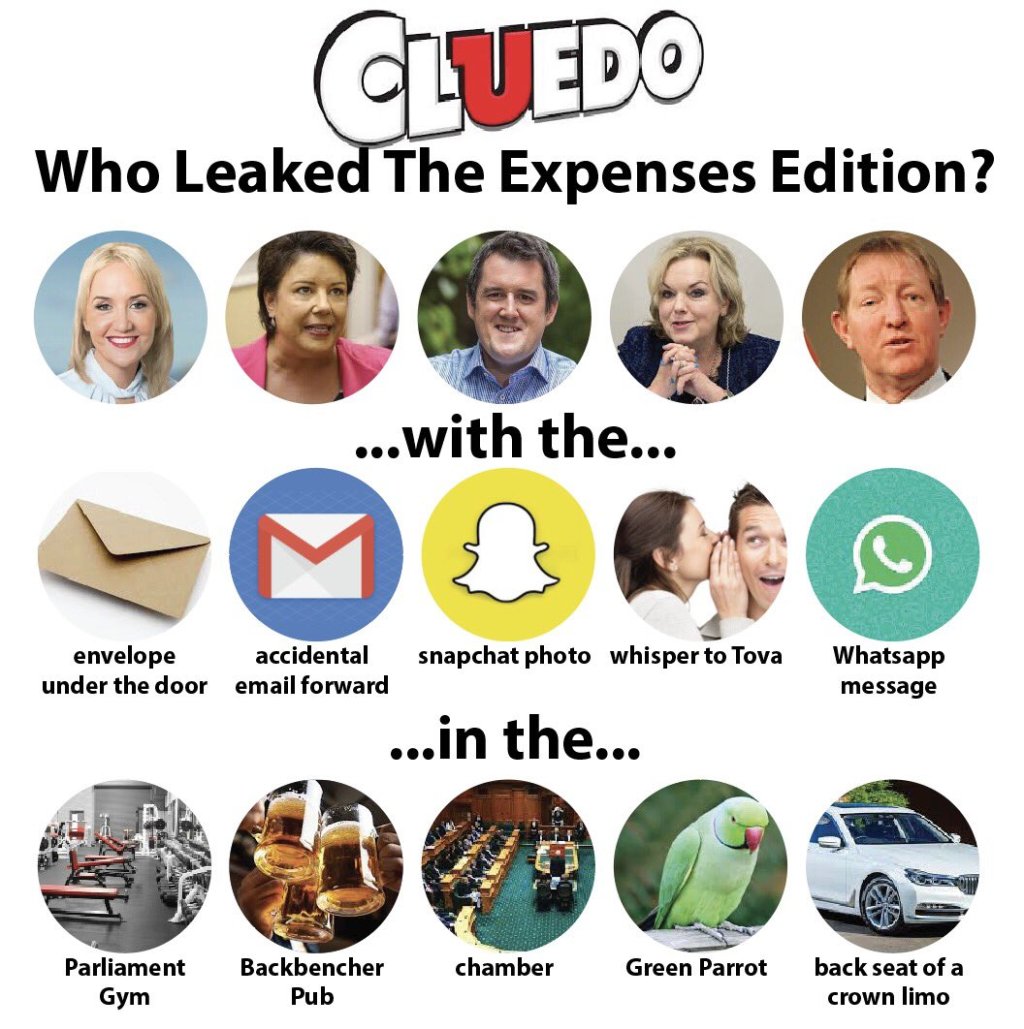 I simply said "I think this is a poor taste post in the circumstances. Mental health is not a joke, nor should it be used for making cheap political shots."
Te Reo Putake reacted:
Pete, with the exception of the 'cluedo' picture, there is nothing humorous in this post. No jokes are made in the post about the mental health issues of the MP concerned.

So, in short, your comment is in poor taste and you are using the matter to make a cheap political shot.

Poor form.
There was nothing political about my comment at all, and the cluedo picture was prominent (before any text) and that was worse than a cheap political shot.
But TRP was still overreacting:
Pete, the graphic has been around since the original leak. Posts have to illustrated with something and in the circumstances (a fast breaking news story about a mystery MP) it's not inappropriate.

However, you didn't specifically mention the graphic in your whinge. You specifically called out the post.

So you were having a crack at the author for your own beigely bland political purposes.

If I were you I'd just be grateful you were merely admonished, not banned. If you have anything to say about the substance of the story, have at it. If not, silence is golden.
The graphic was the most prominent part of the post, so yes, I called out the post. Perhaps I could have referred specifically to the graphic but it was fairly obvious.
I didn't have a crack at the author at all, I didn't refer to the author. I called out a crappy post.
And got threatened with a ban for it – that's how The Standard used to operate when called out for crappy posts. Seems like now TRP is back they are back to message control.
MickySavage was initially defensive:
I thought about this.

First there is no proof that the person has mental health issues.

Second it is clearly a topic of public interest.

Third there have been numerous allegations from the right that Labour was responsible for the leak. Clearly this is not the case.

Fourth the emphasis is on disunity in National's ranks and Bridges' poor judgment.

Fifth I raise the possibility of canning the inquiry.
It has been made very clear through the day that it was predominantly a mental health issue. Otherwise his poinnts are fair given the issue and circumstances.
And he must have thought some more about it, because a wee while later the graphic was replaced and the post was amended:
Update:

I agree that mental health is an important issue so I am replacing the picture associated with the post.  The story is relevant however.
So my comment was effectively accepted as valid and appropriate action was taken. Good on MickySavage for that.
But then lprent got involved
[lprent: Just read through this thread. Basically TRP is correct. You are wrong. Shoving this silly diversion thread to the end of post. ]
He may not have seen the original graphic, but TRP was wrong and MickySavage eventually took the right action.
I don't care about it being dropped to the bottom of the post, from here, and I don't care if they ban me, but while i can and where I'll can I won't back down from giving my opinion on what i think are crappy aspects of posts or moderation.
And they also seem to have banned me without saying, because i haven't been able to respond to lprent's interfering (it had already been dealt with) and his typical overreaction.