It's odd to see Trump talking of impeachment. It's been a tough week for him, but while the guilty verdicts of Paul Manafort and guilty pleas of Michael Cohen reflect poorly on Trump's choice of campaign leader and personal lawyer look questionable, the degree of legal jeopardy he faces is debatable.
I don't think things are anywhere near impeachment yet, especially given that Congress still has a republican majority, as does the Senate.
This looks like a pre-emptive warning by Trump.
Fox News: Trump declares 'market would crash' if Democrats impeached him
President Trump, in an exclusive interview with Fox News' Ainsley Earhardt, warned that the "market would crash" if he's ever impeached — while questioning why Democrats would even consider that course in the future.

"I don't know how you can impeach somebody who's done a great job," Trump said, in the interview which aired Thursday on "Fox & Friends."

The president argued that he's done a great job in office, despite the critical coverage in connection with the Cohen case and other controversies.

Further, he warned, "If I ever got impeached, I think the market would crash, I think everybody would be very poor, because without this thinking, you would see — you would see numbers that you wouldn't believe in reverse."

The president touted his economic accomplishments, claiming that the economy was going to be "down" if he hadn't been elected.

"Had Hillary and the Democrats gotten in, had she been president, you would have had negative growth. We picked up $10 trillion worth."
And added a huge pile of debt, which increases future financial risks.
It's probably at least as likely that trump could precipitate a market crash if he stays unimpeached.
The US stock market has actually been on a record bull run since well before Trump took office.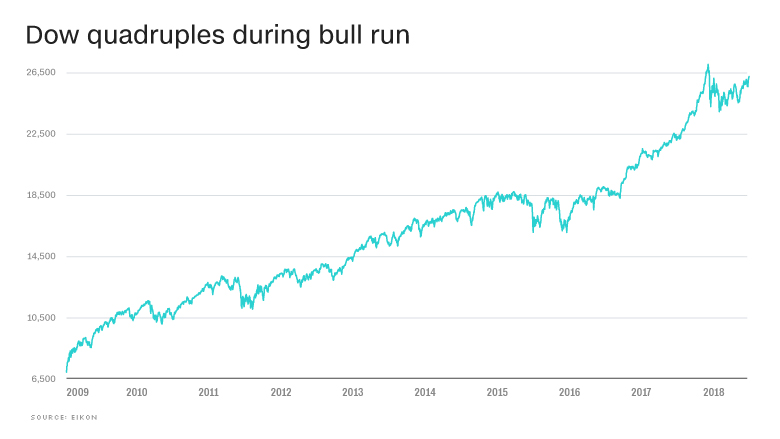 Fox Business: US stock market sets record-long bull run
The current bull market began on March 9, 2009, when the S&P 500 was at 676 points, hard hit by the Great Recession.

Nine and-a-half years later, and the S&P 500 has rallied about 323 percent. The tech-heavy Nasdaq Composite has been the biggest winner, with a 611 percent gain, a clear testament to the strength of the tech sector. The Dow Jones Industrial Average has appreciated about 300 percent.
So the market may be overdue for a correction – or crash – regardless of a possible future impeachment.
Also from the Fox & Friends interview – from CNN: Jeff Sessions finally punches back at Donald Trump — hard
"I put in an attorney general that never took control of the Justice Department. Jeff Sessions never took control of the Justice Department and it's a sort of an incredible thing."

That was far from the only time Trump ran down Sessions in the Fox interview. He told Earhardt that "even my enemies say that Jeff Sessions should have told you that he was going to recuse himself and then you wouldn't have put him in." Trump added that the only reason he gave Sessions a job in his administration was because he was loyal. And, in perhaps the most cutting and personal attack, Trump said this of Sessions: "He took the job and then he said, 'I'm going to recuse myself.' I said, 'What kind of a man is this?'"

"What kind of man is this" — a shot at both Sessions' masculinity and his ethics.
What kind of a man, let alone president attacks the Attorney General like this?
Sessions has been attacked by Trump before, quite a lot. Unusually, this time he responded with this statement:
"I took control of the Department of Justice the day I was sworn in, which is why we have had unprecedented success at effectuating the President's agenda — one that protects the safety and security and rights of the American people, reduces violent crime, enforces our immigration laws, promotes economic growth, and advances religious liberty.

"While I am Attorney General, the actions of the Department of Justice will not be improperly influenced by political considerations. I demand the highest standards, and where they are not met, I take action. However, no nation has a more talented, more dedicated group of law enforcement investigators and prosecutors than the United States.

"I am proud to serve with them and proud of the work we have done in successfully advancing the rule of law."
This looks very messy.