Labour have had a bad week, on top of bad weeks before it. They have been widely criticised for conceding power to Winston Peters, and have been dogged by problems, especially the Clare Curran/Derek Handley saga that continues to cause them embarrassment.
The weekend commentary continues to challenge Labour's credibility.
Audrey Young: Failings in Coalition Government become glaringly apparent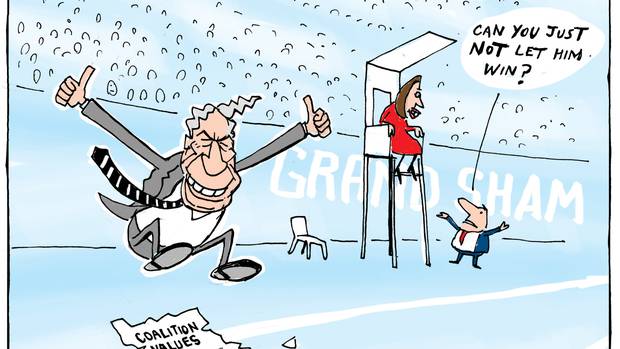 In March, the honeymoon between the new Coalition Government and the public ended after the mishandling of Labour's summer school complaints and the bumbling around New Zealand's position on Russia.

September marks the end of another honeymoon – between the partners in the Coalition Government, Labour and New Zealand First.

This week also marks another milestone: Peters finally came clean about how he sees his party's status in the relationship, as an equal partner to Jacinda Ardern's Labour which explains a lot.

This week has been more like the first falling-out rather than a crisis in the relationship but both parties behaved very badly to the other.
Young details a plethora of problems.
Duncan Garner:  Don't write this fumbling coalition off just yet
It's been a messy, incoherent and rudderless 12 months. The winner has been the surplus National left behind. It has given Labour options. The loser has many names. Clare Curran, and all those average jocks posing as ministers, and those using the "c" word.

Peters prefers to describe criticism of this governing hybrid with a turn-of-the-century word, "balderdash" which is ultimately a pretentious gum movement meaning utter nonsense. The use of such a silly word should be a warning to voters to stay well clear, but you simply can't save all the conspiracy theorists all the time.

If you wanted a trainer wheel Government, this is it. Yes, there are a few policy scraps and differences right now. That's because there are three partners and the tail does wag the dog more often than it should. That's called MMP in action. They'll sort it. It's the only option.
So what do they do to try and improve things? It seems like they are spinning up their PR department to try and look better (or at least less bad).
I have noticed a change in attitude at The Standard recently, back to being very sensitive about any criticism of Labour.
MickySavage has kept plugging away with post attacks on National, nothing much new there. (And he puts up some good posts on less party orientated subjects as well).
But some with close Labour (and Green) ties have started to pop up in the mix.
Mike Smith (ex Labour general secretary): Is Politik a propaganda mouthpiece for the UK Embassy?
It very much looks as though Richard Harman would have been one of the selected journalists. I know Richard well, like and respect him, but I think he is barking up the wrong tree on this issue.

Winston Peters is and deserves to be treated as a substantial politician and diplomat. One doesn't have to agree with everything he says, but he is no fool. On this issue, for our country's sake, I am very glad he is not knee-jerk following the "western" group.
Curious to see a Labourite supporting Peters, who copped more criticism than from Harman.
Simon Louisson (former journalist who reported for The Wall Street Journal, AP Dow Jones Newswires, the New Zealand Press Association and Reuters and has been a political and media adviser to the Green Party): What does it take for bosses not to get their bonus?
Fonterra's $196 million loss for the June year – the first loss in the co-op's 17-year history and a staggering reversal of last year's $745m profit – failed to seriously dent the remuneration of its former CEO Theo Spierings.

Part of the trouble lies in the fact that people on very high salaries get the same employment protection that ordinary workers receive. I would argue that the law should be changed so that once an employee receives remuneration of over ten times, or even five times, the average income, he/she should be prepared to take the responsibility that they live or die by their performance.

As a former businesses reporter, time and again I would see bosses fired for incompetence but paid enormous "golden parachutes".
Louisson is back posting at The Standard after a break of six month break, since authoring a flurry of posts (six) at the start of the year).
Te Reo Putake (an active Labour member and activist and seems to be close to some Labour MPs): Coalition Problems? Tell 'em they're Dreaming!
The National Party and their paid stooges have been promoting the narrative that NZ First is the party that's really in control of the new government. That's bollocks.
"Their paid stooges" is a dirty politics type allegation. Trying to blame critics for Labour's run of incompetence is not going to fix or even paper over the bad press they have been getting.
What's actually happening is that we have an MMP Government that is functioning in exactly the way it was envisaged to work. The three parties negotiate, they argue for their positions, they seek consensus and then they enact legislation. And, yes, it is a three way deal. The Greens have managed to find ways to build a relationship with NZ First that must be annoying the hell out of the Nats.
It's not 'the Nats' who seem annoyed as hell by Labour's bad media coverage.
And that's because the strength of this coalition is respect for different opinions and a way of working that emphasises consensus.
Consensus as long as Peters approves? That is how it is being portrayed, with some justification.
How very different from the undemocratic FPP when a one seat majority ensured an effective dictatorship over legislation.
Inseat there's a growing perception of one MP who dictates what goes in a small party now dictating to a party with five times as many seats.
No, this is the modern way. No wonder the right can't understand why they lost the last election.

They're dinosaurs, watching the comets fall.
It's not National who look to be in danger of falling at the moment. As self inflicted comets fall around labour their PR dinosaurs try to patch up yesterday's mess. Too late as the rapid news cycle continues to steam roll them.
A comment on that thread: from Incognito:
Very good post! Bryan Gould wrote a similar post: http://www.bryangould.com/coalition-government-working-as-it-should/
Gould often trots out pro Labour pieces, and plays a similar tune to TRP:
It is increasingly clear that some supposedly expert commentators on the political scene have a poor understanding of how a parliamentary democracy actually works.

When the coalition partners occasionally do not agree on a particular issue, here is no reason, in other words, no reason to froth at the mouth, or bemoan the fact that National, with the largest number of seats but not a majority, is not in government, or to ask, who is running the government. A coalition government that has to muster a parliamentary majority to get its measures passed is what both our constitutional principles and the will of the people as represented by the outcome of the election both dictate; it is called democracy at work.

So, when New Zealand First declines to support a particular proposal put forward by Labour, or if the roles are reversed so that Labour fails support something New Zealand First wants, we should celebrate, not fulminate. We have the best of all worlds – a more representative parliament, a government that has to take account of a wider range of opinion than just its own, and a coalition government that provides stability and a consistent strategic direction.

Perhaps some of our commentators should pause to reflect for a moment before going into print.
Jacinda Ardern has often batted away suggestions of dysfunction by saying it is just how MMP works. In a just released book on the 2017 election (see 'I remember the crunch point': Jacinda Ardern looks back on the 2017 election) she says:
The rest really is history, and now with the most genuine MMP government we've ever had, it's also up to us to make history.
What makes the current government any more 'genuine' than past ones?
Tracy Watkins: Is Winston Peters Labour's dud Lotto win?
There might have been lots of calming words spoken about  MMP in action – but that's just Labour putting on a brave face.
Seems like a few brave faces are being trundled out by Labour's PR department.
Ardern, Labour and their mouthpieces can claim as often as they like that 'MMP is working as it should be', but they currently look like they are insisting the seats look comfortable as the wheels get very wobbly.