Michael Cullen, ex finance minister and now chairman of the Tax Working Group, will be interviewed on Newshub Nation this morning at 9:30m am (repeated Sunday morning 10 am).
Following the release of the Tax Working Group's interim report, Simon Shepherd sits down with its chairman Sir Michael Cullen to look at how tax changes could increase income equality and help the environment.
Future of Tax: Interim Report (PDF)
The contentious hobbled CGT should be a talking point.
Stuff:  Ministers issue fresh request to Tax Working Group to 'consider inequality'
The Government has given the Tax Working Group a prod along after it stopped short of reaching a recommendation on the merits of a broad-based capital gains tax in its interim report.

It set out two models for what a broad-based tax on capital gains could look like in its interim report published on Thursday.

Chairman Sir Michael Cullen said "the key issue" it had looked at was tax on capital income, but said it was not a "no brainer".

Finance Minister Grant Robertson and Revenue Minister Stuart Nash immediately released a letter they had sent to the TWG.

The letter asked the TWG to "consider a package or packages of measures which reduces inequality, so that New Zealand better reflects the OECD average whilst increasing both fairness across the tax system and housing affordability".

The ministers also asked the TWG to examine which of two models for taxing capital gains that the TWG considered "would be best to ensure the tax system was … fair and balanced".

A source close to the TWG said the letter sent "a strong signal" about the Government's desire for a broader capital gains tax.
Max Rushbrooke for a CGT and pro-equality tax changes: Tax report highlights NZ's inequality issues
Though it may not have settled on an answer yet, yesterday's interim report by the Tax Working Group was crystal clear about the problem: we have a tax system that does very little to enhance fairness and reduce inequality.

The need to restore fairness runs like a silver thread throughout the working group's analysis. Hence one of its preferred options is to tax nearly all the gains that people make from selling assets.

…it would also help reduce inequality, because these so-called capital gains will be largely the preserve of the very well-off. Indeed, many of these people have become adept at disguising their income as capital gains in order to avoid paying tax.

There are, of course, some downsides to introducing a thorough tax on capital gains. It creates more reporting requirements, and could encourage people to hold on to assets for longer. But these seem like minor problems when set against its major benefits.
Peter Dunne is against it: It's time to bury the capital gains tax
The spectre of a capital gains tax on residential property sales and other substantial assets has loomed large over the New Zealand tax scene for about fifty years now.

Government is a little different, but the outcome seems likely to be the same. While this time the Government has left open the possibility of a capital gains tax, it is the Tax Working Party that looks likely to rule it out, saying the issue is ultimately a political one. And, given the Government's commitment not to introduce such a tax before it gets a specific renewed electoral mandate, the prospects look as distant as ever. Very few governments win elections promising to introduce more taxes.

All of which raises the question as to why the capital gains issue keeps getting raised, especially since the arguments in favour from both a revenue gathering and efficiency perspective are not that strong.

Advice I received when Minister of Revenue was that it could be over a decade from the time of introducing a broader based capital gains tax until it produced any significant revenue gain for the Government.

Also, it has been long accepted that the family home would have to be exempted from any such regime, further diminishing its likely impact. Even in the rental sector, the impact would likely be negative for tenants, with landlords boosting rents to offset any negative tax impact when those properties are sold.

… the application of a capital gains tax to other substantial items would be just as fraught, as items will appreciate over time at different rates, while some will depreciate. The administration of such a tax will impose additional strains and complexities on an already struggling tax system for not much revenue gain.

When tax policy moves too far into the area of engineering income redistribution or social equity complicated issues invariably arise at the margins, which the tax system, by virtue of its blanket approach, is not well designed to cope with.

All of which means that the Government would do far better to focus its ongoing attention on ensuring that the greatest amount possible of all taxes currently levied is collected before embarking on the imposition of new or additional taxes.

For all these reasons it is time to bury the capital gains tax argument for good, and focus afresh on tax policy that works, rather than just feels good.
UPDATE:
---
Audrey Young: Capital gains tax defining issue for Labour, NZ First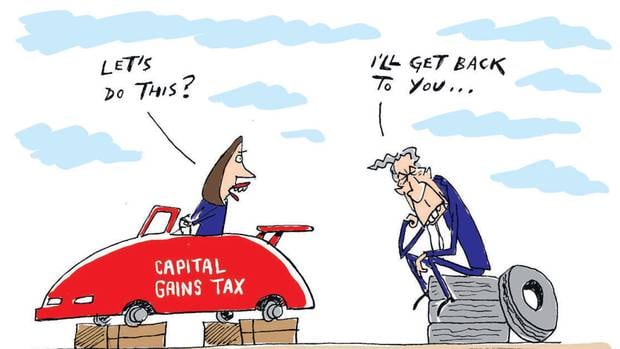 One thing is clear after this week's tax report – tax could make or break the Government at the next election, and a capital gains tax (CGT) will be a defining issue for the relationship between Labour and New Zealand First.

The tax blunder last time taught Jacinda Ardern and then finance spokesman Grant Robertson that the "how" of progressing a policy is as important as the "what".

Capital gains tax has been an integral part of the post-Clark Labour story. In a sense, Robertson owes his job as Finance Minister to it.

It may be that New Zealand First sees CGT as such a defining issue for Labour that it is obliged to support it as an article of good faith.

Both parties will also be mindful of the integrating effect of the policy on the Coalition.

Because the capital gains tax would not take effect until after the election, it would bind the Coalition partners, Labour and New Zealand First, closer together and require Peters and Ardern to campaign jointly under their tax policy.

That will fundamentally change the dynamics of the next election, whatever the merits and disadvantages of a capital gains tax itself.