It is seventeen years since the United States and Britain went to war (the latest one) in Afghanistan. There was some justof9cation for taking some sort of action, and there have been some successes, but it has largely been a failure. Long entrenched problems there remain unresolved.
It shows again that right (sort of) and might are not all-conquering. The US had already had a lesson on the futility of brute strength and ignorance in Vietnam, they were warned Afghanistan could be a mire too murky to force into being a model Western style state, but they tried anyway.
Washington Examiner:  Unhappy 17th birthday, Afghanistan War
Seventeen years ago today, the U.S. and Britain went to war to remove the Taliban from power in Afghanistan. It was morally and politically justified by the Taliban's failure to surrender al Qaeda terrorists responsible for the Sept. 11 attacks. The Western alliance drove the Islamic totalitarians from power swiftly, within weeks.

Yet, we're still there. On Thursday morning, another American serviceman was killed in battle in Afghanistan. Nearly 2,400 Americans have now died in this war, and Afghanistan is still mired in poverty, chaos, and violence.

What are we doing there? Why are we still fighting this war after 17 years?
'We' includes New Zealand, with our army deployment extended until next year and that will be subject to review again.
The three presidents to preside over this war have all failed to focus the mission clearly toward America's real interest, which is to prevent multinational terrorist organizations such as ISIS and al Qaeda from establishing a stronghold.

Instead, we took up the hopeless and endless task of nation-building. Every audit of American efforts to build a safe and stable Afghanistan have showed failure. The waste in money and lives goes on. The problem is not American incompetence or stinginess, but that the big goal has always been unrealistic.

Billions of dollars have been spent on schools, roads, and infrastructure projects in rural areas that remain under the heel of the Taliban. These projects could work only if America ran a police state, requiring hundreds of thousands of soldiers and Marines.
I think the US did learn something from their Vietnam nightmare – not to put large numbers of soldiers inn the firing line, but high-tech weaponry has only helped arms manufacturers to test their products and make money.
The issue in places such as Helmand is not simply that the Taliban dominate the area and cannot be dislodged, but that the area is a patchwork of fiefdoms run by local tribes with whom we are unable to deal.

The Bush dream that guns, money, and lawyers could build stable democratic societies anywhere on Earth has been tested in the field, and it has failed. In Iraq, where there was some memory of institutions, it has largely failed. In remote parts of Afghanistan, it has failed completely.

The hubris of the Bush doctrine was deeply unconservative. President Trump has taken a humbler route, directed toward wounding the Taliban to keep it weak, but not pretending to be able to eradicate it entirely. The administration has also finally made Pakistan understand it may not support our enemies in Afghanistan.

America's goals should be to avoid making things worse in Afghanistan, contain the Taliban, and focus more on the Islamic State. These are not lofty goals, but lofty goals have proved to be pipe dreams that produced a 17-year nightmare.
What are the goals and dreams now?
The Economist: Donald Trump is doing better on Afghanistan than his predecessor (That's not setting the bar very high):
A ONCE-popular argument that President Donald Trump's approach to foreign policy is not substantially different from Barack Obama's is going down in a blaze of trade agreements. Yet on Afghanistan it remains broadly true. Mr Obama came to power describing Afghanistan's conflict as the "war we have to win", but never seemed convinced that that was possible. After a stab at escalating the conflict, he devoted his presidency to ending it.

It was time, he said in 2011, the year the war became the longest in American history, "to focus on nation-building here at home."

Mr Trump has long said the same. His decision to launch a much smaller escalation last year came with the closest thing he can muster to an apology attached: "My original instinct was to pull out, and historically I like to follow my instincts." Even so, his record on Afghanistan, including this week a promise of peace talks to add to that modest military reinforcement, is starting to look much better than his predecessor's.

This chiefly reflects what a low bar Mr Obama set.
Unsurprisingly, then, Mr Trump's measures have not transformed the battlefield, where the Taliban remain in the ascendant. Instead of encouraging the Afghan government to take back territory, America is reported to be urging it to withdraw from remote outposts to reduce casualties.

The level of violence continues to be horrifying, especially among civilians. More were killed in the first six months of this year than in any previous year on record, in part because of increased American bombing. Yet there is at least more confidence that the Taliban can be prevented from taking a major town. And the 315,000-strong Afghan armed forces are said to be improving. Compared with the debacle Mr Trump inherited, this represents progress.
Progress towards what?
America and its Afghan ally have been keen to negotiate with the insurgents since the demise of Mr Obama's short-lived surge confirmed their inability to end the war militarily.

This is still a far cry from offering Mr Trump a way out.

Stitched together by British imperialists in the late 19th century, Afghanistan's feuding ethnic groups have never shared power uncoerced, and 40 years of on-off civil war have made them even more reluctant to. The government is deeply divided along ethnic lines. It is hard to imagine how its members might accommodate the Taliban—even if they want to be accommodated. It is unclear that the mullahs have given up on a military victory.

It is even unclear which faction of the Taliban, the fundamentalist leadership or the more pragmatic rump, their representatives in Qatar might speak for. If Mr Trump does view the putative talks as a means to declare victory and quit Afghanistan, as some suspect, he has simply given up on the place.
Foreign Policy: One Year On, Little to Show for Trump's Afghanistan Strategy
One year after President Donald Trump announced a new strategy for winning the war in Afghanistan, the United States appears to be no closer to stabilizing the country and quelling the Taliban insurgency, according to analysts and a report issued by U.S. Defense Department.

The strategy has included a greater focus on defending population centers while ceding much of the remote countryside to the insurgents.

Pentagon officials say the measures are working.

But the situation on the ground tells a different story. The Taliban maintain their grip on much of the country, and the civilian death toll has reached a record high, according to a recent report by the Pentagon's inspector general. Also, the Islamic State in Khorasan, the Afghan arm of the Islamic State, continues to carry out high-profile attacks that have killed hundreds of civilians.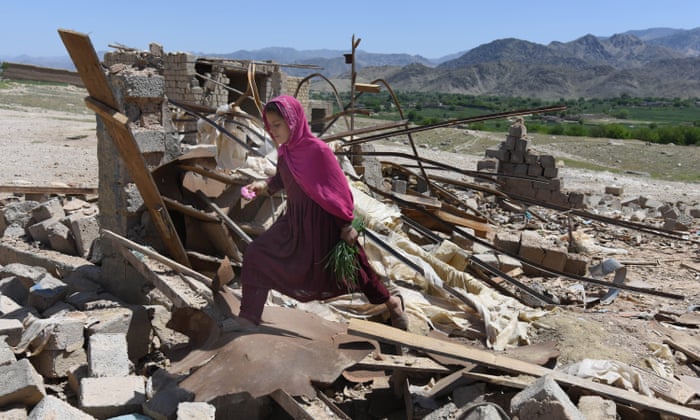 An Afghan girl walks amid the rubble of shops in Shadel Bazar after the US military dropped a GBU-43 Moab bomb.
Seth Jones, a senior advisor to the international security program at the Center for Strategic and International Studies, said data suggested that the Taliban's control of populated areas overall, primarily in rural regions, had actually increased.

The problem with the administration's strategy of ceding the more remote areas of the country to the Taliban is that the insurgents increasingly are using the rural terrain to conduct attacks within major urban areas, he explained.

Another component of the U.S. military's strategy in Afghanistan is to build up the Afghan military, train the Afghan air force, and equip it with high-end gear, such as fighter aircraft and UH-60 Black Hawk helicopters.

But the Afghan air force's rapid increase in strike capability seems to be accompanied by a steep rise in civilian casualties.

Jones said Trump's strategy failed in another critical way: It has done little to prevent Pakistan from harboring Taliban fighters.

"What the U.S. has not been able to do is fundamentally change Pakistan's behavior," Jones said. "This is serious problem with the South Asia strategy. I'm not that optimistic over the long run."
This cartoon from seventeen years ago may still be close to the mark.
The only rubble reduction on Afghanistan seems to be it's size.