Just after returning from a visit to France where Donald Trump had looked uncomfortable amid tensions between he ande Emmanuel Macron, and where macron had a dig at him over nationalism, Trump has let rip via Twitter in attacks described as lacking in common decency.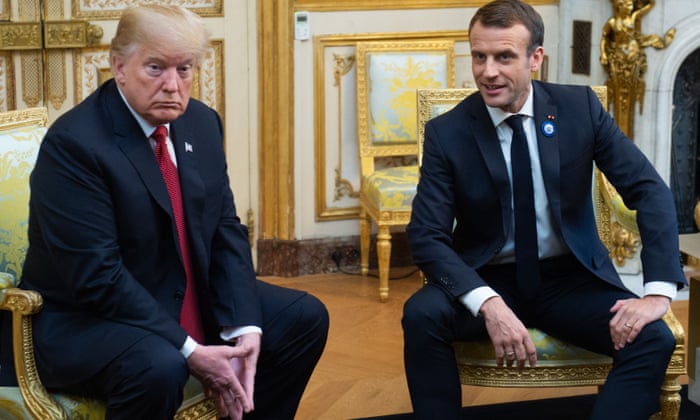 Four days ago Trump and Macron try to defuse tension: 'We want a strong Europe' – video (Guardian))
Donald Trump and Emmanuel Macron sought to defuse tensions on Saturday after comments made by both leaders threatened to cast a shadow over a weekend celebration marking 100 years since the end of the first world war.
Three days ago: Nationalism is a betrayal of patriotism: Macron lectures Trump (Stuff):
By the grave of an unknown soldier, under Napoleon's grand arch, at the centenary of the end of a great, terrible war, France's president lectured the powerful.

His audience, metres away, included presidents Donald Trump and Vladimir Putin, and Recep Erdogan.

Nationalism is a betrayal of patriotism, Emmanuel Macron declared. A withdrawal into isolationism would be "a grave error that future generations would very rightly make us responsible for".
In France Trump looked uncomfortable a lot of the time – except he lit up when Putin arrived at one event.
Trump likes being the big man, the US leader, the world leader, the big ego.
But he seems to treat 'lesser' leaders, and those who don't stoke his ego, with disdain. He dislikes doing many of the the sort of things that any significant and effective leader has to do – deal with other people who may have different views and goals.
On Trump's return to the US:  Days after visit, Trump blasts France's Macron as relations sour
U.S. President Donald Trump attacked his French counterpart on Tuesday in a series of tweets that underscored how much the once-friendly ties between the two leaders have soured, just two days after returning from Paris.

In five posts sent on the same day that French officials marked the anniversary of the 2015 terrorist attacks that killed 130 people in Paris, Trump blasted the key U.S. ally over its near defeat to Germany in two world wars, its wine industry and Macron's approval ratings.

White House Director of Strategic Communications Mercedes Schlapp, meanwhile, cast Trump's Paris trip in a positive light.

"It was clearly a successful trip," Schlapp told Fox News on Tuesday, saying Trump and Macron "had a productive meeting" on trade and NATO.

"He has sent a strong message to our European allies. And we have seen some changes and some positive shifts coming from our allies to pay more to NATO. We need their support," she said.

French Foreign Minister Jean-Yves Le Drian said on Monday that Trump had isolated himself at one of the weekend events by deciding not to attend the Paris Peace Forum, which Macron, German Chancellor Angela Merkel and Russian President Vladimir Putin attended.

Before his arrival, Trump had blasted comments that Macron made in a radio interview in which he appeared to cast the United States as a threat.

Both French officials and the White House said any misunderstandings had been cleared up after Macron and Trump held talks on Saturday.
It doesn't look like things have been cleared up – it looks more like they have turned to mud.
That in particular is likely to fray raw nerves.
I guess Trump never claimed to be a diplomat, but this will be creating difficulties or US and French diplomats.
Guardian: He came, he sulked, he tweeted: preening Trump on parade in Paris
In political science classes in the decades to come, Veterans Day Weekend 2018 is bound to be popular essay topic in the course on the Narcissist Presidency.

It has all the hallmarks of the Trump era: a fabricated story that congeals as fact in the president's brain and moments later is broadcast on Twitter. Countless diplomats and officials are sent scurrying to limit the damage, as the chief executive doubles down, refusing to admit a mistake.

On this occasion, after being generally complimentary to Macron during the trip, Trump woke up furious with the French president on Tuesday morning. He repeated the false claim about Macron's intentions for a European army, and followed it up with the well-worn jingoistic claim that France would be speaking German if it had not been for US intervention in two world wars.

The president then pivoted, as he often does against domestic opponents, to deride the French president's unpopularity and then signaled he would express his irritation through trade policy, claiming France imposed "big tariffs" on US wine and threatening retaliation. The tariffs on US wine are higher, but they are set by the EU, after trade negotiations with the US, not by France.

Over the first two years of his presidency, the point has been explained to Trump repeatedly. But in his outbursts against Germany, France and others, he ignores the distinction between the EU and its member states.

Whether Trump acts out of ignorance and deafness to expertise, or sheer political expediency has been much debated, but the distinction may not matter much. Raw attacks on other countries and talk of tariffs plays well with his base. Whether they are well founded or not does not matter.

At best, days of governmental effort will now be wasted, but no new tariffs will be imposed simply out of presidential ire. The outcomes could be far worse when it is not Emmanuel Macron on the receiving end of Trump's petulance but say, Kim Jong-un after the honeymoon with the North Korean regime goes sour, and there are nuclear missiles rather than cabernet sauvignon at stake.
Who knows what trump may provoke internationally. He is very different to any world leader, past or present. His brashness, petulance and ego may shake some things up and do some good, but he is also high risk.
Trump looks to be a provoked disaster waiting to happen.