I watched Queen Elizabeth give her Christmas speech for the first time for many years last night – actually I didn't, I watched a replay of what was recorded prior, along with edited in video.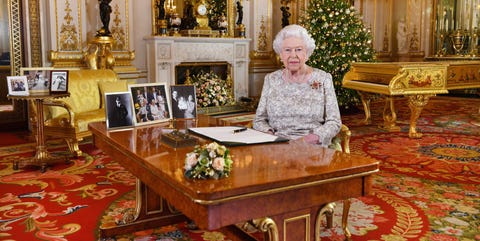 The Queen delivered her speech without any sign of emotion. It was bland, with the probable highlights for some being nods to celebrity style events involving 'my family'. I'm not sure if Prince Philip is still alive, I think so, but he didn't get a mention.
The speech broadcast started and ended with an all-male chorister and boys choir over-singing some songs in another opulent environment.
Summary from Global News: Queen's Christmas Message 2018
Queen Elizabeth II delivers her annual Christmas message. The Queen reflected on a year of centenaries including the Armistice and the busy year in the royal family from weddings to children and how faith, family, and friendship continue to be a comfort and reassurance in a world filled with paradoxes.
BBC: The Queen's Christmas message 2018
The Queen has said the Christian message of "peace on earth and goodwill to all" is "needed as much as ever", in her Christmas Day broadcast.

She also emphasised the importance of people with opposing views treating each other respectfully.
Riveting and inspirational, not.
Town & Country:  Queen Elizabeth's Christmas Message Reflects on the Royal Family's 'Busy Year'
As is tradition, Queen Elizabeth II addressed her people this afternoon, sharing her annual Christmas message.
I guess I qualify as one of 'her people' but I don't feel any connection to her and her privileged life of opulence and show.
In the speech, the British monarch reflected on the royal family's busy year, recognizing the weddings of Prince Harry and Meghan Markle and Princess Eugenie and Jack Brooksbank, as well as the births of her two great-grandchildren, Prince Louis and Lena Tindall, and Prince Charles's 70th birthday.

She also called out the 100th anniversary of the end of World War I, remembering her father's time in the military and honoring all of those who serve. But perhaps most impactful was the Queen's plea for kindness and respect in our modern society.

"Even with the most deeply held differences, treating the other person with respect and as a fellow human being is always a good first step towards greater understanding," she said.

"Even the power of faith which frequently inspires great generosity and self-sacrifice can fall victim to tribalism. But through the many changes I have seen over the years: faith, family, and friendship have been not only a constant for me, but a source of personal comfort and reassurance."
This was just a traditional place holder. Not something that impresses me, but some people like this sort of thing, so here it is.