Climate change predictions based on science, historical data, and models are always going to be a work in progress on subject to corrections. Some will eventually be found to have overstated possible effects, while it is just as likely that some will be found to have understated effects.
Observations claim that ocean warming has been hapening at a much faster rate than what was predicted in the 2013 U.N. Intergovernmental Panel on Climate Change (IPCC) report.
Axious:  Ocean heat is climbing 40% faster than thought
New, independent observations from ocean buoys and other data sources show Earth's oceans are warming at a rate that's about 40% faster than indicated in the 2013 U.N. Intergovernmental Panel on Climate Change (IPCC) report.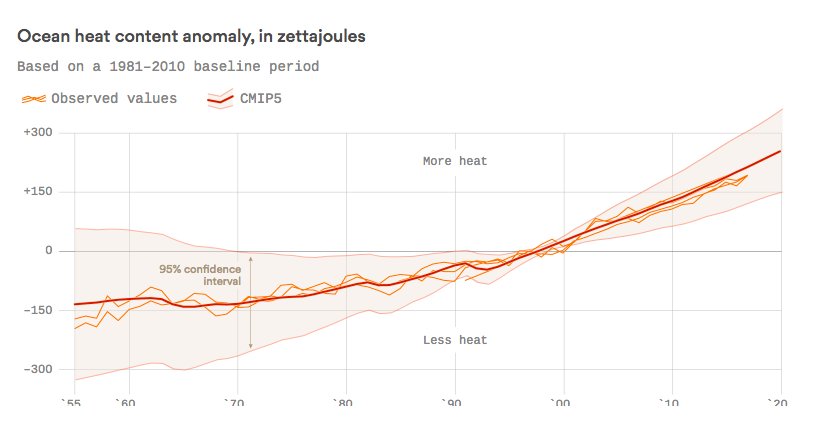 Why it matters: The study, published Thursday in the journal Science, resolves a key uncertainty in climate science by reconciling analyses from a variety of different scientific teams.
This may be adjusted again more observations are made and as more data is accumulated, but it does suggest real cause for concern.
The rate of change of acceleration of warming could as easily have been predicted too low as too high, but it seems that as the science progresses, the majority of concerns increase.
The study:  How fast are the oceans warming?
Climate change from human activities mainly results from the energy imbalance in Earth's climate system caused by rising concentrations of heat-trapping gases. About 93% of the energy imbalance accumulates in the ocean as increased ocean heat content (OHC). The ocean record of this imbalance is much less affected by internal variability and is thus better suited for detecting and attributing human influences (1) than more commonly used surface temperature records. Recent observation-based estimates show rapid warming of Earth's oceans over the past few decades (see the figure) (1, 2). This warming has contributed to increases in rainfall intensity, rising sea levels, the destruction of coral reefs, declining ocean oxygen levels, and declines in ice sheets; glaciers; and ice caps in the polar regions (3, 4). Recent estimates of observed warming resemble those seen in models, indicating that models reliably project changes in OHC.

The Intergovernmental Panel on Climate Change's Fifth Assessment Report (AR5), published in 2013 (4), featured five different time series of historical global OHC for the upper 700 m of the ocean.

Since then, the research community has made substantial progress in improving long-term OHC records and has identified several sources of uncertainty in prior measurements and analyses (2, 6–8).

shii et al. (6) completed a major revision of their estimate in 2017 to account for the previous underestimation and also extended the analysis down to 2000 m and back to 1955.

All four recent studies (2, 6, 10, 11) show that the rate of ocean warming for the upper 2000 m has accelerated in the decades after 1991 to 0.55 to 0.68 W m−2 (calculations provided in the supplementary materials).
Studies, not models.
The ensemble average of the models has a linear ocean warming trend of 0.39 ± 0.07 W m−2 for the upper 2000 m from 1971–2010 compared with recent observations ranging from 0.36 to 0.39 W m−2.

The relatively short period after the deployment of the Argo network in the early 2000s has resulted in superior observational coverage and reduced uncertainties compared to earlier times. Over this period (2005–2017) for the top 2000 m, the linear warming rate for the ensemble mean of the CMIP5 models is 0.68 ± 0.02 W m−2, whereas observations give rates of 0.54 ± 0.02 (2), 0.64 ± 0.02 (10), and 0.68 ± 0.60 (11) W m−2. These new estimates suggest that models as a whole are reliably projecting OHC changes.

…

The fairly steady rise in OHC shows that the planet is clearly warming. The prospects for much higher OHC, sea level, and sea-surface temperatures should be of concern given the abundant evidence of effects on storms, hurricanes, and the hydrological cycle, including extreme precipitation events (3, 15). There is a clear need to continue to improve the ocean observation and analysis system to provide better estimates of OHC, because it will enable more refined regional projections of the future. In addition, the need to slow or stop the rates of climate change and prepare for the expected impacts is increasingly evident.