A lot of media attention is being given to teenager Rahaf Mohammend al-Qunun being given asylum in Canada after fleeing her family and gender oppression in Saudi Arabia.
Mercury – Saudi teenager Rahaf Mohammed al-Qunun granted asylum in Canada
Saudi teenager Rahaf Mohammed Alqunun has been granted asylum in Canada after she fled her family fearing her father would kill her for renouncing Islam.
NDTV – Being In Canada "Worth The Risk": Teen Who Fled Saudi, Fearing For Life
Rahaf Mohammed al-Qunun plans to pursue an education, get a job and "live a normal life" in Canada – things she said she could not do in her home of Saudi Arabia, which she fled fearing for her life, she told Canadian media on Monday.

Being in Canada is "a very good feeling," she told the Canadian Broadcasting Corporation two days after arriving in Toronto from Bangkok.

"It's something that is worth the risk I took."

Qunun grabbed international attention last week after she barricaded herself in a Bangkok airport hotel room to resist being sent home to her family, which denies abusing her. Qunun refused to meet her father and brother, who arrived in Bangkok to try to take her back to Saudi Arabia.

The United Nations High Commission on Refugees granted her refugee status, and Canada agreed to take her in.

Qunun's case has drawn global attention to Saudi Arabia's strict social rules, including a requirement that women have the permission of a male "guardian" in order to travel, something rights groups say can trap women and girls as prisoners of abusive families.

In her CBC interview, Qunun said: "I felt that I could not achieve my dreams that I wanted as long as I was still living in Saudi Arabia."

Having come to Canada, "I felt that I was reborn, especially when I felt the love and the welcome," she said.

In her new home, "I will try things I haven't tried. I will learn things I didn't learn. I will explore life. … I will have a job and live a normal life."
This is quite an abnormal event in her life, but moving to Canada should at least allow her to make her own choices.
Statement by Rahaf Mohammed: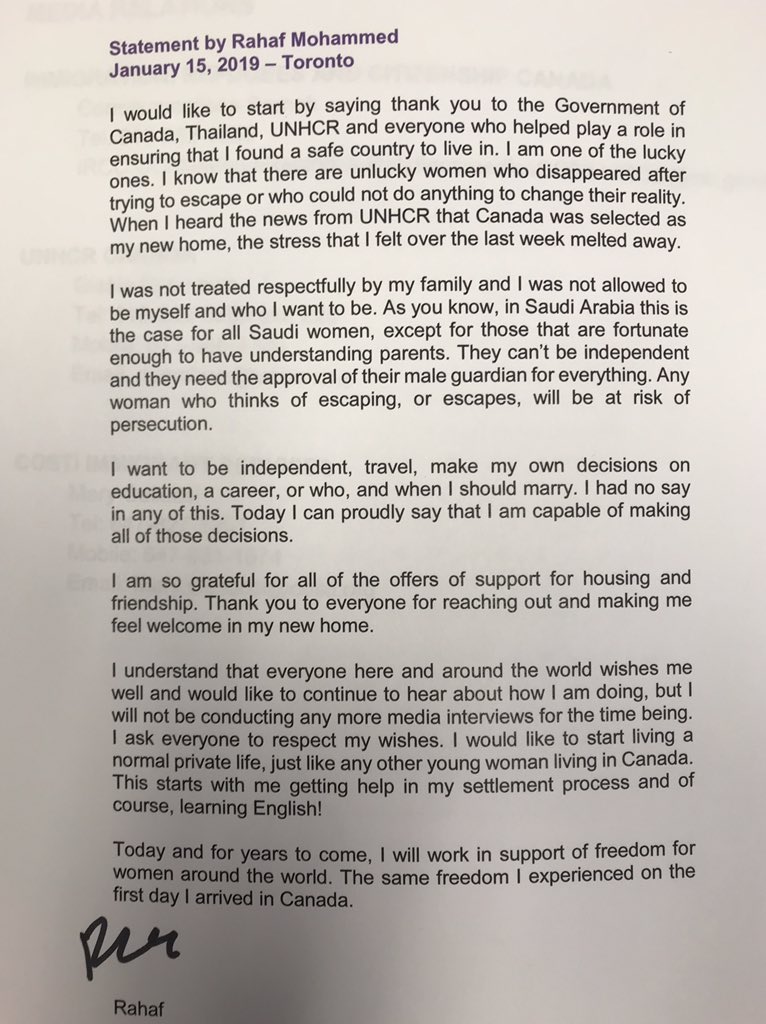 Guardian – Rahaf al-Qunun: 'I hope my story encourages other women to be brave and free'
Speaking in her first interview after being given asylum in Canada, and landing in Toronto on Saturday, Qunun, told the ABC Australia her case might be the "agent for change" in Saudi Arabia, a country where women are denied basic freedoms and are not allowed to work, marry and travel without the permission of a male guardian.

"I think that the number of women fleeing from the Saudi administration and abuse will increase, especially since there is no system to stop them," said Qunun. "I hope my story encourages other women to be brave and free."

The 18-year-old added: "I hope my story prompts a change to the laws, especially as it's been exposed to the world."

"I wanted to be free from oppression and depression," she told the ABC. "I wanted to be independent. I wouldn't have been able to marry the person I wanted. I couldn't get a job without permission."

Qunun had originally applied for asylum in Australia but confirmed it was the United Nations High Commissioner for Refugees that chose Canada because it processed her application more quickly. "This wasn't my choice, it was the UN's," she said. "All I wanted was for a country to protect me. So, my choice was just for any country to protect me."

In Saudi Arabia, the government-backed National Society for Human Rights (NSHR) also released a statement on Monday accusing several foreign countries of inciting "Saudi female delinquents to rebel against the values of their families and push them out of the country and seek to receive them under the pretext of granting them asylum."
'The values of their families' and laws of the country in Saudi Arabia are quite oppressive towards females.
On their own the actions of Rahaf Mohammend (different versions of her name are given in different reports) may not change much in Saudi Arabia, but it may contribute to change there eventually. On a personal level it is a huge and brave decision.
But "I would like to start living a private normal life" and "Today and for years to come, I will work in support of freedom for women around the world" may be difficult to achieve side by side.