For some reason there was blanket media silence on the identity of the National MP who had had a relationship with ex-National MP Jami-Lee Ross, and had sent him a text that had been reported widely and is now the subject of a police investigation.
But now the dam has burst. This had to come out in public. It was widely known anyway.
NZ Herald:  Police probe text allegedly sent from phone of MP Sarah Dowie to Jami-Lee Ross
Police are investigating a text message, allegedly sent from the phone of National Party MP Sarah Dowie, to her former colleague and ex lover Jami-Lee Ross.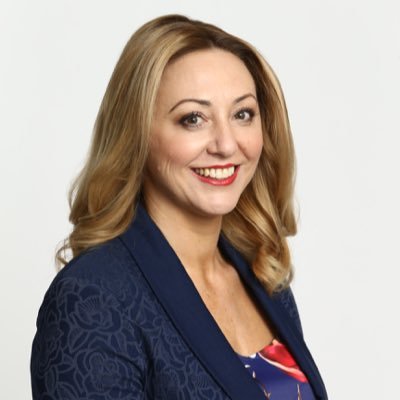 https://sarahdowie.national.org.nz/
The police investigation is said to focus on whether the text message – which came after the break-up of their extra-marital relationship – constituted an incitement to self-harm, which is punishable by up to three years in prison.

Ross, 33, has previously named Invercargill MP Dowie, 43, as one of the women with whom he had an extra-marital relationship while National MP for Botany.

The text message included the words: "You deserve to die."
Ross has claimed that is an incitement to suicide, even though he claims to have considered or attempted suicide a couple of months after receiving the text.
Ross initially received the message in August but has claimed reading it two months later led to considering self-harm. He was taken into mental health care shortly after.

The text message raised questions over whether there was a breach of the Harmful Digital Communications Act, passed under National and voted for by Dowie. The law regulated digital communications, including text messages, making it illegal to urge someone to self-harm.

The fact of the police investigation was revealed by Ross during a television interview. It was apparently sparked by a call to the Crimestoppers hotline. Ross said he did not lay the complaint.
Ross didn't say if he knew who laid the complaint, or if they were associated with him.
Asked if Dowie had been aware of the investigation, the National Party leader's office said she had not.

A spokesman said National Party leader Simon Bridges had also been unaware of the investigation.
This suggests that the police had not progressed the complaint as far as talking to the alleged offender.
Ross and Dowie were understood to have been in a relationship for more than two years. It is believed to have ended around May.

During that time, Dowie and Ross were both in marriages with children each. Dowie and her husband later separated.
Usually the private lives of MPs has been a no go subject for the media, but Jami-Lee Ross has forced this to become public.
This makes things difficult right now for Dowie, but it is remarkable that it has taken it this long to hit the media headlines.
I posted in November:  The non-naming of the National MP raises media issues. For some reason this post got a number of hits overnight.
Dowie should have pre-empted this instead of waiting for a media frenzy.
More (from Barry Soper): Sarah Dowie, the police inquiry, and the text from her phone
We have decided to name her following the police decision this week to investigate a text allegedly sent from her phone to her 33-year-old former lover during the early hours of a Saturday morning last August.

The decision to name Dowie in no way countenances the behaviour of Ross towards the women who have anonymously made claims of harassment and bullying against him.

It's not the Parliamentary Press Gallery's job to protect MPs when a police investigation is under way.

The text sent to Ross said: "Before you interpret this as your usual narc self – don't. Interpret it as me – you are a f***ing ugly MF pig. Shave that f***ing tuft of hair off your f***ing front of skull head and own your baldness – you sweaty, fat, toe inturned mutant. You deserve to die and leave your children in peace and your wife out of torment – f***er!"

Ross says the text was one of the things that triggered a mental breakdown in October.

After re-reading it, he allegedly sent it to Dowie telling her "you get your wish," before turning his phone off. After being alerted, the police found him south of Auckland.

Ross claims the police recently approached him about the text.
What Ross claims deserves further investigation, as does his current motives.