Here is a Political Compass done for parties competing in the 2017 New Zealand election.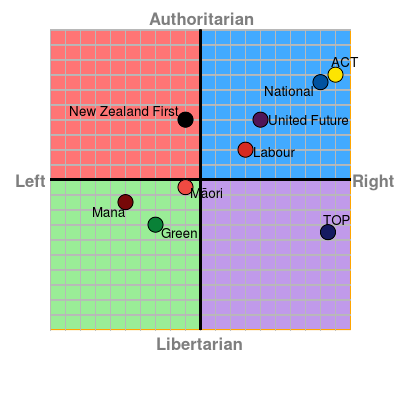 There is some political commentary plus this explainer:
If significant policy shifts occur during the campaign, some chart positions, based on speeches, parliamentary voting records and manifestos, may alter accordingly.
So it is based on pre-election policies. This doesn't not necessarily match with what parties do after the election, especially once they are in power. All three parties in Government, Labour, NZ First and Greens, have had to compromise on their policies.
Note that Political Compass is an international test of political positions, so doesn't fit entirely with New Zealand politics.
This compass has been posted at Reddit: Political compass of NZ parties according to politicalcompass.org
sliightly_right:
Lol if this is correct then the American political parties must be piled on top of each other in the top right corner.
fernta:
I honestly hate these graphs. PoliticalCompass is definitely the most overrated and overused. Questions that can be interpretted in different ways, or questions that you agree with but the "HOWEVER" is left out of the question. Creates a really 1D portrait of political ideologies and the landscape, however.
SmallRoundAndHairy:
Lol at ACT being New Zealands most authoritarian party, when they are the closest we have to loopy libertarians.

Whoever dreamed this up is an idiot with no understanding of New Zealand politics.
newkiwiguy:
This is really inaccurate. ACT supported same-sex marriage, a referendum to legalise marijuana and voluntary euthanasia. They're clearly a socially libertarian party. TOP called for a universal income for young people. They took most of their votes off the Greens. That isn't economically right wing at all. And they were the only party campaigning to raise the drinking age. Hardly libertarian leaning.
This may in part be a problem with party policies versus how David Seymour promotes himself and ACT.
PosedByModels:
Half of those parties have gone.

Act are more libertarian than National on drugs, euthanasia, and most social issues.

Poorly calibrated axis too, when our two main centrist parties aren't centred on the graph.
jayz0ned:
The point of the political compass is to compare between countries. Centering them all on each countries middle would make that impossible.
But compared to other countries, positioning New Zealand's two major parties well to the right seems odd. They are widely considered here to be largely fighting over the centre here, and that would be considered a fairly moderate and left leaning centre by international standards.
I think Greens would be much further left in their social policies, and much less libertarian given how much they seem to want to impose controls on things.
The Political Compass raises more questions than providing answers.
I did the test in 2014 and this is my result:
That puts me close to the Maori, Mana and Green parties and a long way left of Labour and especially National. Thay's very funny – and flawed.
How do the parties measure up now, nearly half way through the term?