If this is anywhere near accurate it is alarming – and it is obviously at least partly true as Trump has openly attacked aa number of aspects of investigations into what he and his campaign have done.
This examination by @MarkMazzettiNYT, @maggieNYT, @npfandos and @nytmike reveals the extent of an even more sustained, more secretive assault by President Trump on the machinery of federal law enforcement unlike any before seen in American history.

Interviews with dozens of current and former U.S. government officials and others close to President Trump, as well as a review of confidential White House documents, reveal numerous unreported episodes in a 2-year drama.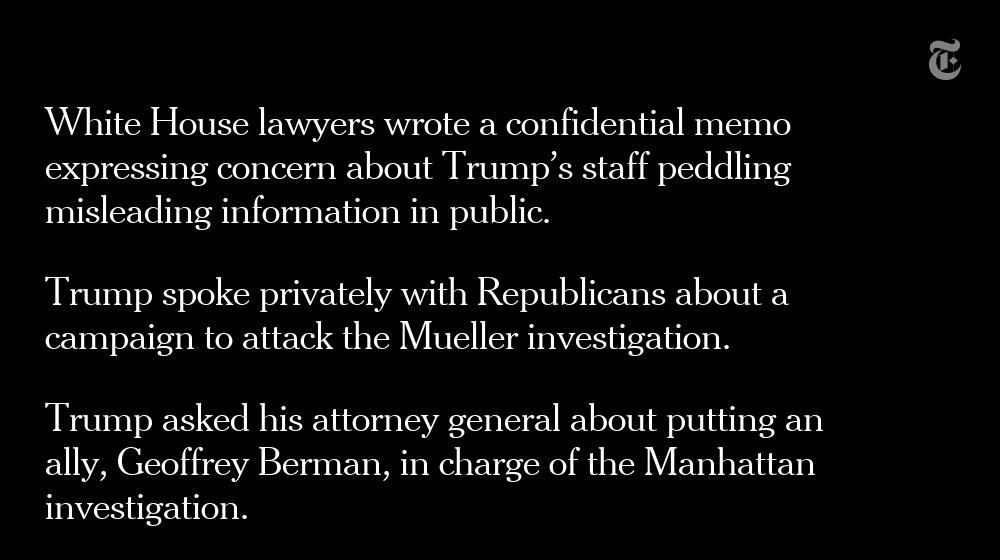 The White House and the Department of Justice declined to comment for this article. Matthew Whitaker referred inquiries to the Justice Department.

Our reporting details how President Trump has attacked the law enforcement apparatus of his own government like no other president in history, and how he has turned the effort into an obsession.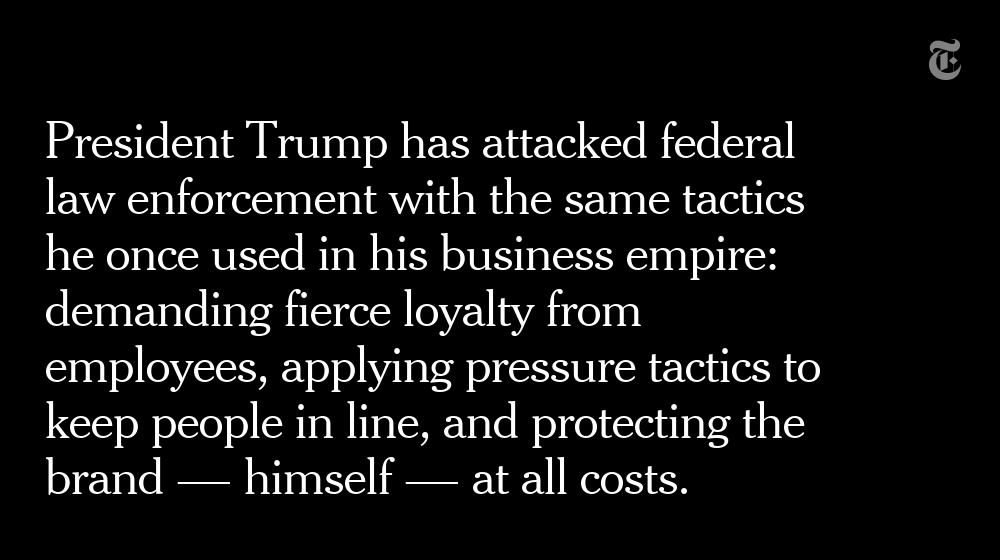 President Trump has publicly attacked the federal inquiries into contacts between his campaign and Russia more than 1,100 times, according to our analysis of nearly every public statement or tweet that he has made while in office
Mr. Trump wanted to put a perceived loyalist in charge of a federal inquiry in New York related to hush money payments made by his former personal lawyer.

Mr. Trump's public attacks on the Russia investigation have evolved from a public relations strategy to a legal strategy.

White House lawyers wrote a confidential memo about misleading public statements after the firing of Michael T. Flynn, Mr. Trump's first national security adviser.

Mr. Trump believed he put an end to the Russia investigation when he fired Mr. Flynn.
During a lunch with one of his longtime allies, Chris Christie, the former Republican governor of New Jersey, Mr. Trump said that firing Mr. Flynn would end the Russia inquiry.

"This Russia thing is all over now because I fired Flynn," Mr. Trump said, according to a new book by Mr. Christie.

Mr. Christie disagreed with that assessment. "This Russia thing is far from over," Mr. Christie wrote that he told Mr. Trump, who responded: "What do you mean? Flynn met with the Russians. That was the problem. I fired Flynn. It's over."

Jared Kushner, the president's son-in-law and senior adviser, was also at the lunch with Mr. Christie and viewed the firing the way his father-in-law did. "That's right, firing Flynn ends the whole Russia thing," Mr. Kushner said, according to Mr. Christie's book.
So Trump and Kushner thought he had successfully stopped the investigation into himself. That the president should even attempt to stop investigations into himself is bad enough (but seems to be largely accepted as just what trump does), but thinking he had done something to stop the investigation completely shows clear intent to put himself above and beyond the law,
That should be alarming.
So should Trump's predictable response.
This is a pathetic continuation of his attempts to paint himself as the victim of persecution, and to paint media who investigate him and hold him to account as enemies. The only thing not alarming about this is that he has done it so often it has become normal behaviour from him.
Media have been far from perfect in how they have dealt with the Trump phenomenon, and the investigations, but Trump's attacks against them, and his attempts to discredit any media that doesn't laud and applaud him, and his attempts to make his own Twitter feed as the only authority on him, is quite disgraceful in a supposed open democracy and free society.
Despite his success in trivialising serious matters and creating a numbness in response to his ongoing outrageous behaviour, it is gradually backfiring on Trump. He has many loyal supporters but his support is not increasing to a popular level, Poll 'approval' has not been above 45% since just after he took over in early 2017, and disapproval has not been below 50% (RCP).
Much of his entrenched support is because the people wanting certain things done want them done regardless of democracy or proper process so are willing to excuse his attempts to abuse his power. But he is gradually disappointing different groups through his failures and his u-turns and his excuses.
His attacks on media are forcing them to be more accurate in their investigations of him. And he has challenged and provoked them into doing better investigations. This is exposing him as a bullying buffoon who would be dangerous if the US checks on power and a compliant media allowed him.