This sounds like an appropriate enough comment.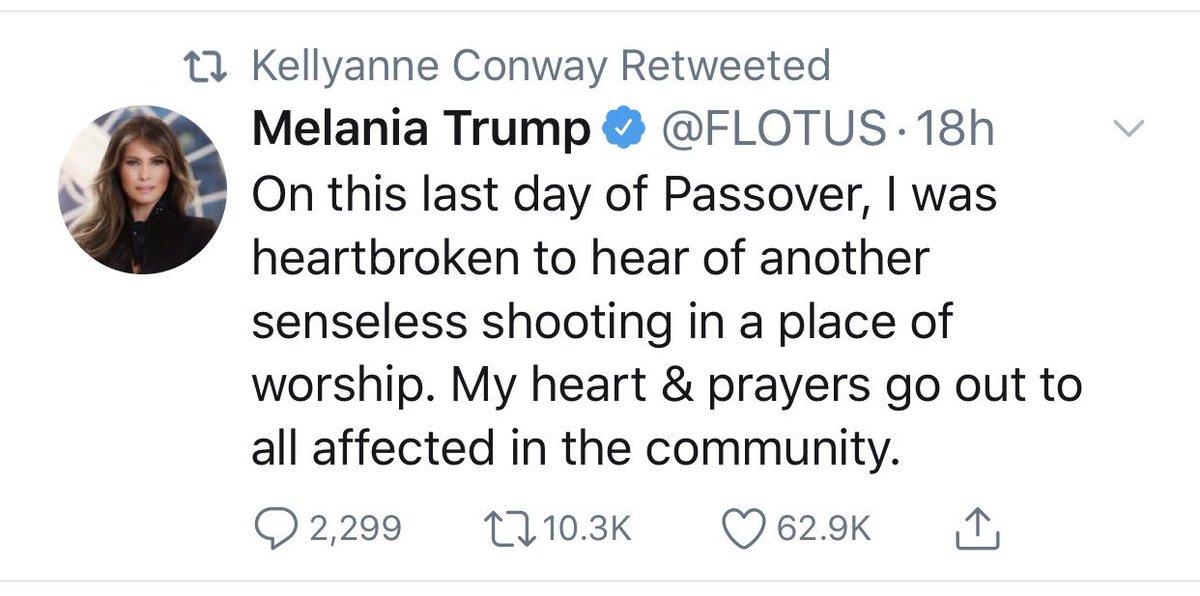 This indicates ridiculously different standards: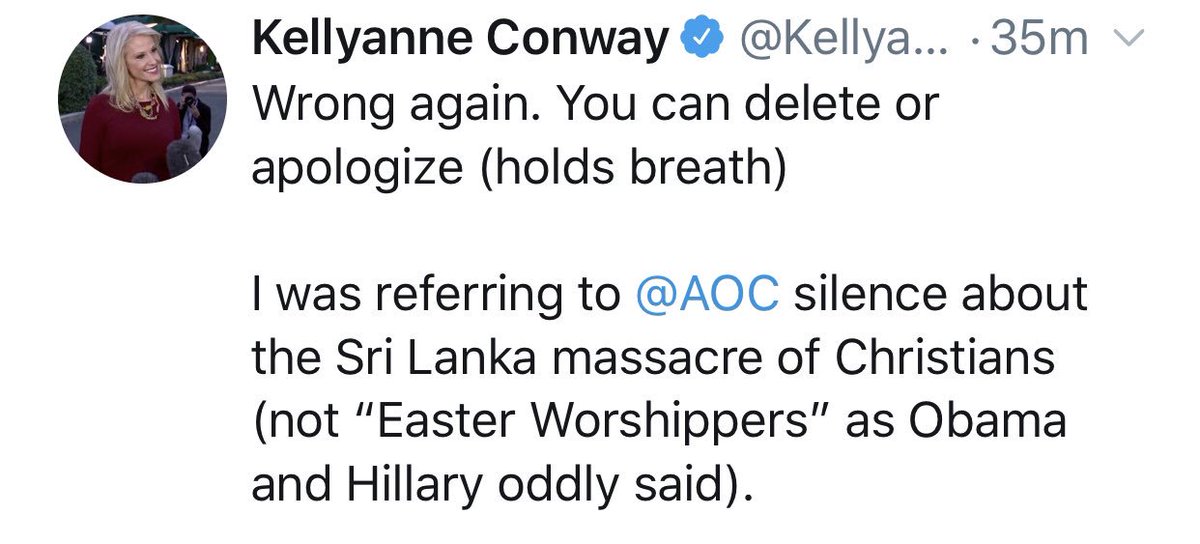 Conway serves as a counsellor to President Trump.
Another example of double standards – Tammy Bruce (Fox News): 'Easter worshipers?' How the language of the left avoids real discussion of terror
In the aftermath of the horrific mass murder of Christians on Easter in Sri Lanka, it is clear that the threat on Christians worldwide continues.

Just last year, the Pew Research Center reported that Christians are the most persecuted religious people in the world. This reality isn't about politics or preferences, it's simply the fact of the matter. Violence against any group of people is naturally condemned by the decent, but in order to properly address reality, one must recognize and accept basic, factual truths.

Even with something as blatant and horrific as the Sri Lanka attacks, this still seems to be the most difficult thing for Democratic party leadership in this country, including its two most famous representatives, former President Barack Obama and Hillary Clinton.

In tweets that caught the attention of everyone for their strange and euphemistic approach regarding the mass murder in Sri Lanka, Obama at 7 a.m. on Easter, and then Clinton a little over three hours later, tweeted about the massacre without once referring to Christians.

That would've been strange enough, but they chose instead to use the same odd euphemism for Christians, specifically "Easter worshipers." This gave the impression that this might as well have been an attack on pagans, or perhaps a group of people who enjoy brightly colored eggs.

After all, Christians do not "worship" Easter. That holy day is a reflection on an event at the foundation of Christian faith. It is, in fact, a celebration of the resurrection of Jesus Christ.
Definition of 'worship': the feeling or expression of reverence and adoration for a deity
To me 'Easter worshippers' means worshippers at Easter, not worshippers of Easter. For Christians I thought that Easter was all about expressions of reverence and adoration for a deity.
Obama's tweet read, "The attacks on tourist and Easter worshipers in Sri Lanka are an attack on humanity. On a day devoted to love, redemption, and renewal we pray for the victims and stand with the people of Sri Lanka."

Clinton then tweeted, "On this holy weekend for many faiths, we must stand united against hatred and violence. I'm praying for everyone affected by today's horrific attacks on Easter worshipers and travelers in Sri Lanka."

This new euphemism for Christians wasn't happenstance or limited to Obama and Clinton. A number of high-profile Democrats apparently received the memo and suddenly House members, a governor, and a Democratic candidate for president were tweeting their condolences for the "Easter worshipers."

We know in order to confront the cause of something you have to recognize the truth of the event itself. If we refuse to name the victims of an attack, it makes it that much more difficult to name the perpetrators and then define the motive.

By ignoring that it was a Christian attack on Easter Sunday inside churches, leftist leadership here and around the world do not have to address the horror of Islamist terrorism and the fact that Christians (and Jews) are targets.

This is not the first time that Obama and the Democrats have led an effort to downplay or deny Islamist terrorism occurred.
But they have no problem with this apparently:
What's the difference?
Bad faith.