The costs of doing something about climate change are contentious. How much should be spent? Will it make any significant difference?
What will be the costs of not doing enough?
What will be the costs of rpid and major changes to society that some are calling for?
The warnings about the possible effects of climate change continue, and the calls to do something significant about it grow stronger.
RNZ: Dire climate change report warns of 'threat to civilisation' within decades
Australian organisation Breakthrough said in its report the current research on climate change is too conservative.

It said there is an urgent need to build a zero emissions industrial system, as well as a global response on the scale of World War II emergency mobilisation.

The report said that feedback cycles could push warming to 3C by 2050, making climate change a "near- to mid-term existential threat to human civilisation".

Breakthrough research director David Spratt told Morning Report if the commitments from the Paris climate talks were not improved the world was heading for 3C or more of warming.

He said top scientist Hans Schellnhuber, science advisor to German Chancellor Angela Merkel and Pope Francis, recently said if we continued down this present path there was a real risk that human civilisation would end.

"He says 'the human species will survive somehow, but we will destroy almost everything we have built over the past 2000 years'."

Mr Spratt said all the worst climate change scenarios were now on the table.

He said studies showed communities around the world believed climate change was the most important issue society faced, and the private sector needed to step up.
Some still claim that climate change isn't a problem, with some claiming it's some sort of hoax to fund scientists or take over the world (it's unclear who will take over). But there are more and more concerns being expressed and demands that drastic action is taken.
Remarkably, when Minister  of Climate Change James Shaw spoke in Parliament on the first reading of the Climate Change Response (Zero Carbon) Amendment Bill, he didn't mention costs. But he did refer to the consensus he had been working on.
I want to thank the Prime Minister for her personal leadership in this, the nuclear-free moment of our generation, and the Deputy Prime Minister for his efforts in getting us to this point.

I would also like to extend my gratitude to National Party leader, Simon Bridges, and National's Climate Change spokesperson, Todd Muller, who put politics to one side and worked with us in good faith to try and shape a Bill that could be supported across the House.

Madam Speaker, this Bill has a thirty year time horizon – it must survive multiple changes of Government in that time.

The pressures will be even greater in the future than they are today.
However National has expressed concern about costs, and also possible impacts on farming in New Zealand. Muller tweeted yesterday:
But there is no guarantee that spending 1-2% of GDP on climate change will be enough – the actual costs to make a significant differenced may end up being much higher, and the unintended consequences of significant changes to farming, to society, may be difficult to predict let alone quantify.
Muller's tweet attracted a number of responses.
@swevers89:
Hammond was only considering costs of action. No 10 quickly rebuffed him (significant in itself) and said costs of inaction far higher (citing recent Climate Commission report). It's false economic analysis and misleading politics to only mention one side of the ledger, surely?
Note 'estimating':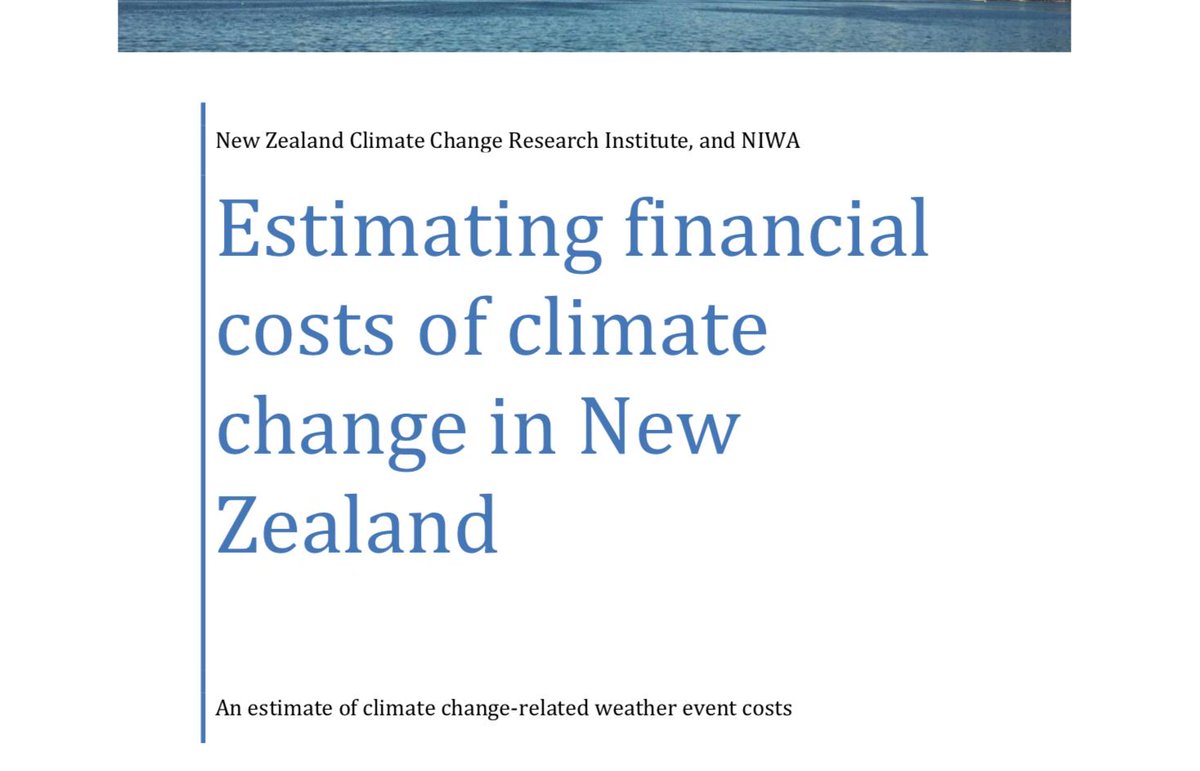 @lancewiggs:
Yes and if we don't start spending serious cash now it is, basically, our economy and society at stake.
It is also our economy and society that's at stake if we spend 'serious cash' and change the way we live.
@jamesbremner:
NZ climate change policies will cost a fortune and have absolutely no effect. The idea that China and India will be inspired by NZs self immolation is delusional. The most destructive policy in NZs history. Madness.
@MckenzieAl:
How did you get the idea that humanity can negotiate out of this situation? Or somehow we have a degree of choice in the matter? At what stage will deniers say "Shit. This seems really serious. Existentially serious. And finally get urgent in the response?" When it's too late?
Debate over our warming planet is hotting up for sure. But in New Zealand we seem to be a long way from committing significant resources to try to deal with it.
More importantly, the countries emitting the most greenhouse gases are making the most difference to the climate, but don't seem to be doing a lot about  it. Especially United States under Donald Trump's leadership – he is virtually the denier-in-chief.
China and India, and Europe, will need to lead the charge if there is going to be any real stemming or reversing of emissions. otherwise New Zealand would be pissing into howling winds of indifference and inaction.
I think that unless there are major technological breakthroughs on alternative energy there won't be a lot of progress made.
There are calls to make major changes to our capitalist/industrial society, but I have seen nothing coming close to serious of what we should change to and how that change should happen. I have also not seen any serious analysis of what the effects and costs that could be.
While there are growing calls for urgent action that doesn't look like happening here or anywhere. We don't even know what actions should be taken.
Are we fiddling while our planet burns?
Or is the sky not falling quite as badly or as quickly as some claim?