Lawyer Brian Henry, closely associated with Winston Peters and NZ First, has threat to sue National MP Nick Smith and RNZ's Guyon Espiner for defamation "for general damages together with special damages which from the information to hand could be as high as $30,000,000.00".
This looks remarkably heavy handed – Smith claimed intimidating – and potentially a chilling effect on our democracy and journalism. One thing it does is ensure is that Henry becomes even more in the spotlight.
Meanwhile stuff continues to risk threats of legal action: 'I am the dark shadow of NZ First' – what party candidates claim Winston Peters' lawyer said
Brian Henry's role in the unfolding NZ First donations scandal is now under close scrutiny. In addition to being Peters' right-hand man, lawyer and NZ First's judicial officer, he is also a trustee of the New Zealand First Foundation. The foundation appears to have been taking political donations, while operating as a political slush fund for the NZ First political party.

Henry also runs QComms, a company which Stuff understands runs the party's Nation Builder website – a campaigning and membership tool.

Some party members call Henry "Peters' attack dog". People turn skittish when the name is mentioned in interviews. Numerous people connected to NZ First who spoke to Stuff feared lawsuits and retribution for doing so.

Numerous sources have confirmed to Stuff that, during a candidates briefing in at a hall in Takanini near Manukau in the lead up to the 2017 election, Henry gave NZ First candidates a lesson in how the party really works.

"I am the dark shadow in this party that you don't want to receive a phone call from," attendees told Stuff he said. "My job is to make sure Winston Peters gets the position he deserves and none of you are going to get in the way of that," Henry said, according to sources present at the meeting.

Henry's comments have surfaced as a raft of former NZ First officials have come forward to Stuff – both on the record and on the condition of anonymity – complaining that they were kept in the dark about party finances, the existence of the New Zealand First Foundation. Anyone who challenged Peters, Henry or Doug Woolerton, a former MP, party president and the other trustee of the NZ First Foundation, was forced out, sources have told Stuff.

"We started off in the party and believed in its ideals and policies," the person said.

"But the longer you are there, the more you notice these backroom deals and as soon as you start to get close, or start challenging Winston on it, you get moved aside pretty quickly.

The influence of Henry within the party is enormous and across all aspects of its operations, numerous sources told Stuff.

"Winston Peters calls Henry to back people down," one former MP said. "He's an attack dog. People are afraid of being tied up in litigation."
This doesn't surprise me and probably won't surprise journalists. Peters threatened me with defamation action many years ago (through a lawyer I think, I can't remember who that was).
Peters has claimed that the party is operated democratically, but it isn't referred to as Winston First for nothing.
RNZ: NZ First Foundation trustee threatens lawsuit against National leader and MP
National has been pursuing New Zealand First and the prime minister over allegations about the handling of party donations.

Yesterday, National's Nick Smith made a comment in Parliament about the donations.

This afternoon he tabled an email that he and National Party leader Simon Bridges received today from Mr Henry.

It said media reports had been "false and malicious", adding that the loan activities to the party were lawful.

In the email, Mr Henry invited Dr Smith and Mr Bridges to "repeat what you said in the House in public or apologise".

"Please note if you oblige with this request I will sue you for defamation for general damages together with special damages," the email reads.

Speaking to reporters outside the House, Dr Smith said he needed to be very "constrained and careful" about his choice of words, given the legal threat, but he described the email as "extremely worrying".

He said it was very concerning that an MP "going about their duties of holding the government to account" should be threatened in this way.

"I feel very strongly about the importance of New Zealand having a high level of transparency, I take great pride that when National left government New Zealand had the top ranking in the world as the least corrupt country and want to make sure that's protected," Dr Smith said.

"It makes you very nervous of that work when effectively the financial wellbeing of your family is being threatened."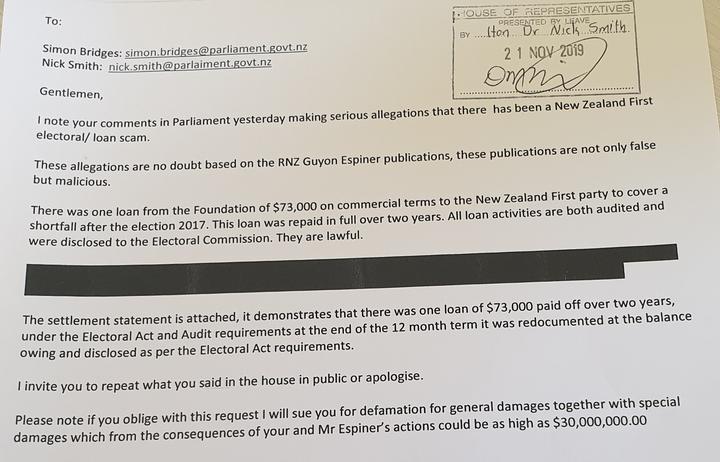 Mr Henry said in his email there was one loan from the foundation of $73,000, which was repaid in full over two years.

However, in a statement the Electoral Commission told RNZ that according to NZ First's returns, there was one loan of $73,000 entered into in Dec 2017, another separate loan of $76,622 was disclosed in May 2018. The Commission said it understood that loan was to replace the first loan. Then there was a further loan of $44,923 disclosed in April 2019.
Going by the continuation of media reports after the defamation threat Henry's threat does not appear to have buried the story.
Media are repeating what Smith said in Parliament – 'this is a rort with a capital R' – as they are protected from legal action when reporting what is said under parliamentary privilege.
Newsroom: Stonewalling on donations saga but many questions remain
NZ Herald: NZ First Leader Winston Peters' lawyer Brian Henry threatens to sue a National MP for $30m
New Zealand First has upped the ante in the saga over its mysterious foundation, with party leader Winston Peters' long-time lawyer Brian Henry threatening to sue National for $30 million.

In the House, senior National MP Nick Smith tabled a letter in which Henry issued a clear ultimatum to the veteran MP.

"Repeat what you said in the House in public or apologise."

A spokesperson for National said the party would not be commenting on the letter or the threat.

But speaking to Newstalk ZB, Smith said he stood by the comments he made in the House.

He would not, however, repeat the comments he made in the House under privilege for "obvious reasons".
This threat from Henry just escalated the NZ First donations and PGF application issues to a higher level.