Whakaari/White Island erupted on 9 December 2019. It is regarded as New Zealand's most active volcano, having erupted in 1975-2000, 2012-2013 and 2016.
As at the moment 8 people have been confirmed dead (it has just been announced that 2 more have died of injuries so up from 6) and 8 are still on the island, presumed dead. Over 20 survivors are in hospital suffering from severe burns.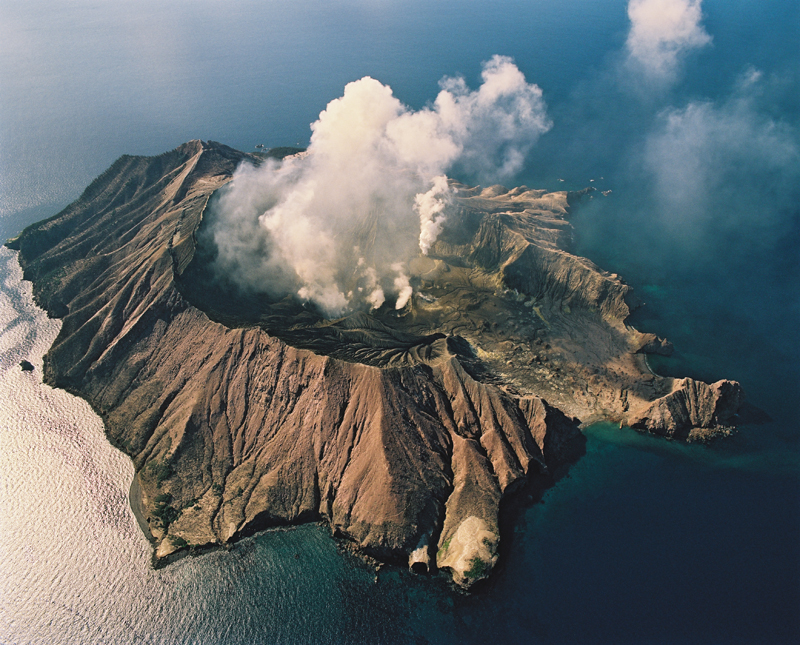 White Island, showing the white clouds of highly acidic gases. (Geonet)
Geonet About:
Sitting 48 km offshore, Whakaari/White Island is New Zealand's most active cone volcano which has been built up by continuous volcanic activity over the past 150,000 years. About 70 percent of the volcano is under the sea, making this massive volcanic structure the largest in New Zealand.

A sulphur mining venture began on the island in 1885; this was stopped abruptly in 1914 when part of the crater wall collapsed, and a landslide destroyed the sulphur mine and miners' village; twelve lives were lost. The remains of buildings from another mining episode in the 1920's era are now a tourist attraction.

Although privately owned, Whakaari/White Island became a private scenic reserve in 1953, and daily tours allow more than 10,000 people to visit the volcano every year.
Previous Eruptions
1975-2000:

White Island was in eruption from December 1975 to September 2000, the longest historic eruption episode. This eruption episode developed many collapse and explosion craters. For long periods active vents in these craters emitted volcanic ash. The last major eruption of this episode was in late July 2000 and covered the crater floor area in scoria, also displacing a crater lake and forming a new explosion crater 150 m across.

2012-2013

An explosive eruption occurred on 5 August 2012 with a period of ash emissions. This was followed by heating in the Crater Lake and the extrusion of a small lava dome Oct-Dec 2012.

Steam and sulphur explosions followed in Feb-April 2013 which removed the lake. By June the lake was re-established.

A further explosive eruption followed on 20 August and again on 4,8 and11 October 2013. In November 2015 a large landslide slipped into the lake.

2016

On 27 April a short-lived eruption occurred in the evening. It deposited material all over the crater floor onto some of the crater walls. The eruption and associated small collapse of the lake edge also formed a new depression in the north east corner of the 1978/90 Crater Complex,.

In September, for a short period of time, ash was passively emitted from a vent on the 2012 lava dome.
From a tourist visit in 2017:
Michael Schade has posted a number of videos and and images from Monday's eruption. He had toured the island half an hour before the eruption and took videos beefore, during and after the eruption from a boat that was leaving the island, but returned to pick up survivors who were on the island during the eruption.
It has been reported that the eruption was virtually silent from the boat.
Checked photo timestamps. Last photo from me standing on the land was 13:49; this first photo of the eruption was 14:12, about a minute or two into the eruption.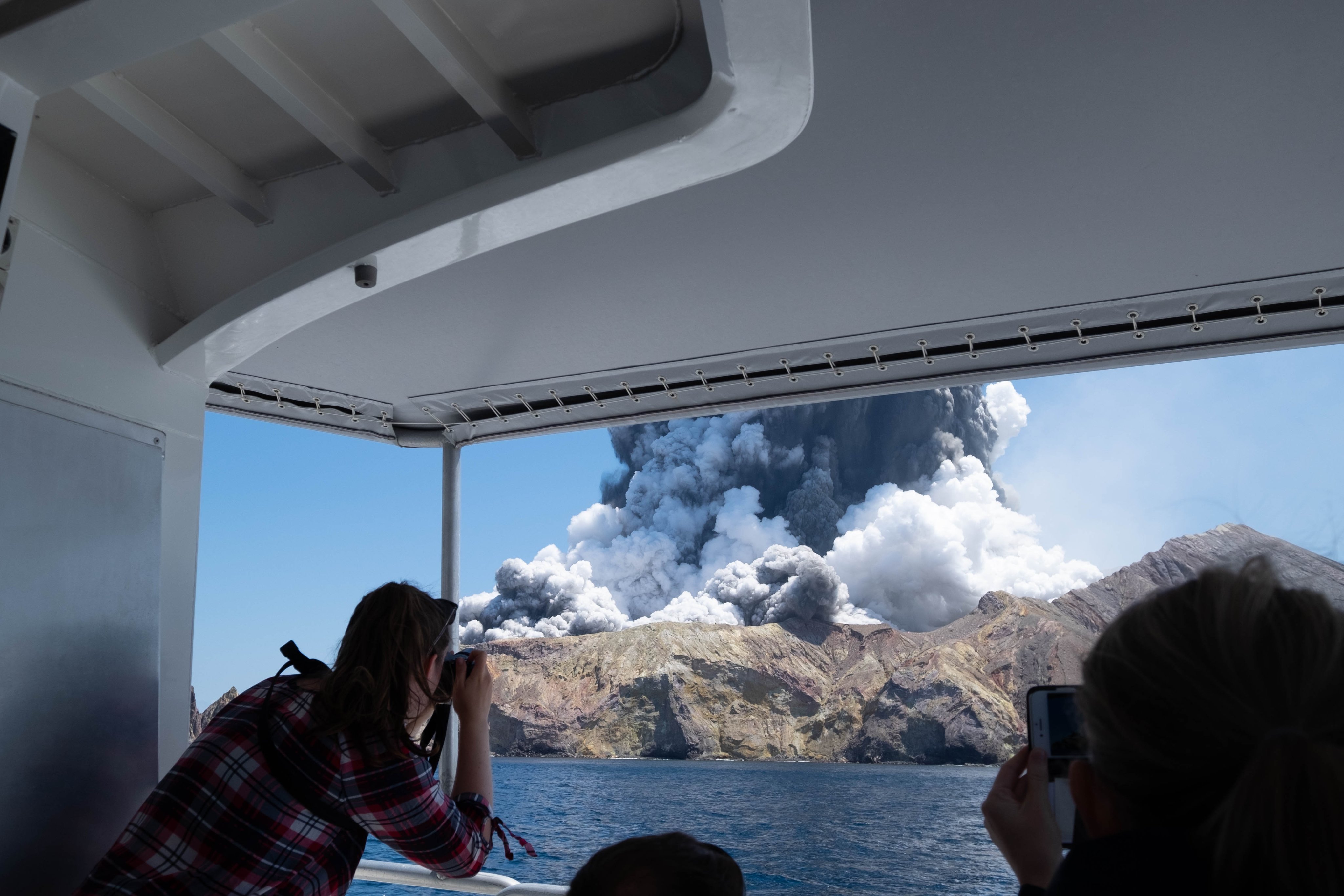 At it's worst the ash, steam and gas cloud engulfed the island.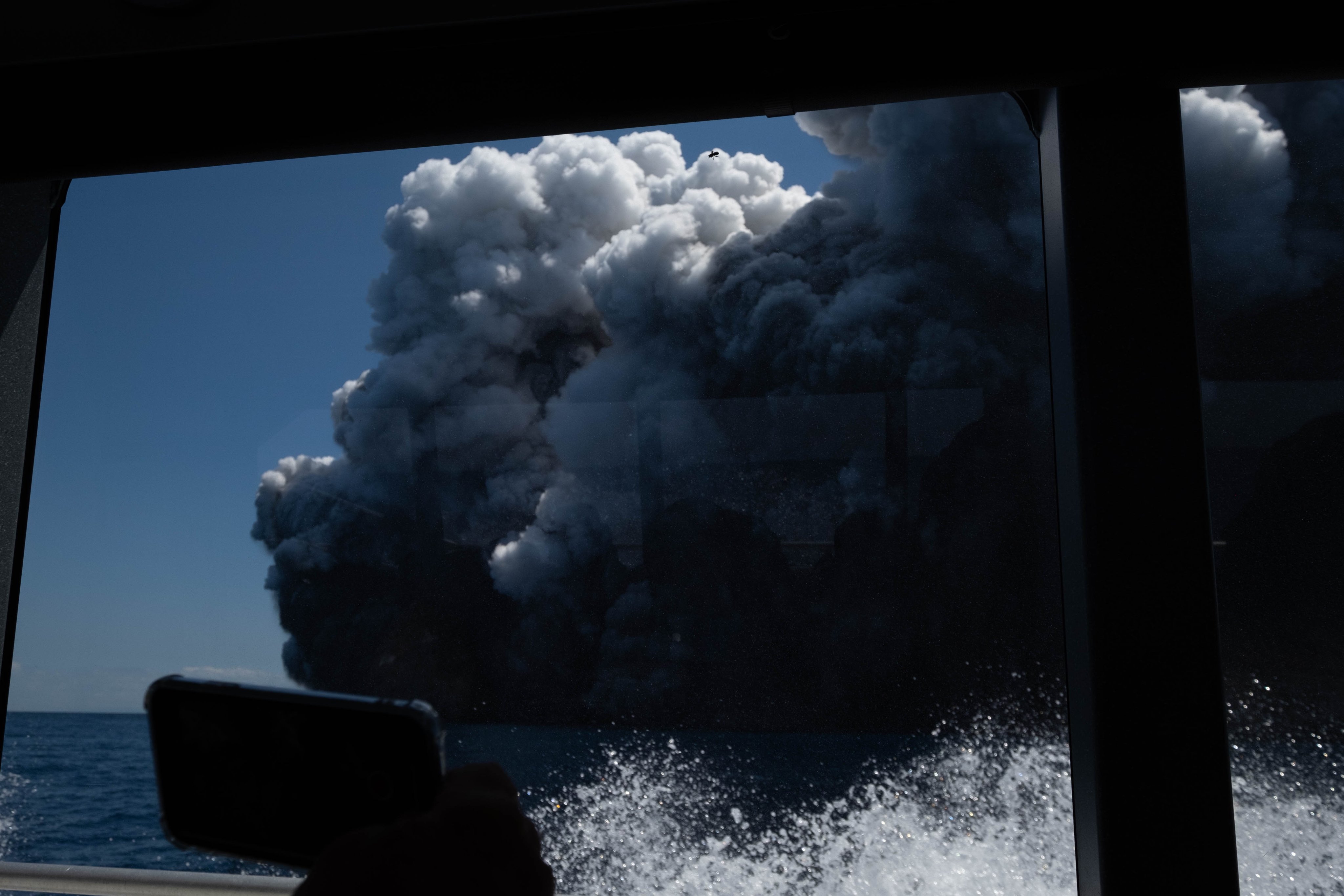 Survivors waiting on the landing area after the eruption, Some went into the sea to try to moderate the effect of their burns.
This helicopter was knocked off it's landing pad: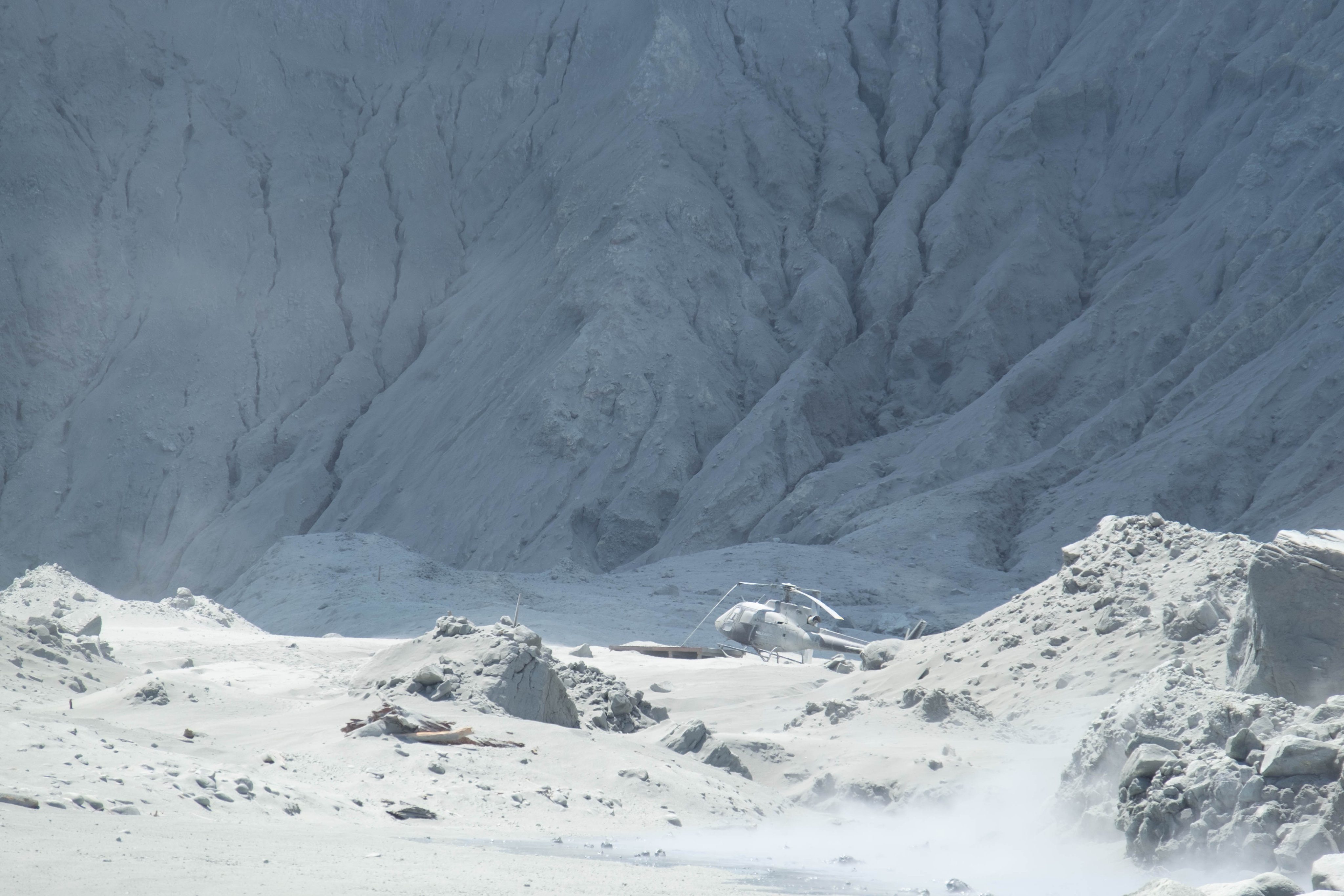 The pilot and four passengers were evacuated by boat. They were not injured as much as most of those on the island.
Last photos: here are the White Island Tour operators rescuing people, timestamp 14:24 (~12-14 minutes after eruption). Endless gratitude to that crew for stepping up as first responders.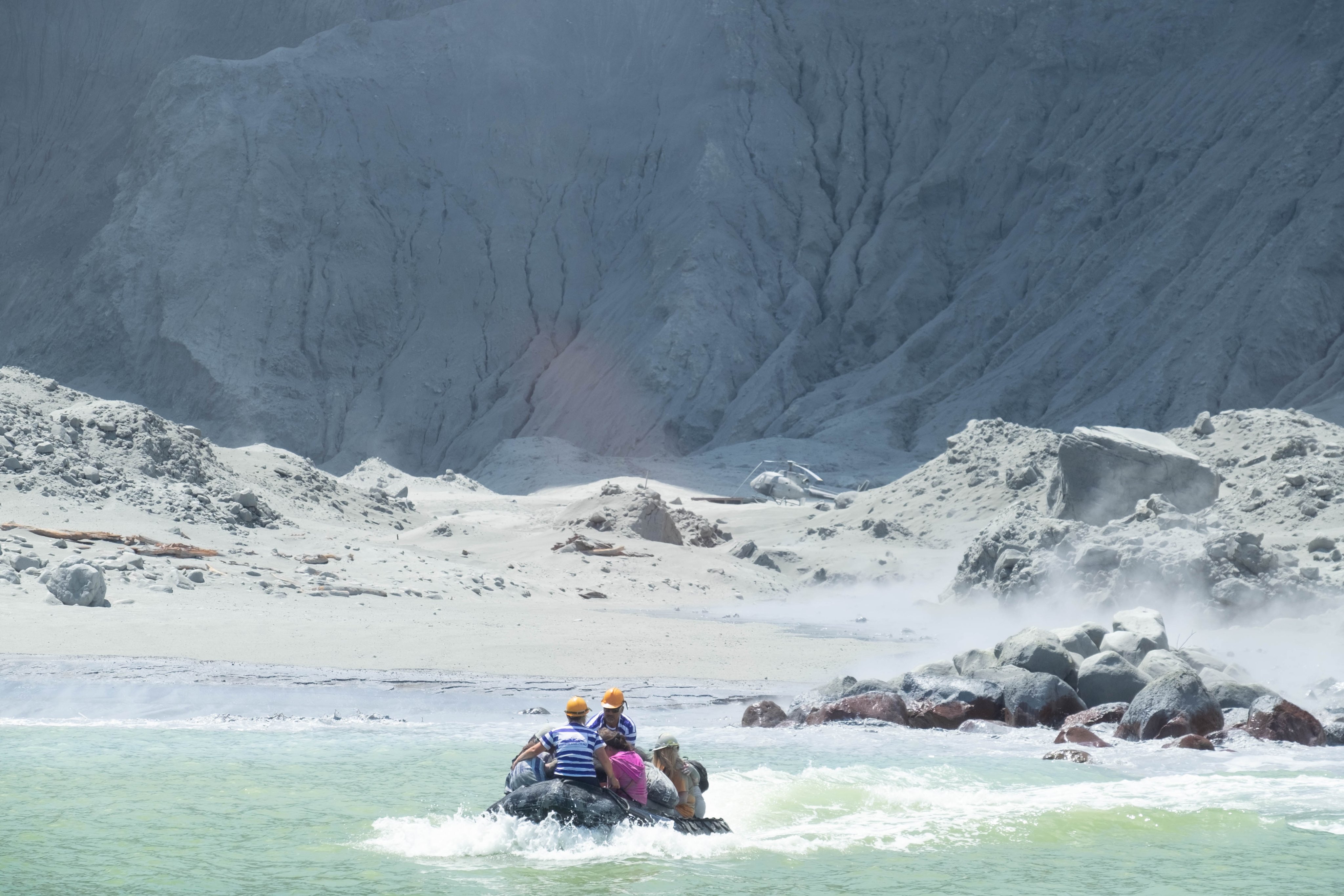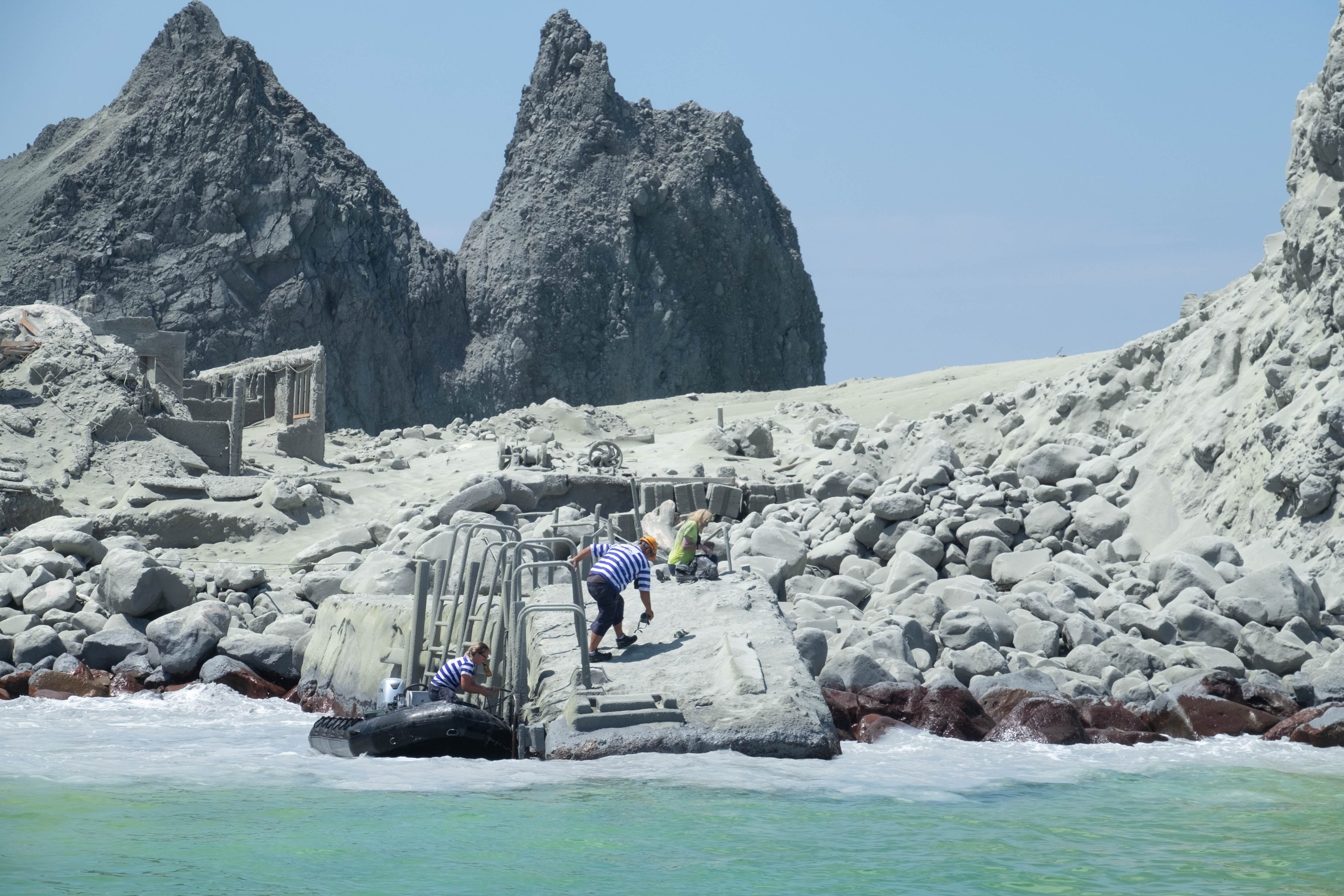 More from VOA:
This shows sulphur from the island streaked in the sea.
More tourist videos:
National Geographic details on the eruption:  Why the New Zealand volcano eruption caught the world by surprise
While there was no obvious sign of an imminent eruption on Monday seismic activity on the island has increased significantly since then, meaning recovery of bodies has had to be delayed.
---
Tour pelo vulcão White Island – New Zealand
Esse video tem por objetivo mostrar um pouco de como foi o tour pelo vulcão White Island antes e depois da erupção.