The Covid-19 coronavirus has spooked sharemarkets around the world, with the biggest drops seen since the Global Financial Crisis in 2008.
New Zealand's NZX50 index dropped a further 1.54% on Friday. After hitting a peak of 12,073 last Friday it closed yesterday at 11,437 (having gone as low as 11,098), a drop over the week of 6.7%.
Stuff:  NZX drops 2% on open, stocks on a wild ride as coronavirus threatens economic damage
Stocks are on a wild ride as investors struggle to gauge the potential impact of the coronavirus outbreak on the global economy.

The NZX finished Friday trading down 1.54 per cent, joining overseas markets in reacting to the unfolding Covid-19 outbreak.
But world markets have slumped further as Friday worked it's way around the world, with the Dow Jones 2.4% lower at midday on their Friday, following a 4% drop on Thursday.
BBC: UK top shares in worst week since financial crisis
London's FTSE 100 share index has seen one of its worst weeks since the depths of the financial crisis in 2008 as markets continue to reel from the impact of the coronavirus.

Shares have shed almost 13% of their value, wiping £210bn from the value of companies on the index.

"The panic mode is full on," said Ipek Ozkardeskaya, senior analyst at Swissquote Bank.
BBC – Coronavirus: Shares face worst week since global financial crisis
The main European markets also fell sharply on Friday, with London's FTSE 100 index down more than 3%.

All the main European share indexes saw big falls on Friday, with Germany's Dax index down 4.4% and France's Cac 40 index falling 3.9%.

Earlier in Asia, Japan's Nikkei 225 index fell 3.7%, bringing its fall for the week to more than 9%. China's Shanghai Composite index also fell 3.7% on Friday.

Investors are worried the coronavirus impact could spark a global recession.

What is unknown is exactly how bad and how lasting the impact could be. But what is known is that this comes at an already tricky time for the global economy with Japan, Italy, China and the UK among those already seeing growth faltering.

Several key global market indexes – including the FTSE 100 and the Dow Jones – have fallen 10% from recent highs. A drop of that magnitude is generally referred to as a correction.
These drops are likely to further impact on the NZX on Monday.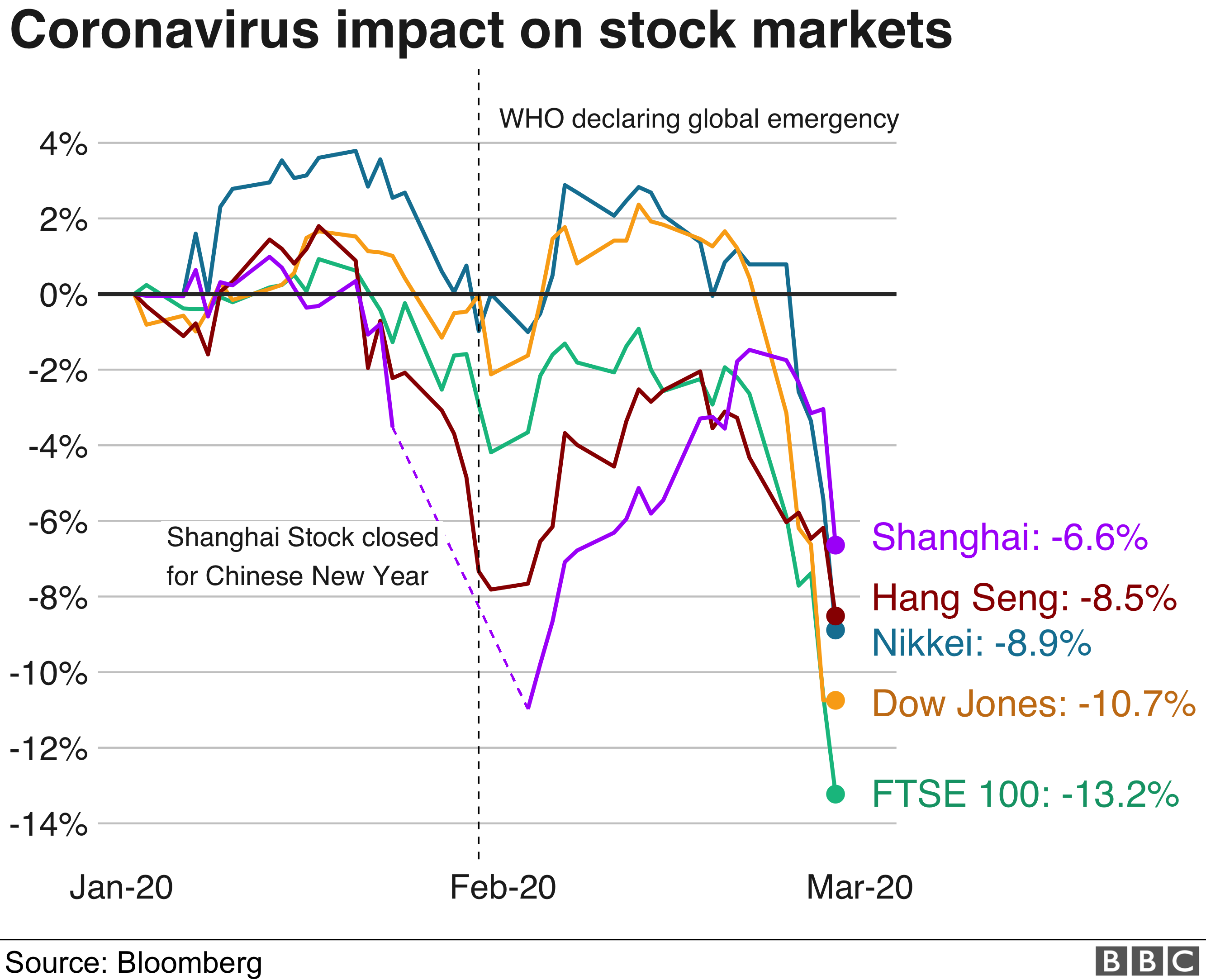 Reuters: Dow drops 1,000 points as pandemic fears heighten
The Dow Jones Industrials slumped more than 1,000 points in intraday trading for the third time this week on Friday, as the rapidly spreading coronavirus outbreak raised fears of global recession.

Over the week, virus fears have wiped nearly $3 trillion off the combined market value of S&P 500 companies, putting the three main indexes on track their worst week since the 2008 global financial crisis.

The benchmark S&P 500 fell about 12% from its record closing high hit last week, confirming its fastest correction in history on Thursday.

While the magnitude of the economic damage from the containment measures, which have crippled supply chains and hit business investment, remained unclear, analysts have sharply downgraded their outlook for growth and corporate earnings.

Adding to worries, the Commerce Department's data on Friday showed U.S. consumer spending rose less than expected in January, a loss of momentum that could be exacerbated by the virus outbreak.
Here in New Zealand there has been a significant impact on tourism, tertiary education at the start of the academic year, and restaurants and fast food have reported a halving of business.
As Covid-19 spreads around the world the health of markets is under threat.
Donald Trump in campaign mode blames his political oppnents,
"I think the financial markets are very upset when they look at the Democrat candidates standing on that stage making fools out of themselves."

"She's trying to create a panic and there's no reason to panic because we have done so good."
And reassures everyone:
"I'm leading everybody, we're doing great."

"The — John's Hopkins I guess is a highly respected great place. They did a — a — a study, comprehensive. The countries best and worst prepared for an epidemic. And the United States is now — we're rated number one."
– from The 31 wildest lines from Donald Trump's self-congratulatory coronavirus press conference
"It's going to disappear, one day it's like a miracle, it will disappear. You know it could get worse before it gets better, it will maybe go away, we'll see what happens, nobody really knows."
Of course there are past tweets.
2012:
2015:
Obviously Trump is not to blame for the coronavirus, but he has helped US finances into a potentially precarious position that is overdue for a correction at least.
LA Times (via Stuff): President Donald Trump claimed credit for rising US stock prices, now he owns their fall
Some economists said Trump owns this drop – along with the unwelcome return of market volatility and a possible looming recession – not because of what he has said, but from what he has done.

The Republican tax cuts that Trump championed and took effect on January 1 injected a large fiscal stimulus into the US economy. And they appear to be having the intended effect. At their policymaking meeting in late January, Federal Reserve officials cited the tax cuts as one reason they were upgrading their growth expectations for 2018.

But critics say the cuts come at the worst possible time, when a near-record-long expansion has the nation at full employment.

Then this month Trump signed a two-year budget bill that adds even more stimulus by boosting spending roughly US$400 billion more than had been planned.

A downturn already is overdue. Since World War II, the US has averaged a recession roughly every five years. The current nine-year economic expansion is the second-longest in the nation's history and by midsummer would be the longest.

The tax cuts, focused on corporations and the wealthy, will raise the already large federal budget deficit by nearly US$1.5 trillion over the next decade, according to Congress' nonpartisan Joint Committee on Taxation.

Trump administration officials acknowledge that the deficit will jump in the short term. But they said that's worth it to boost economic growth from the sluggish 2 per cent level that has marked the recovery from the 2007-09 recession and to further strengthen the US military, where much of the additional funding will go.

Fed policymakers also are to blame for the recent market volatility because they let stock prices rise to inflated levels without being more aggressive about interest rate increases last year, said Desmond Lachman, a resident fellow at the conservative-leaning American Enterprise Institute think tank.

That, combined with the additional fiscal stimulus coming from tax cuts and federal spending, led him to lament at a forum this month that "for the sake of one miserable percentage point of GDP we're prepared to risk the whole economy".
The virus has already precipitated a market 'correction. We just have to hope that a sneeze doesn't become a major malaise.
Many of us will be directly affected by this, in the short term at least. A lot of Kiwisaver funds will be taking a hit. And there is nothing we can do about it apart from perhaps moving our funds to safer schemes.