Amidst the virus mayhem a lot of research has been done.
Human tests on a possible vaccine have already begun (but generally it has been said it could take 12-18 months for a safe publicly available vaccine).
New Scientist: How soon will we have a coronavirus vaccine?
The hope is that we will have a coronavirus vaccine in 12-18 months, but for that to happen we may have to rely on untested techniques – and that comes with its own risks.
Clinical Trials: China to launch clinical trials for coronavirus vaccine
Researchers at China's Academy of Military Medical Sciences have reportedly received approval to launch early-stage clinical trials of a potential coronavirus (Covid-19) vaccine starting this week.

According to the Chinese clinical trial registration database, a Phase I test evaluating the safety of the experimental shot in humans intends to recruit 108 healthy people between 16 March and 31 December.

In the US, the first participant has been dosed in the Phase I study of Moderna's mRNA vaccine (mRNA-1273) against the novel coronavirus (SARS-CoV-2).

The National Institutes of Health (NIH) is conducting the trial under its own investigational new drug (IND) application.

The Phase I study will enrol 45 healthy adults to evaluate the safety and immunogenicity of 25μg, 100μg, 250μg dose levels of mRNA-1273 administered on a two-dose vaccination schedule.
But:
World Health Organization experts said that they do not expect the introduction of any fully tested and approved vaccine in the market until the middle of next year.
Beware: Scammers are trying to trick people into reserving a COVID-19 vaccine over the phone
There are likely to be a range of scams.
Al Jazeera: Italy overtakes China's death toll
The death toll from an outbreak of coronavirus in Italy rose in the last 24 hours by 427 to 3,405, overtaking the total number of deaths so far registered in China, officials said on Thursday.

Thursday's figure represented a slight improvement on the day before, when Italy recorded 475 deaths from COVID-19, while the world has stepped up efforts against the coronavirus pandemic by closing schools, shutting down cities and imposing strict border controls.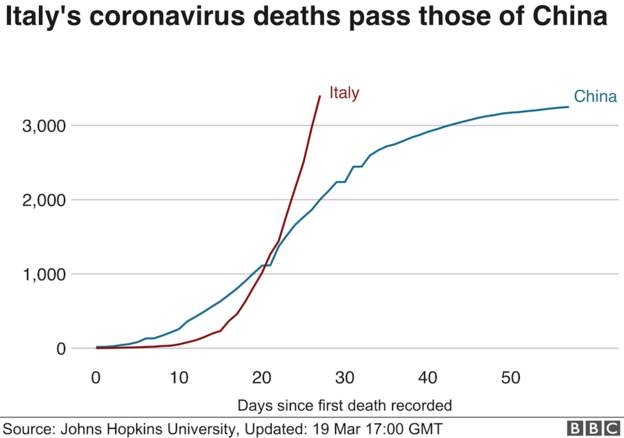 Reuters: Tracking the spread of the novel coronavirus (good graphics here)
At least 9,725 people have died from a coronavirus called SARS-CoV-2 and 234,106 have been infected globally, following an outbreak that started in Wuhan, China in early December. The World Health Organization referred to it as a pandemic on March 11, 2020.

Pending cases: 138,359 (59.1%)
People recovered: 86,022 (36.7%)
Deaths: 9,725 (4.2%)

Though the outbreak started in China, it has now reached 175 countries and territories. 68 of those have reported fatalities. Russia, Mexico, Croatia and Curaçao reported their first fatalities in the past day.

153,199 cases, 65% of the total, have been confirmed outside mainland China. However, 99.9% of the cases added in the last week have been reported outside mainland China.
Just the News: Coronavirus death rate drops: Better math, better treatment or more testing?
The death rate in Wuhan, China, where the outbreak began, is now estimated at 1.4 percent after initial reports of 4 percent.

The 4 percent death figure has drifted downward. For instance, the fatality rate in Wuhan, China, where the outbreak is believed to have begun, is now estimated at 1.4 percent, according to a study cited in the New England Journal of Medicine.

If one factors in those patients who are infected, but do not get sick or tested, scientists say the rate is exponentially lower.

The current U.S. mortality rate, based on public statistics, has been hovering around 1.5 percent.
As testing and data increased a more accurate rate was always going to be lower, but it is only ever going to be approximate as many people won't get tested or counted.
The virus and death rates in the US are still relatively low but are rising.
The US Centers for Disease Control and Prevention (CDC) reported 10,491 cases of coronavirus, an increase of 3404 cases from its previous count, and said the death toll had risen by 53 to 150.
Some good graphics from Reuters including:
Japan, South Korea and Hong Kong are being studied to see how to replicate their success in containment.
Newsroom How our Covid-19 testing compares to South Korea
NZ Government website: Unite against Covid-19