From Gezza: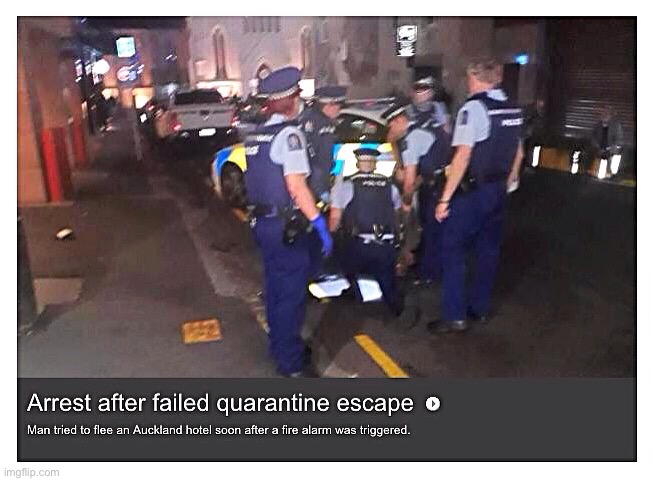 ---
It appears that quarantine requirements are very strict, the conditions of those under enforced quarantine more rudimentary than generally realised, & that the services & help available to those effectively sentenced to temporary detention in designated quarantine hotels are causing significant mental health problems for some detainees.
Also, that the police response to those driven by panic or mental distress to escape to outside may sometimes be over the top & harsh. The court's response to this case could be instructive – although it's entirely possible that we, the public, will hear little or nothing about it, cos suppression orders.
… … … …
A man has been arrested after trying to escape an Auckland hotel minutes after a fire alarm was triggered.
…
A witness to the event said the man was distressed and "tried to escape" when he was detained by six police officers.

Police confirmed the man's arrest and said it was in connection to a "mental health incident".

The arrest comes on the back of a series of incidents reported by Kiwis in quarantine or managed isolation, some who say the strict restrictions have adversely affected their mental health.
…
Recently, a 24-hour ban on walking was enforced at some hotels to allow authorities to figure out a way to keep guests, and the public, safe.

The ban came under the scrutiny of the Human Rights Commission who said people who were legally required to stay in quarantine should have access to necessities.

In April, a woman was found in a distressed state in the Novotel Hotel car park by security officers. The woman, who was in her thirteenth day of managed isolation, was issued her with a warning from police.
…
https://www.stuff.co.nz/national/121609674/coronavirus-quarantined-man-arrested-after-incident-outside-auckland-hotel
It bothers me that this sort of thing doesn't bode well for the police's relations with the public. For the first time in my life, when I see them cruising through Tawa, I find myself now watching them automatically with some suspicion.
I have to actually do an intellectual override of that negative gut reaction, because these public protectors might not all be perfect, but they see some bloody awful things, have to deal with some difficult, even dangerous people, have often got a really shit job to do that none of us would take on, & I respect them for that.