A key part of the Green Party 'Poverty Action Plan' announced yesterday was a wealth tax that would partly fund major benefit increases. The Green website soliciting support and petition signatures has very sparse information:
A 1% wealth tax for those with a net-worth over $1 million.
Media gradually provided details.
Newsroom:  Greens unveil plans to overhaul welfare and tax systems
In its first election policy announcement, the Green Party has called for a guaranteed minimum income (GMI) of at least $325 a week for anyone not in full-time employment, including students.

The policy, costing a total of $6.6 billion in year one and around $12 billion a year from full implementation by 2023, would be funded by a wealth tax – where people with assets of more than $1 million will pay a 1 percent levy per year – and two new tax brackets for high income earners. The Greens expect to raise $8 billion from the wealth tax in the first full year, rising to $9 billion by 2023/24.

To pay for the Poverty Action Plan, two new tax brackets would be created to tax income above $100,000 and $150,000 at a higher rate of 37 percent and 42 percent, respectively. This would affect the top 7 percent of income earners, the Greens say, and generate $1.3 billion a year.
This suggests the wealth tax and tax bracket changes will not fully fund the benefit increases – $9b + $1.3b is less than $12b.
This must just be based on estimates, as valuations would have to be done on wealth/assets-liabilities.
It will be calculated on an individual basis, meaning a couple would have to own at least $2 million in assets for both of them to begin paying the wealth tax.

The tax will also exclude certain assets from consideration, including individual household assets – furniture, electronics and vehicles – worth less than $50,000 and Māori land under the Te Ture Whenua Māori Act. Charity organisations with assets held by individual members would not be counted either.

The wealth tax would affect just 6 percent of New Zealanders, according to the Greens' figures.
For most people property will be their only assets considered as wealth – as well as businesses, which could be quite hard to value annually.
Some examples: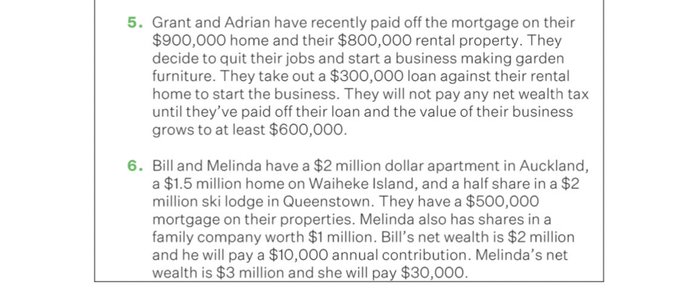 I had to search for details and eventually found them via Scoop. The Summary document is also very sparse in details. For that you have to go to their policy document. The Summary of this is again very sparse, so here are some key details on the wealth tax:
Those who receive more money from the Government will think it fair.  Those being "asked to pay a small annual contribution" may think differently.
I presume that most of those applauding this wealth tax will not be in the 6% of people who would have to pay more tax.
But this is all subject to:
The Greens being re-elected back into Parliament
Coalition negotiations with Labour (Grant Robertson said they would have their own welfare/tax policy)
Veto of NZ First if they are also part of the next government
A "detailed policy development process"
A decision by Cabinet to proceed with whatever comes out of the process.
Legislation being passed in Parliament.
That could take a year or two at least if it is able to proceed.
Full policy document:
Click to access Poverty_Action_Plan_policy_document_EMBARGOED_2.pdf