Donald Trump has been again combined contradictory and ignorant claims about Covid testing with an attack on media.
The US has done more testing than any other country, but Israel, Russia, Singapore, UK, Denmark and a bunch of small countries have done more testing per head of population (US is 19th on the WorldInfo list).
Testing is a critical means of controlling Covid, but the raw number of tests doesn't say much anyway. Here's some percentages of other numbers
USA has:
4.26% of the world population
17.28% of Covid tests
22.93% of Covid deaths
26.45% of total cases
28.48% of serious/critical cases
37.63% of active cases
Those are numbers are only based on recorded statistics so won't be 100%, but give an obvious indication that the US is struggling with Covid.
Testing matters, but the quality of testing, the timing of testing and the use of the results of the testing are more important than raw numbers.
Testing in the US showed that Covid was still widespread in the US when Trump and some states pushed for relaxing lockdowns. Covid got worse – deaths have been trending back upwards there through July, and this week were the highest since May.
Tests are important but it's how you use the tests that matter.
Note that New Zealand is included and rates very well on these charts.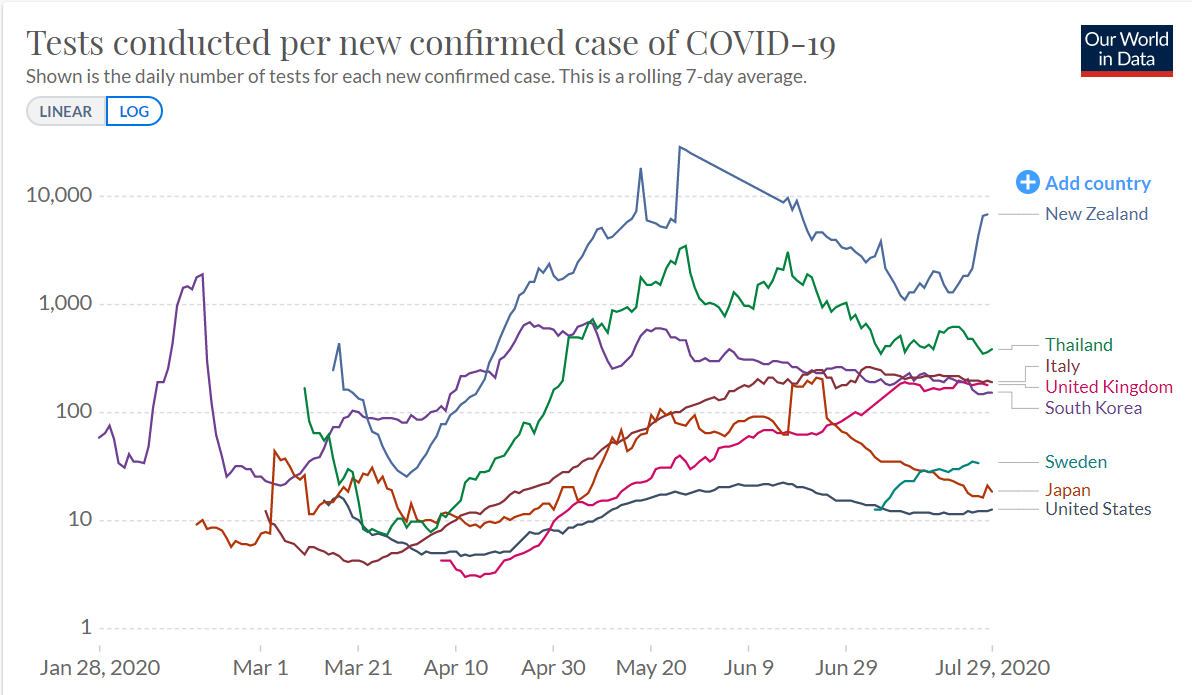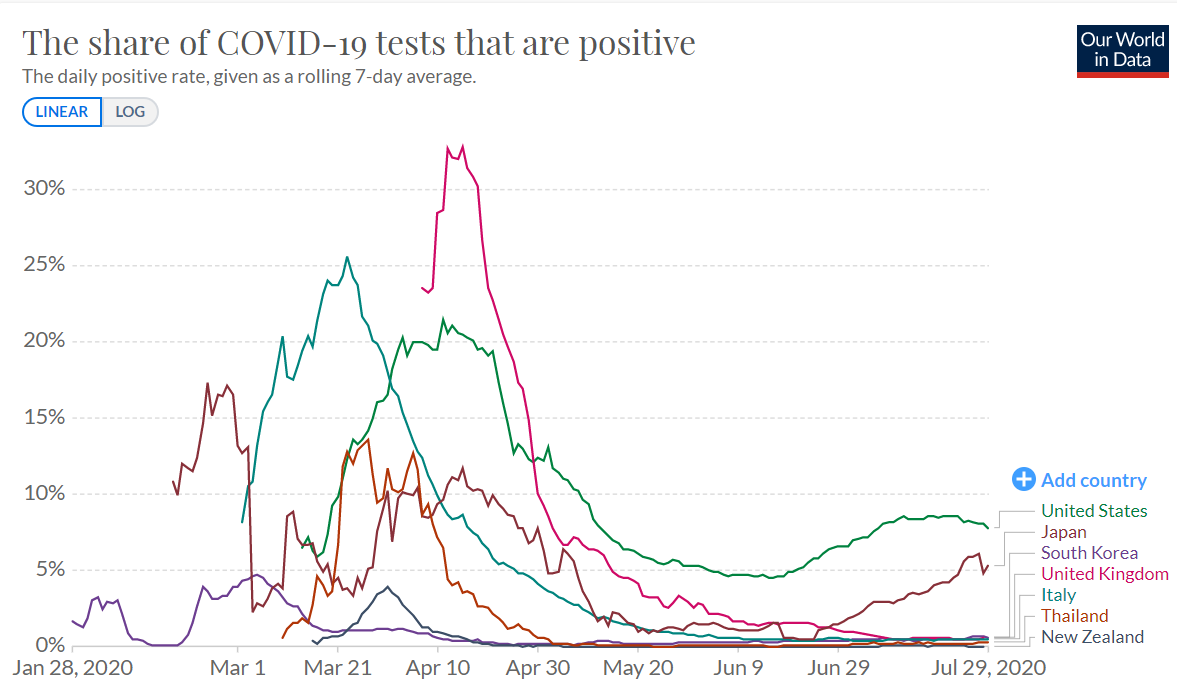 New Zealand's testing rate of 93,574 per million is much less than the US rate of 177,883 per million, but we have 4 deaths per million compared to the US rate of 475 so we don't need to do as much testing.
Our testing peaked at over 10,000 per day in June – when we came out of lockdown and wanted to make sure Covid was under control – and is now peaking at 3,000 per day. We need to make sure we don't have community transmission, but because fewer people have symptoms or concerns, fewer get tested.
Reuters: U.S. records over 25,000 coronavirus deaths in July
U.S. coronavirus deaths rose by over 25,000 in July and cases doubled in 19 states during the month, according to a Reuters tally, dealing a crushing blow to hopes of quickly reopening the economy.

The United States recorded 1.87 million new cases in July, bringing total infections to 4.5 million, for an increase of 69%. Deaths in July rose 20% to nearly 154,000 total.

The biggest increases in July were in Florida, with over 310,000 new cases, followed by California and Texas with about 260,000 each. All three states saw cases double in June.

Cases also more than doubled in Alabama, Alaska, Arizona, Arkansas, Georgia, Hawaii, Idaho, Mississippi, Missouri, Montana, Nevada, Oklahoma, Oregon, South Carolina, Tennessee and West Virginia, according to the tally.

The United States shattered single-day global records when it reported over 77,000 new cases on July 16. During July, 33 out of the 50 U.S. states had one-day record increases in cases and 19 set records for their rise in deaths in 24 hours, according to a Reuters tally.
We have virtually no restrictions because we have Covid under control here.
And Covid isn't the only worrying statistic in the US.
The news that more states could be hard hit by the virus comes a day after the U.S. reported that gross domestic product collapsed at a 32.9% annualized rate in the second quarter, the nation's worst economic performance since the Great Depression.
We may be able to keep Covid out of New Zealand, but it will be difficult to avoid the economic impact.
Odd tweets about testing doesn't address the problems the US still face.
Vaccines are being fast tracked but at best it will be some time before they limit the Covid damage.
Reuters: U.S. makes deal for 100 million doses of coronavirus vaccine, deaths expected to rise
Two major drug companies will supply the U.S. government with 100 million doses of an experimental coronavirus vaccine, the Trump administration said on Friday, as the nation's top health agency predicted that fatalities would rise in the coming weeks.

The U.S. Centers for Disease Control on Friday forecast between 168,000 and 182,000 total fatalities by August 22, predicting that deaths will rise fastest in Alabama, Kentucky, New Jersey, Puerto Rico, Tennessee and Washington state.

The CDC also released a study that said COVID-19 had spread to nearly half the staff and campers at a sleep-away camp in Georgia over a week and a half ago.

The investigation demonstrated "that children of all ages are susceptible to SARS-CoV-2 infection and, contrary to early reports, might play an important role in transmission."

Coronavirus deaths in the United States are rising at their fastest rate since early June. Roughly one American died about every minute from COVID-19 on Wednesday.

Wisconsin joined 21 other states that have seen a surge in new cases.

The COVID-19 outbreak "is not in good control" in Wisconsin said Allison Arwady, commissioner of the Chicago Department of Public Health.
This isn't fake news. Many US states are having very real problems with Covid.
While the president keeps fiddling with twitter his country burns.