The Provincial Growth Fund seems to be in part a fund for whatever policies Shane Jones wants to promote. And so it seems with a predator control announcement.
But funding for innovative new means of control seems to be suffering, with Jones and NZ First wanting to move away from use of 1080 use , but the Greens refusing to allow research that has anything to do with genetic modification.
Newsroom:  Political dead rat a win for 1080 protesters?
Tired of being harangued by anti-1080 campaigners, Regional Economic Development Minister Shane Jones is welcoming a $19.5 million Provincial Growth Fund investment to be spent on the development of new predator control tools and techniques as alternatives to the pesticide.

The funding will be used by Crown-owned Predator Free 2050 to encourage research and development of new tools, as well as to contract predator control projects for rural and forested land.

Conservation Minister Eugenie Sage said it would help "stimulate rapid innovation" hopefully resulting in more effective traps, lures, remote sensing, surveillance and data management technologies. The Government hopes these new innovative techniques will reduce the need for 1080 to maintain predator-free status in areas where predators have been eradicated.

Sage was keen to emphasise that the Government was not backing down on 1080, but looking for innovative alternatives to use in addition to the pesticide, which has been the focus of nationwide protests, marches and the reported abuse of DOC staff.

However, comments by Shane Jones, and posts on the New Zealand First Facebook page, may give heart to anti-1080 campaigners that their protests have swayed the Government's coalition partner – even though the funding of new pest-control technology is something that has long had all-party support.

On Facebook, the party is promoting the investment, with posts reading: "We're doing our best to render 1080 redundant. New Zealand First has maintained its opposition to 1080 and that with adequate resources, research and development into alternatives, we can replace it."

Northland is home to many of the anti-1080 protesters, as well as to Jones.
There seems to be conflicts between Greens and Jones on the us of 1080.
But what are the realistic alternatives to 1080?
Newshub:  Govt blocking breakthrough technology that could make New Zealand predator-free
There's a major roadblock within the Beehive over the role genetic engineering (GE) could play in a predator-free New Zealand by 2050.

Conservation Minister Eugenie Sage has stopped any and all work being done to use GE technology, despite official advice suggesting it could be used to help rid New Zealand of predators.

But Ms Sage told Newshub she is not interested in going down the GE "rabbit hole".

"We want to focus on existing tools, making them better and finding new tools without being diverted down the potential rabbit hole of GE research."

Officials have signalled GE could be an effective alternative to 1080.

"It could be efficient and much more cost-effective method of pest control than conventional approaches.

"For potential application to replace knockdown tools such as aerial 1080, they would be most effective for short generation pests such as rodents, and less effective for longer generation pests such as stoats and possums, due to their requirement to spread over generations."

Despite that, Ms Sage penned a Letter of Expectation to Predator Free 2050 Limited, explicitly telling the company not to invest in research into the technology.
The letter: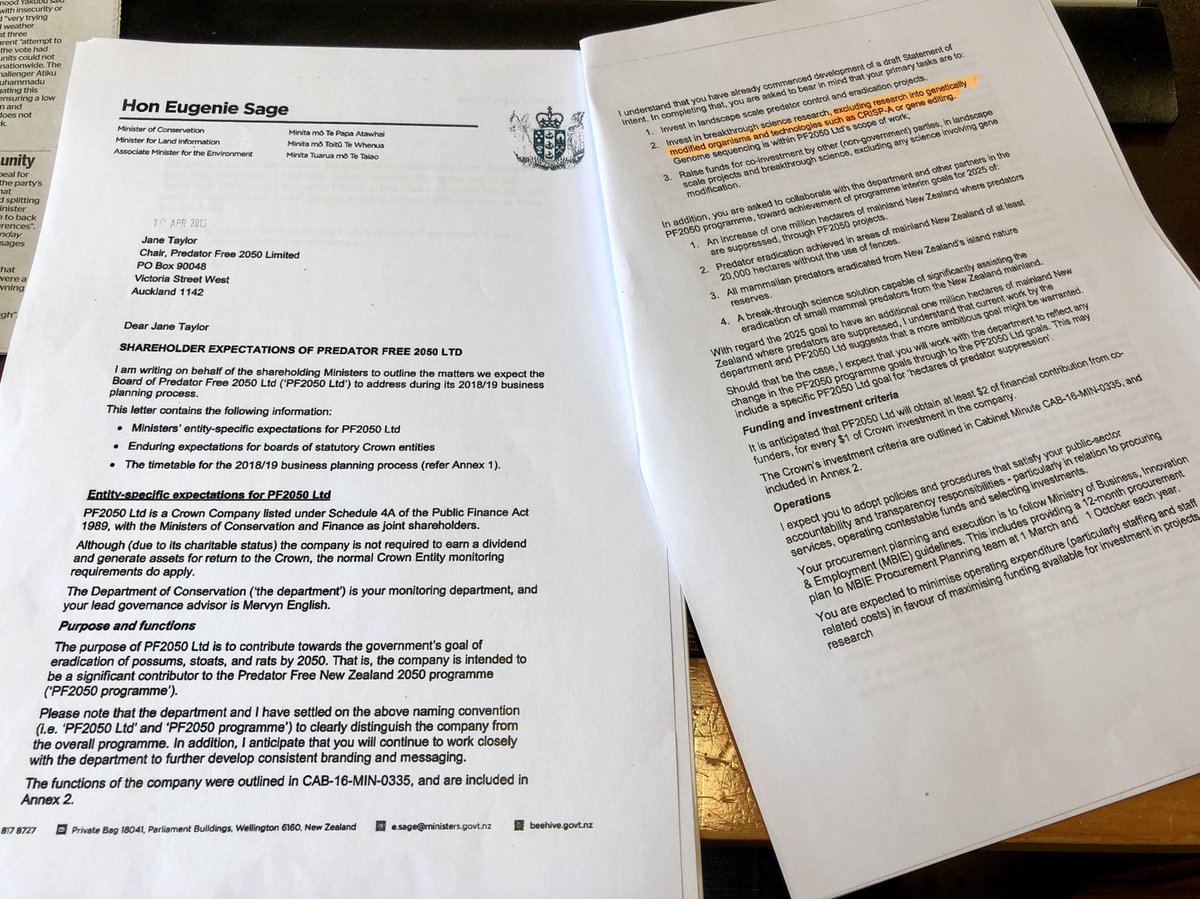 Newshub's also obtained a number of emails written by the minister that reveal her personal position on the technology.

In one email, she wrote: "Please be assured that the department is clear about my expectations regarding genetic technologies. It has informed me that there is no mammalian gene drive technology research currently occurring in New Zealand.

"I have also required Predator Free 2050 Ltd to carry out appropriate due diligence on any co-funded projects before agreeing on any contracts, and have explicitly required them not to be involved in any research with genetically modified organisms and technologies such as CRISPR or gene editing."

In another email, the minister made a similar comment: "I have been clear about my expectations regarding such technologies."

Official advice also said the technology has the potential to control pests "in a humane and efficient manner without inadvertently harming other species like native birds".

But Ms Sage told Newshub the Government isn't blocking work in the area, there's just been no decision to advance any discussion in the area.

"There's no public mandate to do any work in that space – it would be a major change in Government policy."
So is it Government policy that any research into predator control involving genetic modification is banned?
National's conservation spokesperson Sarah Dowie said the Government is refusing to look into the potential benefits because it's blinded by ideology.

"I think she's been captured by her ideology, [and] that's not a good thing," Ms Dowie said.

"National's all about the science. We think good science should inform conservation policy, and if we want our children to experience kiwi, tui, takahe in the wild – because that's a New Zealand legacy – we need to have these conversations and make a decision moving forward.
It seems that while Greens are in Government science is limited to what fits within their rigid ideologies, which includes a staunch anti-GE stance.
Genetic modification is also contentious as a potential means of reducing carbon emissions.